Research article
Open Access
Open Peer Review
This article has Open Peer Review reports available.
Factors influencing the development of primary care data collection projects from electronic health records: a systematic review of the literature
BMC Medical Informatics and Decision Making
BMC series – open, inclusive and trusted
2017
17:139
Received: 23 December 2016
Accepted: 14 September 2017
Published: 25 September 2017
Abstract
Background
Primary care data gathered from Electronic Health Records are of the utmost interest considering the essential role of general practitioners (GPs) as coordinators of patient care. These data represent the synthesis of the patient history and also give a comprehensive picture of the population health status. Nevertheless, discrepancies between countries exist concerning routine data collection projects. Therefore, we wanted to identify elements that influence the development and durability of such projects.
Methods
A systematic review was conducted using the PubMed database to identify worldwide current primary care data collection projects. The gray literature was also searched via official project websites and their contact person was emailed to obtain information on the project managers. Data were retrieved from the included studies using a standardized form, screening four aspects: projects features, technological infrastructure, GPs' roles, data collection network organization.
Results
The literature search allowed identifying 36 routine data collection networks, mostly in English-speaking countries: CPRD and THIN in the United Kingdom, the Veterans Health Administration project in the United States, EMRALD and CPCSSN in Canada. These projects had in common the use of technical facilities that range from extraction tools to comprehensive computing platforms. Moreover, GPs initiated the extraction process and benefited from incentives for their participation. Finally, analysis of the literature data highlighted that governmental services, academic institutions, including departments of general practice, and software companies, are pivotal for the promotion and durability of primary care data collection projects.
Conclusion
Solid technical facilities and strong academic and governmental support are required for promoting and supporting long-term and wide-range primary care data collection projects.
Keywords
Primary careData miningData collectionSecondary useElectronic health recordsGovernanceStakeholders
Background
The secondary use of Electronic Health Record (EHR) data, for instance for epidemiological research, pharmacovigilance or health policy making, is progressively increasing [1]. Moreover, due to the chronic nature of many diseases, a global understanding of the patient's history is crucial for quality healthcare. In this respect, a paradigm shift occurred with the development of Big Data analysis following EHR digitization that facilitates data processing. Indeed, data mining brings large amount of information with higher granularity (i.e., higher level of detail).
In France, several data retrieval projects [2–4] are currently focused on the collection and mining of hospital administrative data (for instance, the Program of Medicalization of the Information Systems) and of clinical data from hospital EHRs. Data retrieved from hospital sources are promising, but they do not take into account the entire care pathway of each single patient or of the whole population. From this point of view, primary care records are particularly interesting [5]. Indeed, as general practitioners (GPs) are often the coordinators for their patients' healthcare trajectory, primary care records should contain the entire medical history of each patient [6]. Moreover, most people have access to primary care. Thanks to information technologies (IT), the volume of data captured by EHRs, paired with the growing capacity for data linkage and exchange, creates opportunities for measuring outcomes and, consequently, for improving patient and population health. In France, one such initiative was the "Observatoire de la Médecine Générale" (a nationwide survey of GPs' practice) that ended in 2009 due to lack of funding. Currently, the French Institute for Research and Documentation on Health Economics (IRDES) exploits the primary care data obtained by other companies, such as IMS Health©, a private-sector firm [7], via partnership agreements. Nevertheless, the lack of information on how these data were collected raises methodological concerns [7]. Cegedim©, another private-sector company, works on data extracted from French primary care EHRs [8]. Few local initiatives also have been implemented [9], but we could not find a transparent French national infrastructure that collects data directly from primary care practices. Conversely, in other countries, the possible contribution to medical science and health policy decision-making of routinely collected primary care data is now assessed, for instance with the Clinical Practice Research Datalink (CPRD) in the United Kingdom (UK) [10, 11].
Considering the discrepancies between countries on routine data collection from primary care EHRs, we wanted to identify factors that might facilitate the development and durability of routine primary care data collection. To this aim, we reviewed primary care data collection projects worldwide by taking into account their technical features, the GPs' contribution and the network managers.
Methods
A systematic review of the literature was performed from December 2015 to November 2016, based on the Preferred Reporting Items for Systematic Reviews and Meta-Analyses (PRISMA [12]) criteria.
The checklist points for Assessing the Methodological Quality of Systematic Reviews (AMSTAR [13]) were completed when criteria were relevant, that is to say points 1 to 5, 10 and 11. We referred to it at the beginning to define our work protocol (point 1), duplicate study selection and data extraction (point 2), perform a comprehensive literature search (point 3 and 5). Then it guided us through our analysis of included papers: status of publication (point 4), scientific quality, publication bias (point 10) and conflict of interest (point 11).
Information sources
First, an automated literature search of the PubMed database was performed with the assistance of a university librarian, with expertise in systematic reviews.
To identify data collection projects based on primary care EHRs, worldwide, our query was divided in three parts: i) collection of EHR synonyms; ii) retrieval of records about automatic data processing; and iii) identification of primary care data collection projects, using several MeSH term synonyms. To expand our search, MeSH terms and also free text words were used. Articles published from 2010 onwards were selected. No other filter was applied. The following query (Fig.
1
) was submitted to the PubMed search engine. The last search was performed in November 2016.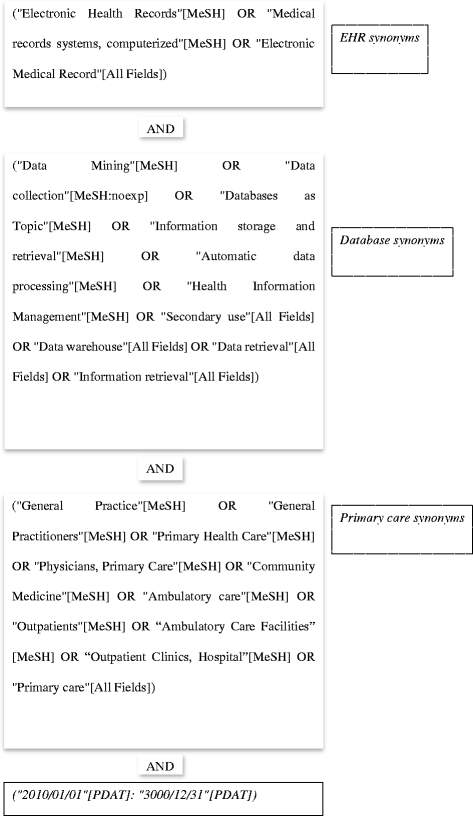 Secondary to our PubMed search, we identified 36 routine data collection projects. Our screening of the gray literature consists of the screening of each project website. First, we tried to find the official websites from our literature review. Then, when the website was not quoted in the references of the paper, we used the Google search engine. The name of the database was associated with the keywords "database" or "primary care database" enclosed in quotation marks.
Moreover, to identify the project managers, the project contact person quoted in the website was contacted by email, when such information was present in the article/website.
Study selection
Inclusion criteria
Articles were retained if they referred exclusively to EHRs (as opposed to paper-based health records), focused on automatic data processing (rather than on manual data analysis) and the EHRs were retrieved from primary care databases. Secondary or tertiary care data were not considered. Within primary care data, raw patient medical records were included, while registries, which contain already processed data, were excluded. Databases containing primary and secondary care data were included only if the study concerned the primary care population. An article was considered to be a routine primary care data collection project when it analyzed EHR data from different GPs.
Exclusion criteria
Articles published before 2010 were excluded due to the introduction of new MeSH terms, for instance "Electronic Health Record", in 2010. The 2010 cutoff was indeed primarily used due to the introduction of more relevant MeSH headings in 2010 so as to define active databases. It allowed us to retrieve active routine data collection projects, because they published papers recently and our PubMed query was more accurate thanks to the MeSH term indexing.
Moreover, we excluded:
Articles not written in French nor English languages

Articles on projects not meeting the inclusion criteria

Articles that could not be retrieved as full text, due to an absence of subscription to the review

Articles in which the original database was not precisely identified.
Data collection
The PubMed search query was launched independently by two of the authors who then read the abstracts to select relevant publications on the basis of the inclusion and exclusion criteria. They then independently read the full text of the retained articles to confirm that the inclusion and exclusion criteria were met. Disagreements were solved by consensus.
This allowed us to identify the major primary care data collection projects and to compare their prevalence worldwide. Each PubMed article was screened to retrieve information on the data collection project and its stakeholders with the objective to compare projects. Data were retrieved from the included studies using a standardized form (Fig.
2
). This form was based on that of a Canadian qualitative study on the use of primary healthcare EHRs for research [
14
], and was revised by the authors during a working discussion. Indeed, this paper allowed us to extrapolate three parts of our form: technological infrastructure, GPs' roles, data collection network stakeholders. The form was pre-tested on 5% of the selected papers and was not modified after this test. Two authors read separately seven articles and filled in the form. Then, they compared their results. There were no disagreements due to the objective nature of the data extracted. Consequently, the form was left unmodified.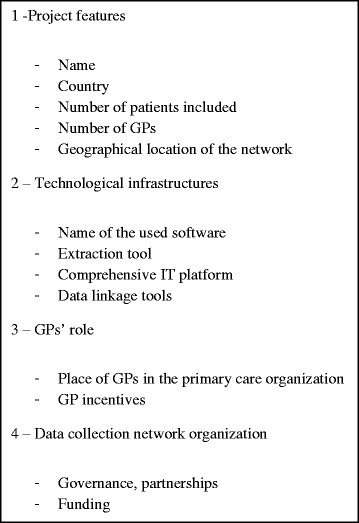 Each official project website also was screened using the same form. Moreover, each contact person received one single e-mail message to gather information about the data collection project partners (identification of the involved parties).
Three groups of stakeholders were defined from the various partners retrieved in papers and websites: governmental services, academic institutions, software companies, so as to represent each identified extracted partnership. The definition of stakeholders groups was ascertained by [12], for instance we can quote "Within this study, we define stakeholders as those individuals holding an interest in the topic of EMRs in PHC; these individuals included clinicians/healthcare practitioners, decision-makers (those who make policy and health planning decisions), researchers and EMR vendors."
Discussion
This review of the literature allowed the identification of determinants that favor the development of durable routine data collection projects.
Methodology
Study strengths
This is the first review that lists the databases derived from primary care electronic health records and their organizational features.
Moreover, we followed the PRISMA criteria [12], an evidence-based minimum set of items for reporting in systematic reviews. Then, quality was controlled using the AMSTAR checklist [13].
Study limitations
Methodological issues
The aim of this study was to identify the determinants within the healthcare organization that influence routine data collection projects in primary care. We could identify 36 projects by screening the PubMed database. We only used this database, but added information from the gray literature.
Missing or partial data
We took for granted that the PubMed occurrences were correlated with the international outreach of primary care databases. This hypothesis was validated by the fact that our query identified major routine primary care data collection projects.
Nevertheless, there is actually a discrepancy between the effective number of publications of each project and the number of publications retrieved in our paper. There are several reasons to explain the differences.
Firstly, our query search filters by the publication year. CPRD database was created in the 1980s, so numerous papers are not taken into account by our query.

Secondly, publications listed on the websites are not indexed into PubMed.

Thirdly, due to the lack of MeSH term to index primary care databases, our query search was not able to retrieve all papers published. Indeed, if we analyze the PubMed keywords of articles that were not returned by our query but which were recorded on database websites, you can note that they are not referenced as primary care data collection projects, but as the main topic of the article. For instance, the paper "Prevalence, incidence, indication, and choice of antidepressants in patients with and without chronic kidney disease: a matched cohort study in UK Clinical Practice Research Datalink." is indexed with the keywords "antidepressants; chronic kidney disease; depression; incidence; prevalence".
Finally, our initial purpose was to find papers describing the characteristics of the data mining projects and not all the results of the exploitations of such database. Including all the publications was not achievable because all websites do not reference their publications and it was not answering our initial methodology. Concerning the project description, the number of patients was difficult to extract from the articles because several studies were based on subsets of the available databases. We finally chose to take into account, when possible, the figures indicated in the website because it described the whole project. It would have been interesting to compare projects according the patient-year data, but this figure was rarely available.
Another issue was the number of GPs per project. Indeed, the method of representation of healthcare professionals varied in the different countries (e.g., number of GPs, number of healthcare professionals, number of community practices). We observed that the number of patients was not proportional to that of GPs, suggesting that the GPs' involvement varied in function of the project nature or the primary care organization of the specific country. Moreover, the number of participating GPs could be different according to the chosen data mart [23].
There was no systematic correlation found between the representativeness of population in the database, the number of GPs and the number of publications per database. We thought that the larger the database is, the more publications are edited. But, the amount of data can also be an hindrance and without comprehensive data formatting, data mining turns out to be more complex. This result could invite us to begin with the creation of a local routine data collection project before expanding it to a larger scale in our country.
We reviewed each article and website using a predefined form (Fig. 2). Nevertheless, some data were missing especially about stakeholders.
Finally, this study focused on successful data collection projects and therefore we could not identify factors that could limit GPs' participation, such as privacy issues, lack of training and information.
Conclusion
We performed a systematic review with the aim of determining the factors that allow the creation and expansion of routine data collection projects in primary care.
Technological infrastructure influence the outreach of data collection projects, particularly EHR software tools for data extraction. Beyond this first step, the most successful projects also developed comprehensive IT platforms for research purposes.
As GPs are often care pathway coordinators in most countries, primary care data are particularly important for improving healthcare management. Therefore, GPs' investment in these projects is often promoted with financial benefits, training sessions, feedback reports and involvement in research studies.
Finally, we emphasize the concomitant involvement of three main actors in supporting these initiatives: governmental services, academic institutions and software companies. Their partnership seems to be the most effective way to fund long-term and wide range data collection projects.
Several issues still need to be addressed, such as the nature of the data analyzed (coded or free-text data) or the management of privacy, which is a major deterrent for GPs. As the collected data are very sensitive, careful monitoring should be put in place due to the privacy issues at stake. Patients' de-identification should also be studied. Moreover, the project governance and its managers should be extremely transparent to improve GPs' adhesion to routine primary care data collection projects.
The table does not include isolated projects that did not refer to reusable databases, and the TRANSFoRm project, which is a multinational project within Europe based on national databases, such as Nivel in the Netherlands.
Abbreviations
BHCS:

Baylor Health Care System
CCHS:

Christiana Care Health System
CHCI:

Community Health Center, Inc.
CPCSSN:

Canadian Primary Care Sentinel Surveillance Network
CPRD:

Clinical Practice Research Datalink
DELPHI:

Deliver Primary Healthcare Information
EHR:

Electronic Health Record
EMRALD:

Electronic Medical Record Administrative Data Linked Database
FIRE:

Family Medicine ICPC-Research using Electronic Medical Records
GP:

General Practitioner
GRAPHC:

Geographical and Resource Analysis in Primary Health Care
IFH:

Institute for Family Health
IPCI:

Integrated Primary Care Information project
JPCRN:

Julius Primary Care Research Network
MEGPN:

Melbourne East General Practice Network in Victoria project
MGPO:

Massachusetts General Physicians Organization
OCHIN:

Inc. Oregon Community Health Information Network
PHINEX:

University of Wisconsin Electronic Health Record - Public Health Information Exchange
THIN:

The Health Improvement Network
UK:

United Kingdom
USA:

United States of America
Declarations
Acknowledgements
We thank the University of Rennes 1 librarians who assisted us in the automated literature search.
We thank E. Andermarcher for critical reading and English correction of the manuscript.
Funding
This research did not receive any specific grant from funding agencies in the public, commercial, or not-for-profit sectors.
Availability of data and materials
All data generated or analyzed during this study are included in this published article.
Authors' contributions
The work presented here was carried out in collaboration by all authors. MG, MC, AC formed the conception and study design. MG, CH and TL did the literature review, and undertook data acquisition and data analysis. MG drafted the manuscript. MC, AC, AB, LF, GB and ER supervised the review method and data interpretation and gave valuable suggestions. All authors read and approved the final manuscript.
Ethics approval and consent to participate
Not applicable.
Consent for publication
Not applicable.
Competing interests
The authors declare that they have no competing interests.
Publisher's Note
Springer Nature remains neutral with regard to jurisdictional claims in published maps and institutional affiliations.
Open AccessThis article is distributed under the terms of the Creative Commons Attribution 4.0 International License (http://creativecommons.org/licenses/by/4.0/), which permits unrestricted use, distribution, and reproduction in any medium, provided you give appropriate credit to the original author(s) and the source, provide a link to the Creative Commons license, and indicate if changes were made. The Creative Commons Public Domain Dedication waiver (http://creativecommons.org/publicdomain/zero/1.0/) applies to the data made available in this article, unless otherwise stated.
Authors' Affiliations
(1)
Department of General Practice, University of Rennes 1, Rennes, France
(2)
CIC (Clinical investigation center) INSERM 1414, Rennes, France
(3)
INSERM, U1099, Rennes, France
(4)
University of Rennes 1, LTSI (Laboratory for signal and image processing), Rennes, France
(5)
CHU Rennes, CIC Inserm 1414, Rennes, France
(6)
CHU Rennes, Centre de Données Cliniques, Rennes, France