Research article

Open Access

Open Peer Review
This article has Open Peer Review reports available.
Understanding factors affecting patient and public engagement and recruitment to digital health interventions: a systematic review of qualitative studies
BMC Medical Informatics and Decision Making
BMC series – open, inclusive and trusted
2016
16:120
Received: 20 August 2016
Accepted: 3 September 2016
Published: 15 September 2016
Abstract
Background
Numerous types of digital health interventions (DHIs) are available to patients and the public but many factors affect their ability to engage and enrol in them. This systematic review aims to identify and synthesise the qualitative literature on barriers and facilitators to engagement and recruitment to DHIs to inform future implementation efforts.
Methods
PubMed, MEDLINE, CINAHL, Embase, Scopus and the ACM Digital Library were searched for English language qualitative studies from 2000 – 2015 that discussed factors affecting engagement and enrolment in a range of DHIs (e.g. 'telemedicine', 'mobile applications', 'personal health record', 'social networking'). Text mining and additional search strategies were used to identify 1,448 records. Two reviewers independently carried out paper screening, quality assessment, data extraction and analysis. Data was analysed using framework synthesis, informed by Normalization Process Theory, and Burden of Treatment Theory helped conceptualise the interpretation of results.
Results
Nineteen publications were included in the review. Four overarching themes that affect patient and public engagement and enrolment in DHIs emerged; 1) personal agency and motivation; 2) personal life and values; 3) the engagement and recruitment approach; and 4) the quality of the DHI. The review also summarises engagement and recruitment strategies used. A preliminary DIgital Health EnGagement MOdel (DIEGO) was developed to highlight the key processes involved. Existing knowledge gaps are identified and a number of recommendations made for future research. Study limitations include English language publications and exclusion of grey literature.
Conclusion
This review summarises and highlights the complexity of digital health engagement and recruitment processes and outlines issues that need to be addressed before patients and the public commit to digital health and it can be implemented effectively. More work is needed to create successful engagement strategies and better quality digital solutions that are personalised where possible and to gain clinical accreditation and endorsement when appropriate. More investment is also needed to improve computer literacy and ensure technologies are accessible and affordable for those who wish to sign up to them.
Systematic review registration
International Prospective Register of Systematic Reviews CRD42015029846
Keywords
Digital healtheHealthElectronic health recordsTelemedicineMobile applicationsmHealthEngagementRecruitmentBarrierFacilitator
Background
Patients are beginning to use a range of digital health interventions (DHIs) to manage chronic illness at home and support independent living and self-care, while remaining connected to health and care providers [1]. DHIs may address many of the problems patients experience with today's health systems, such as poor access, uncoordinated care and increasingly costly healthcare [2]. Furthermore, DHIs aimed at the public are seen as one way to promote preventative health, potentially reducing health service utilisation and cost long-term [3]. DHIs range from telehealth and telecare systems [4], to patient portals and personal health records (PHRs) [5, 6], mobile health applications [7], and other online platforms and devices [8]. As the technology diversifies, miniaturises and becomes more interconnected, the shift towards using such DHIs will continue to grow.
However, numerous barriers prevent people from participating in evaluations of DHIs such as being too busy, feeling incapable of using the technology or disliking its' impersonal nature [9, 10]. There are also factors that help patients and the public to engage with these electronic platforms such as personal motivation to improve health and learn new ways to manage illness [11]. Much of this evidence has been generated through quantitative methods, in particular Randomized Controlled Trials (RCTs), which provide little detail or context of the real-world difficulties individuals' face [12, 13] such as the cost of the technology and issues around privacy and security [14]. Understanding these problems is particularly important as we move from recruiting to RCTs, to engaging and enrolling patients and the public in large-scale deployments of digital health in real world settings. This gap in knowledge is often referred to as the second translation gap, moving from initial concept testing and RCTs to full-scale implementation [15, 16].
Although an increasing number of qualitative studies have examined some of these issues, quite often they have focused on a particular patient population and a single piece of technology [17, 18]. Therefore, the literature is fragmented and does not present a clear picture of the barriers and facilitators people face when engaging and enrolling in all types of DHIs. Qualitative syntheses can aid our understanding of how complex interventions are embedded into daily routine, which can help to inform health policy and clinical practice [19, 20]. A qualitative review of public engagement with eHealth has been conducted [21] but the majority of included studies looked at people who searched for health information online only, so it is limited in terms of its technological scope and it was undertaken in 2009, six years ago, which is a long time in a fast moving area. The review also lacked any assessment of the quality of included studies and had no theoretical basis, thereby diminishing the lessons that can be drawn from it.
This paper aims to address the fragmentation of research evidence by systematically reviewing and synthesising the qualitative literature on barriers and facilitators patients' and the public experience during engagement and recruitment to DHIs. It will also outline the strategies described to get people engaged and signed up to DHIs in the published literature. To address the lack of theoretical insights in this area, two empirically grounded theories will be utilised to aid in the conceptualisation of the complexities involved and develop a model of these processes. A series of recommendations about how patients and the public can be better supported to take up digital health products and services will also be outlined to improve the initial phases of the digital health implementation journey. Any outstanding research gaps will also be highlighted.
Results
In total, 1,448 records were identified, of which 290 full text articles were screened and 19 were selected for inclusion in the review (see Fig.
1
). The reporting of this review follows the Enhancing Transparency in Reporting the Synthesis of Qualitative Research (ENTREQ) statement [
40
].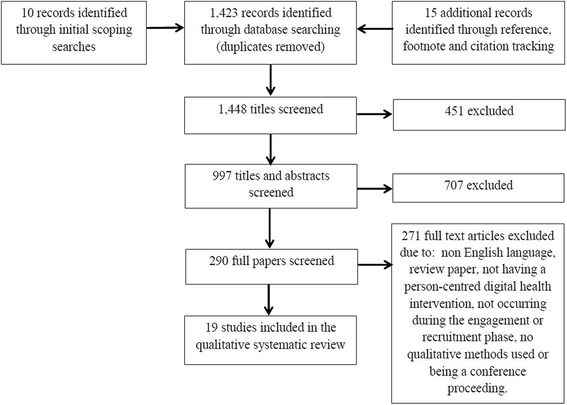 Discussion
This review provides a summary of reported engagement and recruitment strategies, a catalogue of barriers and facilitators patients and the public experience when engaging and enrolling in DHIs as well as a preliminary conceptual model of key elements in this process. While none of the included papers comprehensively covered the entire process of engaging with and signing up to a DHI each study examined one or more aspects of people's positive and negative experiences.
Existing knowledge and future research
This systematic review explores how patients and the public engage with and enrol in a broad range of DHIs. Its findings support and expand those of an earlier review, which primarily looked at people accessing health information online [21]. One theme from that paper which affected engagement was the "characteristics of users", such as their age, ethnicity, economic status and educational attainment; this did not emerge strongly from our review given the diversity of participants involved. However, the educational level people attain was one factor in our review that did affect engagement with digital health, as those with poor computer skills found it challenging to enrol which is in keeping with previous literature. In addition, as very few of the included studies in our review involved people over sixty years of age and other literature on usability points to older adults having more difficulties with digital health [60, 61], it would be wise to explore in more depth why this population do or do not engage with and enrol in DHIs. Similarly, ethnicity and socioeconomic status were not well described in the papers in this review so definitive conclusions about how culture and social position affects engagement with DHIs cannot be made. Literacy skills [62–64] and being able to pay for the technology [65] do impact on people's ability to interact with and use DHIs, which is consistent with the findings of our review.
This review incorporated several different DHIs but newer platforms such as wearable devices are also emerging in this space [66] and more will undoubtedly follow as nanotechnology and biotechnology take off. It will therefore be important to update this review in due course to incorporate these new trends, expand on the taxonomy of engagement and enrolment strategies used to encourage people to sign up to them and the barriers and facilitators experienced in the process. However, it is likely that many of the same issues will emerge as the generative mechanisms of digital health engagement and enrolment have been teased out through our conceptual work when developing the new DIgital Health EnGagement MOdel (DIEGO).
Limitations
This review followed the ENTREQ guidelines for the reporting of systematic reviews of qualitative studies but it does have some limitations. The search strategy used introduced a number of constraints. Publications included were in the English language only; while this may have excluded potentially useful studies, there is evidence that limiting studies in this way does not introduce significant bias [67]. The search dates were limited to studies after the year 2000 but as this is a rapidly evolving sphere we believe this is justifiable. The selection criteria specifically excluded studies discussing recruitment to RCTs, as the focus here was on engagement and enrolment to "real-world" DHIs. Furthermore, many DHIs are developed in the commercial space and marketed to consumers but these have not been formally evaluated through rigorous research and so the literature is limited to only those applications that have undergone academic evaluation [68]. This does mean that some pertinent evidence could have been missed. The analysis and synthesis of the qualitative studies was based on our review of published data and not the original data, which may result in the loss of some important explanatory context. In addition, cultural differences in how people perceive and engage with DHIs, is not well understood, and the existing literature presents a predominantly Western viewpoint, which is a limitation. Furthermore, issues of socioeconomic disadvantage are not systematically addressed in the literature, which is another limitation. However, although more research will be required, based on the literature published to date, a number of recommendations are made about how to address the difficulties patients and the public face when engaging or enrolling in DHIs and what health professionals, health service managers, policy makers, industry and others need to consider to overcome these challenges.
Conclusion
It is clear from our framework of barriers and facilitators that digital health engagement and recruitment processes are complex, with many interconnecting factors that affect patients' and the public's ability to engage and enrol in a technology and there remains outstanding gaps in knowledge. Our preliminary Digital Health Engagement Model (DIEGO) provides a useful checklist for health professionals, health service managers, policy makers, academia, industry and others to consider when implementing digital health in the real world and will be particularly helpful for newcomers to the field. Future research must aim to describe engagement or enrolment strategies in greater detail, including theoretical underpinnings if we are to more effectively study, classify, and learn which approaches are more likely to succeed.
Abbreviations
BOTT:

Burden of treatment theory
COREQ:

Consolidated criteria for reporting qualitative research
DIEGO:

Digital health engagement model
ENTREQ:

Enhancing transparency in reporting the synthesis of qualitative research
IVR:

Interactive voice recognition
NPT:

Normalization process theory
PCs:

Personal computers
PHRs:

Personal health records
RCT:

Randomized controlled trials
SMS:

Short message service
TIDieR:

Template for intervention description and replication
Declarations
Acknowledgements
We would to thank Stephen Brewster from Text Mining Solutions Ltd who assisted the research team with the implementation of the search strategy for this systematic review.
Funding
We would like to acknowledge Innovate UK (formerly known as the UK Technology Strategy Board) who part funded this work through a research grant. The funder had no part in the design of this review and the views expressed in this paper are those of the authors and not necessarily those of Innovate UK.
Availability of data and materials
The data that supports the findings of this systematic review can be found in main paper and the additional supporting files.
Authors' contributions
SOC, FM and COD conceptualised the study and designed the review. JG and SG designed the search strategies with input from SOC and FM. SOC and PH conducted the screening, quality assessment, data extraction and analysis with support from FM and COD where necessary. SOC wrote the first draft of the review paper. All authors contributed to the writing of the manuscript and approved the final version of the manuscript.
Competing interests
The authors declare that they have no competing interests
Consent for publication
Not applicable.
Ethics approval and consent to participate
Not applicable.
Open AccessThis article is distributed under the terms of the Creative Commons Attribution 4.0 International License (http://creativecommons.org/licenses/by/4.0/), which permits unrestricted use, distribution, and reproduction in any medium, provided you give appropriate credit to the original author(s) and the source, provide a link to the Creative Commons license, and indicate if changes were made. The Creative Commons Public Domain Dedication waiver (http://creativecommons.org/publicdomain/zero/1.0/) applies to the data made available in this article, unless otherwise stated.
Authors' Affiliations
(1)
General Practice and Primary Care, Institute of Health and Wellbeing, University of Glasgow, Glasgow, UK
(2)
School of Nursing, Midwifery and Social Work, University of Manchester, Manchester, UK
(3)
York Health Economics Consortium Ltd, York, UK