Research article
Open Access
Open Peer Review
This article has Open Peer Review reports available.
Analysis of queries sent to PubMed at the point of care: Observation of search behaviour in a medical teaching hospital
BMC Medical Informatics and Decision Making
2008
8:42
Received: 13 May 2008
Accepted: 24 September 2008
Published: 24 September 2008
Abstract
Background
The use of PubMed to answer daily medical care questions is limited because it is challenging to retrieve a small set of relevant articles and time is restricted. Knowing what aspects of queries are likely to retrieve relevant articles can increase the effectiveness of PubMed searches. The objectives of our study were to identify queries that are likely to retrieve relevant articles by relating PubMed search techniques and tools to the number of articles retrieved and the selection of articles for further reading.
Methods
This was a prospective observational study of queries regarding patient-related problems sent to PubMed by residents and internists in internal medicine working in an Academic Medical Centre. We analyzed queries, search results, query tools (Mesh, Limits, wildcards, operators), selection of abstract and full-text for further reading, using a portal that mimics PubMed.
Results
PubMed was used to solve 1121 patient-related problems, resulting in 3205 distinct queries. Abstracts were viewed in 999 (31%) of these queries, and in 126 (39%) of 321 queries using query tools. The average term count per query was 2.5. Abstracts were selected in more than 40% of queries using four or five terms, increasing to 63% if the use of four or five terms yielded 2–161 articles.
Conclusion
Queries sent to PubMed by physicians at our hospital during daily medical care contain fewer than three terms. Queries using four to five terms, retrieving less than 161 article titles, are most likely to result in abstract viewing. PubMed search tools are used infrequently by our population and are less effective than the use of four or five terms. Methods to facilitate the formulation of precise queries, using more relevant terms, should be the focus of education and research.
Keywords
Search EngineSearch ToolQuery ResultTerm CountArticle Title
Background
Searching medical information on the internet has rapidly gained a place in daily medical care. Many sources are available for answering patient-centred questions. One of the main sources for medical information is Medline with PubMed as search engine. A major limitation of PubMed is that it takes 30 minutes on average to find information and appraise the literature critically [1]. When searching for patient-related problems at the point of care the physician wants to find information quickly [2, 3]. Critical appraisal is the time-consuming step in the process. It is difficult to reduce the time needed to appraise the literature, which depends on the experience of the reader. However, reducing the number of articles that have to be appraised can reduce the search time significantly. It is difficult to retrieve only relevant articles from the large PubMed database as PubMed searches are characterised by retrieval of a vast number of article titles in very broad searches and a limited number of article titles in narrow searches [4]. The simplest method for reducing the numbers to read is to increase the number of terms in a query. Other PubMed tools available to the searching physician that can limit the number of retrieved articles are Boolean operators, Mesh and limits. A special set of tools advocated by evidence-based medicine handbooks [5, 6], Clinical Queries, were designed to help in finding answers to clinical questions [7–12]. Many combinations of tools and term counts are possible and the results are often difficult to predict. As PubMed does not sort articles by relevance, the number of articles retrieved by a query plays a crucial role. Evaluation of hundreds of articles is useless when time is critical, but there is no information about the number of articles that can be scanned at the point of care. It is possible to issue several queries, increasing the accuracy of the query step by step, but this process is too time-consuming for use during daily medical care. The physician should be able to find a potentially useful article within one or two queries, leaving enough time for critical appraisal. Observation of the search process during daily medical care is crucial for identifying the tools that actually work in this setting. We therefore created an online information portal that could monitor the complete search process without interfering with the search. Physicians working at our teaching hospital are accustomed to using online information sources and they have all received some education in evidence-based medicine. They are therefore likely to use a wide array of queries and search tools. We performed an observational study of queries sent to PubMed during daily medical care to answer the following questions. To what extent are search tools used, and does the use of these tools improve article selection for further reading? How many articles should be retrieved by a query to enhance the chance that one will be selected for further reading? What is the relationship between the number of terms, the articles retrieved by a query and abstract selection? We use abstract and full-text selection as parameters for success of a query.
Methods
Population and measuring tool
As part of an ongoing study of sources used for retrieving medical information we developed a web portal. This portal gives access to PubMed, two online medical textbooks (UpToDate, Harrison's Online) and a Dutch pharmacotherapy database. All residents and specialists in internal medicine selecting PubMed or UpToDate from our hospital information system were automatically linked to our portal.
PubMed interface
To enable all aspects of the use of PubMed to be registered we built our own interface that accesses PubMed through e-utils [
13
]. E-utils gives access to full PubMed functionality – queries are handled exactly as they are in the original PubMed website – but it delivers the data in XML, which allows them to be recorded in a database. The XML data need to be translated into web pages to be readable by users. To mimic the functionality of PubMed, most of the special search options relevant to patient-related searches [
5
,
6
] were copied in our interface (Mesh database, details, a selection of limits (Publication date, publication types, human or animal and ages) and spelling (Figure
1
). All queries were recorded along with the use of the different search options, the articles that were selected for abstract reading and the articles that were selected for full-text reading.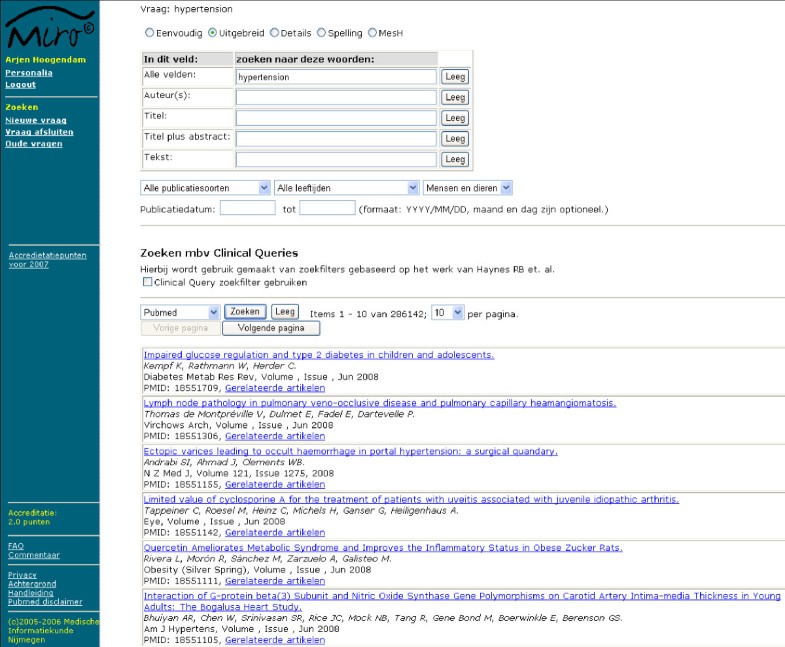 Search process
Every search was started by entering a query and selecting an information source. The sending of the first query about a problem was marked as the start of the search. During the search, all queries were recorded, as well as the database that was consulted. After the search was completed, the users were asked to select the situation that had led to the search (direct patient contact, patient rounds, scientific research, review/study, preparing talks, not specified).
Query characteristics and evaluation of search result
All queries sent to PubMed regarding patient-related problems (direct patient contact, patient rounds) were selected for analysis.
Full-text and abstract selection as endpoints
Queries resulting in the selection of abstracts and/or full-text articles containing information that can be used to answer a question are considered as adequate queries that contribute to the search process. Ideally, the answer can be found in a single source by a single query, but in practice an answer to a question may be composed of multiple bits of information from several sources. Queries retrieving multiple articles that contain parts of the answer are therefore just as useful as queries that result in a single article containing the answer. The selection of an abstract containing information that contributes to the question is therefore a marker for the quality of the query. As the selection of abstracts is based on the title of articles some selected abstracts may not have attributed to the answer. This is a potential source of bias. Asking participants to rate the value of each selected abstract would result in interference with the search process. Participants would also refuse to use such an information source for an extended period. Interference with the search process is likely to result in bias, so the parameters of success of a query have to be extracted from search-related data. As it is unlikely that abstracts containing no information related to the question will be selected for full-text reading, selection of a full-text article is a marker for relevance of the abstract. However, not all abstracts contain links to full-text articles. Full text availability is therefore a possible confounder. Selection of irrelevant abstracts and online unavailability of full-text articles as sources of bias are unlikely to be related, as full-text availability does not depend on the relevance of the abstract to the question. If the results for full-text selection are comparable to those for abstract selection, both sources of bias are excluded. We therefore present data for both abstract and full-text selection.
Relationship between number of terms and abstract selection
PubMed combines all terms with the Boolean operator "AND". The use of terms without operators is therefore equivalent to combining all terms with the "AND" operator. Using more terms will therefore lead to fewer articles in the article result list. Most searches on the internet use only the "AND" operator, if any Boolean operator is used at all[14]. The number of articles retrieved by such a natural language query is directly related to the number and relevance of the terms used. To determine the relationship between the number of terms used in a query, the number of articles retrieved by a query and abstract selection we selected all queries containing natural language with or without the use of the "AND" operator. Queries containing the "OR" or "NOT" operator or Mesh terms were excluded. Terms were identified as words separated by a space. The "AND" operator was not counted as a term. The use of more than six terms in a query was too infrequent to merit detailed analysis. Evaluation of the relationship between term count and query result was therefore limited to queries containing fewer than seven terms. Terms that reflect the clinical question and are likely to retrieve relevant information are regarded as relevant in our study. Abstracts and full-text articles that contain information contributing to the question are considered relevant to the question.
Relationship between terms, articles retrieved and abstract selection
Only queries containing natural language that retrieved one or more articles were selected to demonstrate the relationship between term count and number of articles retrieved. Many terms will yield a small set of articles and a few terms will yield a large set. The number of articles retrieved by random terms therefore follows a logarithmic distribution. Combining several terms will not alter this distribution. As logarithmic numbers are difficult to interpret we divided the number of articles retrieved by a query into 14 equal intervals (average of 180 queries per category).
Statistics
Frequencies were used to summarize data. Significance was determined by the Chi-Square statistic using SPSS, release 14.0.2.
Ethical approval
No ethical approval was needed for this study, which involved no patients. All participants in our study consented to the use of search-related data for scientific research. Data were only collected if participants logged in at our internet portal.
Discussion
Physicians at our university hospital, searching for patient-centred problems in PubMed, do not differ much from the general public using search engines such as Google[14]. They make very simple queries, containing two to three terms on average. In consequence, many queries yield a list of more than 161 articles, which are not further evaluated for relevance. The use of PubMed search tools was very limited and the performance of these tools was comparable to the use of more than three terms in a query.
Conclusion
Our study is new in performing a detailed observation of the PubMed search process during busy medical practice in a hospital setting. Physicians at our hospital make very simple queries, containing fewer than three terms, and 31% result in viewing of abstracts. Search tools increased the selection of abstracts moderately to 39%. Both term use and number of retrieved articles influence abstract selection. Queries containing four or five terms yielding 2–161 articles were most effective in our population, with 63% abstract-viewing. PICO and other methods for improving query formulation should be the focus of more research and teaching, as this is likely to help considerably in improving search results during daily medical practice. Search engines aimed at on-the spot searching should analyze queries and give advice how to improve queries that retrieve too few or too many results instead of displaying the titles of the articles retrieved.
Declarations
Acknowledgements
The authors thank the residents and specialists in internal medicine who participated in the study. We also thank Egbert van der Haring and Pieter Zanstra for the design of the portal and advice on analysis.
Role of the funding source
This study was funded by the Vereniging Nederlands Tijdschrift voor Geneeskunde (Association Dutch Journal of Medicine). This Association was not involved in the design and conduct of the study; collection, management, analysis, or interpretation of the data; or in the preparation, review or approval of the manuscript.
Authors' Affiliations
(1)
Department of Medicine, Division of General Internal Medicine, Radboud University Nijmegen Medical Centre, Nijmegen, The Netherlands
(2)
Department of Medical Informatics, Radboud University Nijmegen Medical Centre, Nijmegen, The Netherlands
Copyright
© Hoogendam et al; licensee BioMed Central Ltd. 2008
This article is published under license to BioMed Central Ltd. This is an Open Access article distributed under the terms of the Creative Commons Attribution License (http://creativecommons.org/licenses/by/2.0), which permits unrestricted use, distribution, and reproduction in any medium, provided the original work is properly cited.