Research article

Open Access

Open Peer Review
This article has Open Peer Review reports available.
A web-based laboratory information system to improve quality of care of tuberculosis patients in Peru: functional requirements, implementation and usage statistics
BMC Medical Informatics and Decision Making
2007
7:33
Received: 25 June 2007
Accepted: 28 October 2007
Published: 28 October 2007
Abstract
Background
Multi-drug resistant tuberculosis patients in resource-poor settings experience large delays in starting appropriate treatment and may not be monitored appropriately due to an overburdened laboratory system, delays in communication of results, and missing or error-prone laboratory data. The objective of this paper is to describe an electronic laboratory information system implemented to alleviate these problems and its expanding use by the Peruvian public sector, as well as examine the broader issues of implementing such systems in resource-poor settings.
Methods
A web-based laboratory information system "e-Chasqui" has been designed and implemented in Peru to improve the timeliness and quality of laboratory data. It was deployed in the national TB laboratory, two regional laboratories and twelve pilot health centres. Using needs assessment and workflow analysis tools, e-Chasqui was designed to provide for improved patient care, increased quality control, and more efficient laboratory monitoring and reporting.
Results
Since its full implementation in March 2006, 29,944 smear microscopy, 31,797 culture and 7,675 drug susceptibility test results have been entered. Over 99% of these results have been viewed online by the health centres. High user satisfaction and heavy use have led to the expansion of e-Chasqui to additional institutions. In total, e-Chasqui will serve a network of institutions providing medical care for over 3.1 million people. The cost to maintain this system is approximately US$0.53 per sample or 1% of the National Peruvian TB program's 2006 budget.
Conclusion
Electronic laboratory information systems have a large potential to improve patient care and public health monitoring in resource-poor settings. Some of the challenges faced in these settings, such as lack of trained personnel, limited transportation, and large coverage areas, are obstacles that a well-designed system can overcome. e-Chasqui has the potential to provide a national TB laboratory network in Peru. Furthermore, the core functionality of e-Chasqui as been implemented in the open source medical record system OpenMRS http://www.openmrs.org for other countries to use.
Keywords
Health District
Regional Laboratory
Drug Susceptibility Test
Laboratory Personnel
Smear Microscopy
Background
Tuberculosis (TB) is a chronic infectious disease that kills over 2 million people per year in the developing world. TB can typically be diagnosed rapidly by sputum microscopy at a local health facility, but diagnosis of multi-drug resistant TB (MDR-TB) – defined as TB strains resistant to at least isoniazid and rifampin – requires a drug susceptibility test (DST) which is usually performed at a regional, national or even supranational level. The emergence of extensively drug-resistant tuberculosis (XDR-TB) heightens the urgency of prompt diagnosis of drug resistance to curb the excessive mortality and ongoing transmission associated with highly resistant strains [1]. Communication of DST results between central and local laboratories and clinical facilities can be problematic and results can take several months [2] to get to their destination or never arrive [3], especially in high-burden countries with limited infrastructure. Prompt treatment with individualized drug regimens based on DST improves patient outcomes [4] and reduces the risk of amplification of drug resistance and ongoing transmission [5, 6]. As Raviglione and Smith comment in a recent editorial, "information is essential to build a response [to drug-resistant diseases], and only computerized information systems allow sufficiently rapid exchange of information within and between countries[7]."
Laboratory Information Systems
Laboratory information systems in developed countries have been shown to decrease turn-around-times (TAT) of laboratory results [8–10], reduce redundancy in resource utilization [9, 11, 12], and provide faster and more complete notification for public health purposes [13–15]. Shorter TATs have been associated with decreased treatment time, mortality, morbidity, and length of hospital stay [16, 17]. We are aware of the use of laboratory systems in the central laboratories in a few developing countries such as Peru and Russia. However, to our knowledge, there are no reports of the use of these systems to link laboratories to clinical settings.
There are potentially greater benefits of using clinical information systems in locations with limited infrastructure where other methods of communications are more costly. However, though they can provide many benefits, these systems are difficult to implement. In developed countries, it is estimated that up to 60% of all information technology implementations in health care fail [18]. Among the many challenges that need to be surpassed are over-burdened laboratory and clinical personnel, frequent staff rotation, limited computer and internet access, and frequent changes in administrations and policies.
Creating a Peruvian National Laboratory Network
The implementation of decentralized, rapid DST is underway as part of nationwide efforts to scale up services for detection and treatment of MDR-TB and XDR-TB by the Peruvian Ministry of Health [
19
]. Whereas initially only the Peruvian National Reference Laboratory (NRL) performed DST, the capacity of the regional laboratories has expanded to include rapid and conventional first-line DSTs. The typical flow of a suspected TB patient's sputum sample from the initial treatment site through the laboratory network is depicted in Figure
1
. Each test result is communicated serially, and in each step, there are delays and the potential to lose the result.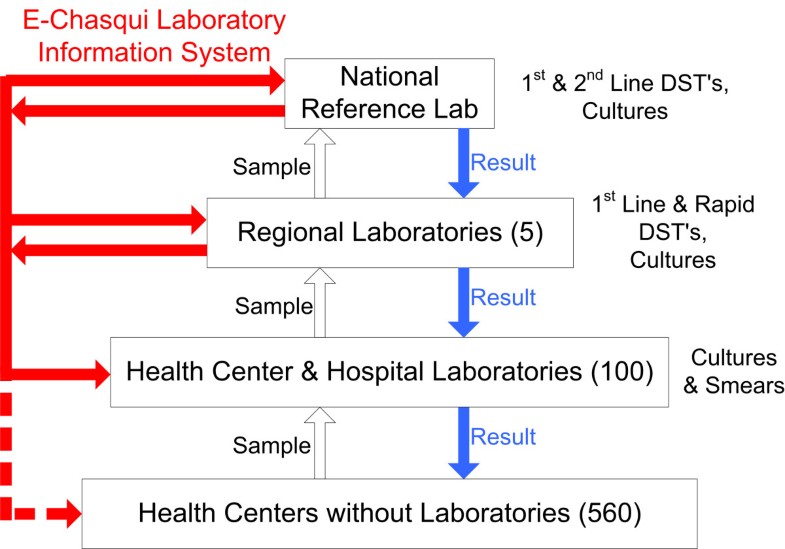 A study of TATs for cultures and DSTs within the Peruvian public health system suggests that patients could still experience risky delays despite availability of decentralized, rapid DST unless programmatic aspects are also addressed [2]. In addition to reducing communication delays, minimizing lost and erroneous results is essential for reducing morbidity in these high-risk patients. To improve these aspects, we developed and implemented the laboratory information system described herein.
This paper describes the design and implementation of a web-based TB laboratory information system to communicate data between a national laboratory, two regional laboratories, and 12 health centres (HC) in Lima, Peru. This system was designed to support a national TB laboratory network connecting all participating institutions. We then describe the expansion of the system at the request of the public administration. Finally, we examine broader issues of implementing these types of systems in resource-poor settings including costs and sustainability.
Results
The needs assessment and workflow analysis began in June 2005, with the first user testing in July 2005, January 2006, and May 2006, for each of the two regional and the national laboratories, respectively. Full implementation occurred in March 2006, August 2006, and September 2006, respectively.
System Usage
Our system has been successfully integrated into program operations. Since its initial implementation, 29,994 smear microscopy, 31,797 culture and 7,675 DST results have been entered. In 2006, 99.5% of all DST results and 98.8% of all culture results for the 12 pilot HCs were viewed online. The average number of pages viewed by the HCs in each of the two health districts (Lima Ciudad, Lima Este) can be seen in Figure
3
. The large increase in pages viewed in August 2006 occurred because e-Chasqui was fully implemented in both the Lima Este regional laboratory and the NRL.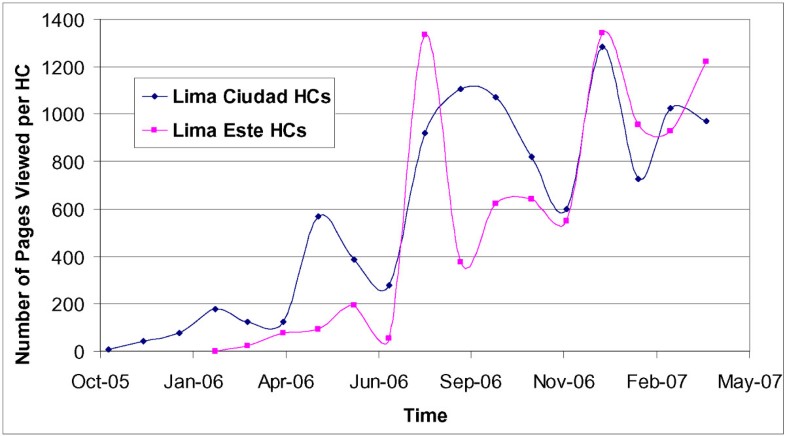 This is an online transaction processing system and since it is used in sites with low to medium internet bandwidth, this is a major factor in its performance. Due to e-Chasqui's simple, text-based design all sites can use it during routine clinical and laboratory work. In 2006, the system performed on average 1865 transactions per day including page views, data entry, and analysis. In 2007, it has increased to 4501 daily transaction and the system's performance has not been appreciably affected. Feedback from users has been positive. This feedback has been in the form of conversations by the research staff with the clinical and laboratory personnel, increased usage of the system by intervention sites, and requests for expansion of the use of the system by the district and laboratory administrators. Importantly, we have been careful to respond to critical comments and suggestions to enhance the system and maintain user "buy-in." A strong indicator of the system's utility is that district administrators have requested expansion of the system to additional institutions. In response, we are expanding access to three laboratories, 2 hospitals and 11 HCs that administrate 47 other health centres. In total, e-Chasqui will serve a network of institutions providing medical care for over 3.1 million people.
System Costs
In quantifying the costs of designing and implementing this web-based system in Peru, we have found the annual recurring cost to be US$34,738 total or US$0.53 per sample entered. More details can be found in Table
3
. This figure includes the cost of full internet access to all e-Chasqui institutions and a US based system manager. Since HCs use the internet for other purposes, including the national health register, we feel the system should incur 50% of the internet cost. Also, if the system manager was Peruvian with a local salary, the annual recurring cost reflects the approximate cost of implementing e-Chasqui in all major health centres in the two health districts. For comparison, the e-Chasqui health districts had 1103 MDR-TB patients on standardized or individualized treatment in 2006. The annual cost of these treatments are approximately US$2,900 and US$3,000, respectively [
25
]. Another comparison is that these health districts accounted for 53% of TB and MDR-TB patients in a national program whose 2006 budget was close to US$10 million [
26
]. In either case, this system to communicate all vital laboratory data for TB and MDR-TB treatment accounted for approximately 1% of the budget for those districts.
Table 3
Fixed and Monthly Costs of implementing e-Chasqui
| | Calculation | Fixed Cost | Monthly Cost |
| --- | --- | --- | --- |
| Infrastructure Building | | | |
| Computers, web access points and installation | 8 × $458 (average cost) | $3,666.00 | |
| Printers | 4 × $150 | $600.00 | |
| Server | | $2,500.00 | |
| Internet for health centres and labs | 12 HCs & 2 labs × $41 monthly | | $574.00 |
| Internet for headquarters with server | 1 HQ × $400 monthly | | $400.00 |
| Total | | $6,766.00 | $974.00 |
| System Design & Development | | | |
| Peruvian Clinician | 80 hours × $21/hour | $1,680.00 | |
| System Manager | 500 hours × $22/hour | $11,000.00 | |
| Faculty Consulting | 40 hours × $59/hour | $2,360.00 | |
| Programmer | 100 hours × $40/hour | $4,000.00 | |
| Total | | $19,040.00 | |
| System Implementation | | | |
| System Manager | 620 hours × $22/hour | $13,640.00 | |
| Faculty Consulting | 80 hours × $59/hour | $4,720.00 | |
| Programmer | 450 hours × $40/hour | $18,000.00 | |
| Total | | $36,360.00 | |
| Data Entry & Management | | | |
| System Manager | 1/4 time | | $937.50 |
| Peruvian Data Administrator | 2/3 time | | $253.33 |
| Peruvian Data Entry (one per lab) | 3 × 2/3 time | | $580.00 |
| Transportation for Data Administrator | 1.5 monthly visits to every site | | $150.00 |
| Total | | | $1,920.83 |
| System Advocacy | | | |
| Peruvian Clinician | 100 hours × $21/hour | $2,100.00 | |
| Faculty Consulting | 50 hours × $59/hour | $2,950.00 | |
| System Manager | 200 hours × $22/hour | $4,400.00 | |
| Total | | $9,450.00 | |
| Grand Total | | $71,616.00 | $2,894.83 |
Discussion
Challenges and Obstacles
Creating a system with enough flexibility to meet all stakeholders' needs that arise during implementation
Though e-Chasqui has focused functionality, the need to create many types of users and to define methods of communication between institutions took much work and time. There were two main reasons for this. First, the inexperience in implementing clinical information systems among stakeholders meant much learning about this topic had to take place. As a result, the technical requirements of e-Chasqui were constantly revised. For example, some stakeholders were unfamiliar with the concept that different users see information in specific manner such as individual or aggregate views. Therefore some exhibited initial scepticism about the system's ability to maintain information confidential. Second, defining appropriate user accesses to balance patient confidentiality with users' request for information. Again due to e-Chasqui's novelty, both the developers and the institutions have had to learn what the appropriate user permissions were. Here the web-based architecture allows e-Chasqui to track all users' actions. This capability was highly valued by all stakeholders since many of them asked about data confidentiality and security.
Maintaining both high data quality and timeliness with limited staff
The balance between opportune entry of results and electronic verification with high data quality continues to be a problem. The mean number of days between a DST result being read, its entry, and verification is 5.8. Though we believe that the additional step of result verification ensures higher data quality, we are still working to minimize these delays. On the other hand, the average number of days from laboratory verification to the HC personnel viewing their result in e-Chasqui is 2.2 which shows their interest in updated results.
Strengthening public infrastructure
To ensure e-Chasqui had lasting impact on patient care, it was necessary to integrate this system within the public health structure. Though this can mean additional work in terms of agreements with the different national and regional institutions, as well as providing additional services, the long lasting benefits, such as sustainability and implementation at a national level, usually outweigh this additional work.
Lessons learned
TB programs trying to improve communications, monitoring, and patient care by implementing electronic information systems face a task that can sometimes seem overwhelming. We have learned several lessons from our experience developing a nation-wide electronic laboratory information system in Peru.
All important stakeholders must contribute to the design and implementation
This is the only way to ensure the system addresses the actual user needs and to have user appropriation. To identify key system attributes during the design, medical and laboratory personnel must be involved from the beginning. Furthermore, developers must create a system easily integrated into the existing workflow with minimal disruption and sufficient advantages to gain "buy-in" such as easy usage for people with little computer experience. Lastly, branding the system appropriately, perhaps with a familiar name, makes it more recognizable. During the system's implementation, users must be constantly asked if they have questions or problems and their suggestions for fixing them. Problems that are outside the system's scope, such as not having access to a computer with internet, personal conflicts with other personnel who would like internet access, or equipment failures, should be addressed with administrative personnel.
Political support is integral to the system's dissemination
Unless there is will from the administration to implement an electronic information system, promote its use, and allocate resources to maintain it, there is little chance of success. This system was implemented as part of a scale up strategy between the National Tuberculosis Program and NRL to expand the laboratory network. Political support in this case was demonstrated by the support of the regional health administration and by laboratories providing data entry staff.
Provide adequate training in the system's use and benefits
Training should be focused on the benefits that it provides to the users. In Peru, most previous health information systems have required HC personnel to enter data for reporting purposes without receiving any feedback. While implementing e-Chasqui, we saw reticent users become enthusiastic when they realized the system would provide them with useful information. Training must also be provided continually, and the system's use monitored to ensure it continues to meet user's needs.
Ensure the system's sustainability
Sustainability in our experience is maintained by generating user confidence in the system's quality and usability, creating a flexible system able to adapt to changes within the public system, and providing evidence of system benefits. To have user confidence, the system must actually save time and be perceived as a consistently useful tool after the initial novelty has worn off. Three main factors to promote sustainability include (1) providing and maintaining a functional internet access point at their HC, (2) ensuring the quality and promptness of data, and (3) providing support to all users. Support to all users usually took the form of technical assistance at the laboratories and up-to-date results to HCs.
Implement the system as part of a larger structural improvement
We believe that the implementation of an information system is enhanced if it is an integral part of larger improvements in the clinical or laboratory infrastructure. That way the system can not only help improve communication but also be part of a more general improvement in workflow. In the case of e-Chasqui, it was incorporated into national project to decentralize DSTs.
Conclusion
Electronic laboratory information systems have much potential to improve patient care and public health monitoring in resource-poor settings. Some of the challenges described, such as lack of trained personnel, limited transportation, and large coverage areas, are obstacles that a well-designed information system can overcome. However, creating well-designed information systems is a difficult task necessitating appropriate resources, expertise and time to be successful.
The purpose of this paper is to pass on our experience of critical design issues and required capabilities to make similar systems work on-site. Though other projects will need to design and rollout laboratory information systems, we hope to make the process less onerous next time around.
e-Chasqui has the potential for creating a national TB laboratory network in Peru to facilitate the communication and analysis of all bacteriological results country-wide. We have already begun to see additional benefits to this system such as having the test always available during clinical decision making, reducing duplicate tests performed, and reducing the time and money spent by staff checking the status of their samples. Studies have been initiated to quantify these benefits. We are also conducting a prospective and retrospective evaluation study to measure e-Chasqui's effect on reducing mean delays, "lost" results with excessive delays, and errors of laboratory reporting. Furthermore, this same system or one similar could more easily be implemented in other countries facing similar problems of test tracking. In our efforts to make these systems available, we are implementing the core functionality of e-Chasqui as a module in the OpenMRS system [27, 28]. OpenMRS is a general purpose medical record system architecture we have developed with colleagues in the US and Africa to support TB and HIV treatment programs. OpenMRS is being rolled out in eight countries[29] with support from the US Centers for Disease Control and Prevention and the World Health Organization. At least two of these countries will use the e-Chasqui component.
Declarations
Acknowledgements
We wish to thank Betty Palma, Michael Seaton, Darius Jazayeri and Ellen Ball for designing and maintaining these systems, Carmen Contreras and Socios en Salud Sucursal Peru for their technical support, Claire Mack for her editing comments, and the clinical and administrative personnel in the Peruvian public health sector. This research was supported by grants from the Harvard Global Infectious Diseases Program and David Rockefeller Center for Latin American Studies. JAB received financial support from the MIT Carroll Wilson Award, MIT Public Services Center grant, and the MIT Hugh Y. Hampton Fellowship.
Authors' Affiliations
(1)
Division of Health Sciences & Technology, Harvard Medical School-MIT, Cambridge, USA
(2)
Partners In Health, Boston, USA
(3)
Division of Social Medicine & Health Inequalities, Brigham & Women's Hospital, Harvard Medical School, Boston, USA
(4)
Instituto Nacional de Salud, Jesus MariaLima, Peru
(5)
Direccion de Salud V Lima Ciudad, La Victoria, Peru
(6)
Direccion de Salud IV Lima Este, El Agustino, Peru
(7)
Centers for Disease Control and Prevention, Atlanta, USA
Copyright
© Blaya et al; licensee BioMed Central Ltd. 2007
This article is published under license to BioMed Central Ltd. This is an Open Access article distributed under the terms of the Creative Commons Attribution License (http://creativecommons.org/licenses/by/2.0), which permits unrestricted use, distribution, and reproduction in any medium, provided the original work is properly cited.