Research article

Open Access

Open Peer Review
This article has Open Peer Review reports available.
A simulation model of colorectal cancer surveillance and recurrence
BMC Medical Informatics and Decision Making
2014
14:29
Received: 21 February 2013
Accepted: 27 March 2014
Published: 8 April 2014
Abstract
Background
Approximately one-third of those treated curatively for colorectal cancer (CRC) will experience recurrence. No evidence-based consensus exists on how best to follow patients after initial treatment to detect asymptomatic recurrence. Here, a new approach for simulating surveillance and recurrence among CRC survivors is outlined, and development and calibration of a simple model applying this approach is described. The model's ability to predict outcomes for a group of patients under a specified surveillance strategy is validated.
Methods
We developed an individual-based simulation model consisting of two interacting submodels: a continuous-time disease-progression submodel overlain by a discrete-time Markov submodel of surveillance and re-treatment. In the former, some patients develops recurrent disease which probabilistically progresses from detectability to unresectability, and which may produce early symptoms leading to detection independent of surveillance testing. In the latter submodel, patients undergo user-specified surveillance testing regimens. Parameters describing disease progression were preliminarily estimated through calibration to match five-year disease-free survival, overall survival at years 1–5, and proportion of recurring patients undergoing curative salvage surgery from one arm of a published randomized trial. The calibrated model was validated by examining its ability to predict these same outcomes for patients in a different arm of the same trial undergoing less aggressive surveillance.
Results
Calibrated parameter values were consistent with generally observed recurrence patterns. Sensitivity analysis suggested probability of curative salvage surgery was most influenced by sensitivity of carcinoembryonic antigen assay and of clinical interview/examination (i.e. scheduled provider visits). In validation, the model accurately predicted overall survival (59% predicted, 58% observed) and five-year disease-free survival (55% predicted, 53% observed), but was less accurate in predicting curative salvage surgery (10% predicted; 6% observed).
Conclusions
Initial validation suggests the feasibility of this approach to modeling alternative surveillance regimens among CRC survivors. Further calibration to individual-level patient data could yield a model useful for predicting outcomes of specific surveillance strategies for risk-based subgroups or for individuals. This approach could be applied toward developing novel, tailored strategies for further clinical study. It has the potential to produce insights which will promote more effective surveillance—leading to higher cure rates for recurrent CRC.
Keywords
Colorectal cancer
Recurrence
Surveillance
Follow-up
Model
Background
Roughly two-thirds of the more than 140,000 Americans diagnosed with colorectal cancer (CRC) each year will be treated surgically with curative intent [1]. Approximately one-third of these will experience recurrence of the original disease or will develop a new primary (metachronous) CRC [2, 3]. Median survival for those experiencing recurrence of original disease is around two years [4]. Ultimately, nearly 50,000 patients in the U.S. die each year from CRC [1].
Most patients treated curatively are placed on some type of surveillance program involving periodic follow-up testing to detect preclinical recurrence. For patients who will experience recurrence, prognosis, though generally poor, may be improved if detection occurs prior to symptom onset, particularly if surgical resection of metastatic disease is possible [5]. Reviews of the relatively small number of trials comparing two or more specific follow-up strategies have suggested that more intensive strategies tend to increase survival at five years, detecting recurrence about six months earlier than less intensive strategies [6–8] at a point where salvage surgery with curative intent is more likely to occur (10.7% vs. 5.7%; p = .0002) [7]. However, the strategies tested, the populations studied, and the study periods varied significantly between trials [6–8]. As such, drawing prescriptive conclusions regarding best practices on the basis of these data is difficult.
Meanwhile, in economic terms, CRC surveillance consumes significant resources. U.S. investigators found that five-year follow up can cost as much as US$16,942 per patient [9]. Another group in Europe reported surveillance costs of US$9,011 [10] to US$59,841 [11] per detection of a recurrence resulting in attempted curative salvage surgery.
Not surprisingly, consensus is lacking among expert panels on how best to follow these patients [12–18]. New surveillance trials are in progress, but results may be several years away [19–21]. When complete, these trials will provide valuable information but will have been able to examine only a small fraction of possible surveillance strategies.
Given the potential impact on quantity and quality of life and on health care costs, better tools are needed for informing decisions around postsurgical surveillance of colorectal cancer patients. By simulating the dynamics of recurrence in a population of patients, a realistic computer simulation model could function as a virtual laboratory within which an unlimited number of experiments comparing hypothetical surveillance strategies could be run in silico within a compressed timeframe.
Several models have incorporated dynamics of the adenoma-carcinoma sequence in order to compare the effectiveness of hypothetical screening strategies in patients without history of CRC [22–32]; these include three models used in the National Cancer Institute's comparative modeling effort CISNET (Cancer Intervention and Surveillance Modeling Network) [33]. Fewer models though have simulated the events following diagnosis and treatment of CRC in order to compare postsurgical surveillance strategies [34–37]. None has captured the dynamics of recurrence in a way that accounts for disease progression during diagnostic delay and that considers the full range of possible metastatic sites.
Capturing the dynamics of CRC recurrence is a major methodological challenge mainly because of the difficulty of estimating parameters describing progression of recurring disease amid the censoring caused by medical and surgical interventions. In order to create a realistic model which allows assessment of any hypothetical surveillance strategy, one must be able to account for disease progression amid diagnostic delay. Here, we describe a new approach to modeling the interaction between natural history of CRC recurrence and early detection of recurrence through surveillance testing—an approach designed to allow the simulation of any potential surveillance strategy. We introduce a basic model we have developed which applies this approach, preliminarily estimate disease progression parameters by calibration based on published outcomes from a classic surveillance trial, and offer a quantitative validation of the model.
Results
Model calibration
Final calibrated parameter estimates are shown in the fourth column of Table
3
. Figure
3
compares observed values from the intensive follow-up (calibration) group in the Pietra trial to the model-generated outputs for the same group using the final best-fitting parameter set. As seen from the figure, predicted overall survival is slightly overestimated early in the five-year time horizon, while five-year disease-free survival and the rate of curative salvage surgery are slightly underestimated by the model. Additional file
2
: Figure S2 depicts the disease progression milestones for 20 simulated patients with recurrence based on the calibrated parameters.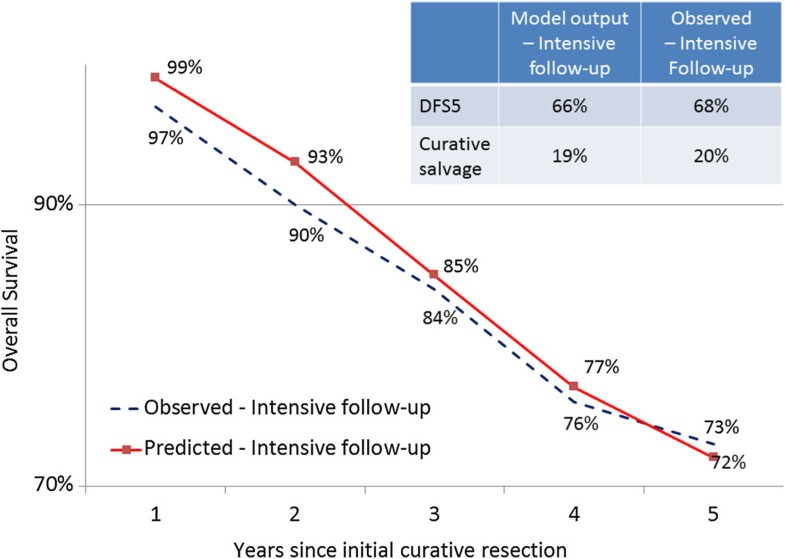 Sensitivity analysis
In order to examine the sensitivity of key model results to changes in non-calibrated parameters, we conducted a deterministic sensitivity analysis, varying all non-calibrated parameters in the fitted model across the ranges shown in the third column of Table 1. The outcomes of interest for sensitivity analysis were the proportion of patients undergoing eventual salvage surgery (denominator = all patients initially treated for CRC, whether or not they eventually recurred) and OS5.
Figure
4
a depicts sensitivity analysis results for the outcome representing the proportion of patients undergoing curative salvage surgery. The most influential parameter was test sensitivity of the CEA assay, with a 15 percentage point increase in sensitivity to 79% resulting in a 7.9% increase in proportion undergoing curative salvage surgery, and a 15 percentage point decrease to 49% resulting in a 7.4% decrease in proportion undergoing curative salvage surgery. Varying all other parameters over the specified ranges yielded variation in curative salvage surgeries of within 5% of the base case.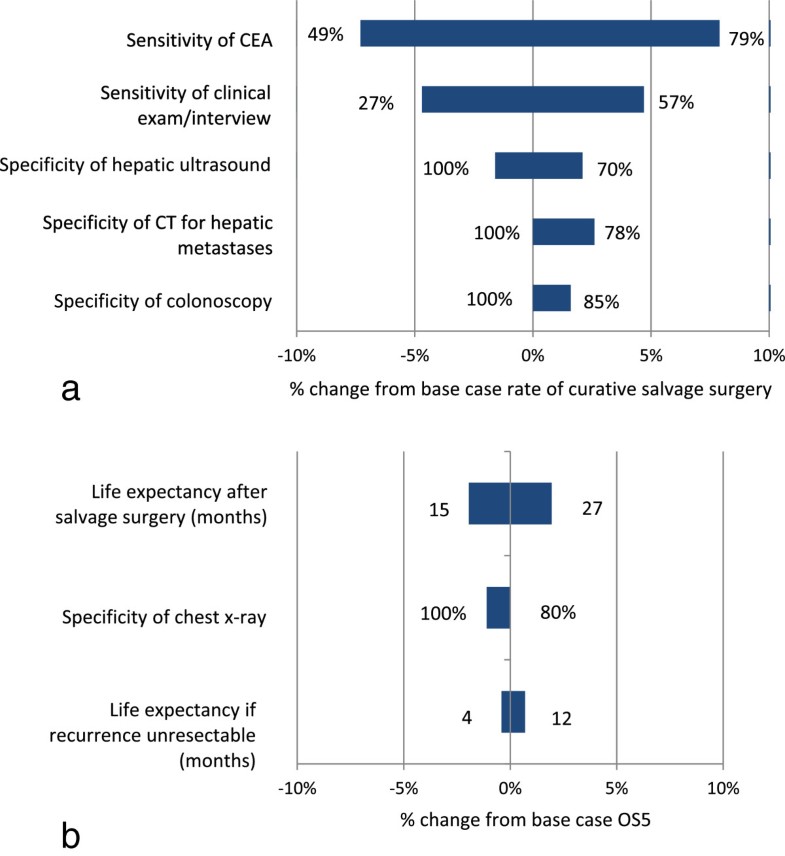 Figure 4b shows sensitivity analysis results for the outcome of overall survival at 5 years. Life expectancy values had the greatest impact on this outcome, though no parameter proved highly influential.
Validation
In order to assess the predictive value of the model for a similar population under a different follow-up regimen, we ran the model for the minimal follow-up arm of the Pietra trial and compared model-predicted with observed outcomes. This comparison is shown in Figure
5
. The largest difference between observed and predicted outcomes for the validation group was in the proportion of subjects who would eventually undergo curative salvage surgery for recurrence. The model overestimated this proportion at 10%, while only 6% of patients in reality underwent curative salvage surgery in the validation group.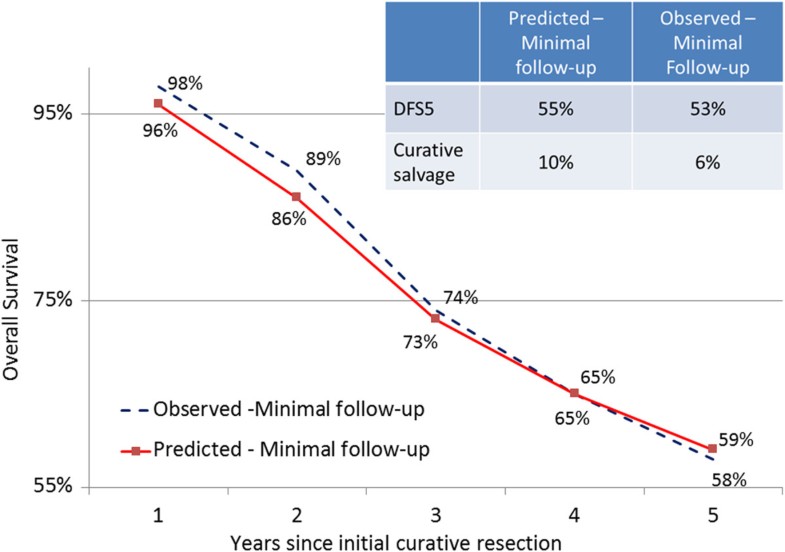 Discussion
We have introduced a new approach for simulating colorectal cancer surveillance and recurrence and have described a model which applies this approach. We estimated a best-fitting disease progression parameter set for this model by comparing iteratively generated model outputs to observed outcomes in one arm of a classic randomized controlled trial comparing two follow-up regimens (calibration). We then validated the model by demonstrating that it closely approximated several key outcomes for a separate group of patients followed less intensively in the same trial (validation). Application of this approach in subsequent based on larger, individual-level data sets could facilitate more personalized post-surgical surveillance of CRC survivors, ultimately translating into fewer low-yield tests and more lives saved through early detection of recurrence.
The approach of developing a generic disease progression submodel and calibrating its parameters based on outcomes data was taken because of the lack of biological data needed to directly estimate these parameters. The natural history behavior of recurring colorectal cancer is difficult to observe directly and is extremely heterogeneous. This heterogeneity likely stems, at least partly, from the greater genotypic diversity of genomically unstable tumor tissue which has been exposed to the stresses of treatment.
Though the specific values for the parameter estimates pertain to the patients in the Pietra trial and should not be construed to broadly represent disease behavior in the context of more recent treatment norms, they are consistent with generally-recognized patterns of CRC recurrence. Specifically, the estimates imply that those who recur later after initial treatment (higher values of Di) tend to exhibit a more indolent course of disease (as represented by a positive value of rds) and are more likely to be considered curable when diagnosed (as represented by a positive value of rdu) [53, 58–60].
In sensitivity analysis, the proportion of patients undergoing curative salvage surgery was not highly sensitive to any single parameter. This is partly explained by the fact that approximately six of ten individuals did not recur; including these individuals in the denominator somewhat attenuates the variation in this outcome. However, even if only patients who recurred are included in the denominator, no parameter influenced the outcome by more than 20%. An interesting pattern did emerge. Probability of salvage surgery was most directly influenced by changes in sensitivity of tests which were not specific to an anatomic site (i.e. CEA and clinical exam/interview). In the simplest terms, these "tests" cast a wide net, with the potential to generate a true positive for any recurrence, regardless of site. This observation reinforces the rationale behind the current pursuit of newer, highly sensitive circulating markers for recurrence.
Paradoxically, proportion of curative salvage surgeries moved in inverse proportion to the specificity of those tests which targeted an anatomic site (e.g. hepatic ultrasound). This finding suggests that false positives for such tests actually provide an indirect benefit by precipitating further workups which diagnose true recurrences in other locations. This paradox underscores the importance of considering quality-of-life impact of testing as well as cost considerations. With these issues in mind, our model has been designed so that future versions may be used to compare the costs per quality-adjusted life year of alternative surveillance regimens. Specifically, the surveillance and re-treatment submodel has the ability to track costs due to surveillance testing, work-up of positive surveillance tests, and subsequent curative or palliative treatment for each simulated individual at each point in time. Quality-adjustment of life expectancy will be achieved by applying health state utility parameters to assigned life expectancies.
The fact that overall survival of CRC survivors in general is only modestly affected by changes in many of the parameters associated with diagnostic test characteristics and differential survival suggests an important implication. Because most survivors will not recur, and many of those who do recur have a narrow window within which early detection may change prognosis, developing tools to better identify those at greatest risk and to individualize their surveillance will likely yield greater benefit than applying generalized surveillance recommendations to all survivors. With calibration to larger, individual-based data sets covering patients with a range of risk factor profiles, it is hoped that future iterations of the model will provide a means to compare the effectiveness of proposed surveillance regimens for risk-based subgroups of patients and to even suggest optimized regimens for individuals.
Multiple models have been developed to evaluate CRC screening strategies in healthy populations. These models simulate the sequence by which benign polyps transform to adenocarcinomas, and by which these adenocarcinomas grow and invade healthy tissue [22–32]. Some of these screening models have spawned research questions involving disease natural history [28, 61], have informed development of U.S. Preventive Services Task Force (USPSTF) guidelines on colorectal cancer screening [62], and have been applied by the Centers for Medicare and Medicaid Services (CMS) to compare the effectiveness of CRC screening strategies [63, 64].
Only a few models have addressed the issue of surveillance of curatively treated CRC patients for early detection of recurrence. Two of these have not accounted for disease progression during diagnostic delay in a manner that would allow realistic assessment of novel surveillance strategies [34, 35]. A separate group of investigators [36] used a sophisticated mechanistic, organ-level simulation to compare different treatment and surveillance strategies in patients with hepatic metastases. While the model does account for disease progression amid diagnostic delay, it does not provide information useful in determining optimal follow-up for non-hepatic recurrences. Also, the approach taken may be less feasible than a more population-based approach when considering metastases to other sites about which less detailed data are available.
A final, recent example of a model examining CRC surveillance is provided by Erenay et al. [37]. These investigators used longitudinal patient data to estimate natural history parameters related to formation and progression of metachronous colorectal tumors in patients who were status post curative resection. Though well-done, this model does not address recurrence of original cancers (which represent over 90% of relapses [7]). Furthermore, it is not validated against any other data source.
The approach we have described uses calibration of a disease progression submodel interacting with a surveillance and re-treatment submodel to estimate disease progression parameters while controlling for the impact of surveillance on disease natural history. The effect is to estimate group-specific parameters for a model describing disease progression in the absence of surveillance. Once calibrated, novel combinations and schedules of surveillance tests can be coupled with the disease progression model to predict outcomes for a group with similar underlying characteristics. Further calibration of the model to patient-level outcomes data containing individual risk factors will enable prediction of outcomes for populations or individuals with specific risk profiles, paving the way for more personalized and effective surveillance and the possibility for earlier detection of recurrence at a stage where cure is more likely.
Limitations
The chief limitation of this work stems from the small size of the patient groups used in calibration and validation, and from the lack of individual-level data. With larger groups, the probability that underlying disease behavior and background mortality would be similar between populations used for calibration and populations for whom outcome predictions were being sought would be greater. We chose the Pietra trial because of the wealth of outcomes data it provided and the between-study-arm similarity in subject characteristics compared to other available published studies. In validation, we attempted to alleviate limitations related to group size by assigning the appropriate background mortality rates and distribution of metastatic sites to match those reported for the validation group. In a scenario of making actual population-level predictions, one might not have the luxury of knowing these characteristics of the group of interest. However, for our purposes, these adjustments can be seen as strengthening the internal validation of the model by controlling for known differences between groups. In the future, individual-level data describing more diverse groups will be used to provide more generalizable parameter estimates and a higher-resolution understanding of the effects of different risk factors. With larger sample sizes, far less variability can be assumed in metastasis pattern and background mortality between calibration populations and populations for which predictions are to be made.
A minor limitation relates to the fact that we did not explicitly model the occurrence of second primary (metachronous) CRC's. Because no subjects in the calibration group were diagnosed with metachronous CRC, calibrating the model to simultaneously simulate incidence of metachronous CRC and recurrence of previously-treated disease was not a feasible option. Fortunately, the impact of this limitation on the integrity of the model validation should be minimal since only one individual in the validation group was reported to have experienced metachronous CRC. Because metachronous CRC (normally representing between 1.6% [7] and 7.4% [7, 37, 65] of CRC recurrences) behaves as a primary cancer and is associated with higher probability of cure compared to recurrent disease, it will be important to explicitly model separate natural history processes for these two types of events in future iterations of the model.
We do not consider the fact that the study is based on data gathered in the 1980's and 1990's to be a limitation. The purpose of this work was not to make prescriptive assertions about survivorship care of CRC patients today, but rather to demonstrate a method and preliminarily validate it using publicly-available data. That said, some useful generalizations are possible regarding the impact of diagnostic test characteristics and the importance of developing the ability to better customize follow-up of CRC survivors as elaborated above.
Conclusion
Scheduled post-operative surveillance of patients curatively treated for colorectal cancer allows the detection of asymptomatic recurrence which can create the possibility of cure for some patients. We have described and preliminarily validated a simulation model, based on a novel approach, which allows comparison of important patient outcomes under hypothetical combinations and schedules of common surveillance tests.
Future work
Next steps include adapting the model to a discrete event simulation framework which will allow calibration to individual-level patient data in which subject risk factors as well as precise dates of testing events and clinical milestones are known. Calibration and validation with larger, individual-level data sets representing patients with a more diverse range of demographic and disease characteristics is planned. Use of richer data sets (e.g. from combined clinical trials, or based on cancer registry data) will enable the use of future versions of the model to compare the effectiveness and cost-effectiveness of published surveillance recommendations for subgroups based on cancer stage, location (e.g. rectum versus colon), age, comorbidity status, presence of molecular markers, adjuvant treatment received, and other considerations. In addition, the model could be adapted to utilize an optimization algorithm to generate candidate follow-up strategies for such subgroups—allowing the more efficient design of meaningful clinical trials. Future adaptations could also power interactive clinical decision aids for planning the management of individual patients, an approach that itself could be validated in a randomized trial.
Authors' information
JR is a Preventive Medicine physician and health services researcher in the Department of Family Medicine and Community Health at Case Western Reserve University School of Medicine. His main research focus involves simulation models of preventive interventions in cancer.
KMA is a practicing colorectal surgeon working at the University Hospital of North Norway. He serves as a research manager at the Norwegian National Centre for Integrative Care and Telemedicine, and was the principal investigator in a recently published randomized trail assessing colorectal cancer surveillance.
CYK is a researcher at the Massachusetts General Hospital Institute for Technology Assessment. He is an expert in methods for parameter estimation using calibration in complex models involving cancer.
NJM is the Dr. Lester E. Coleman, Jr. Chair Professor of Cancer Research and Therapeutics and Chief of the Division of Hematology and Oncology at University Hospitals Case Medical Center/Case Western Reserve University in Cleveland, OH. He serves as Associate Director of for Clinical Research at the Case Comprehensive Cancer Center, is Co-Chair of the National Cancer Institute Gastrointestinal Cancer Steering Committee, and serves on the Board of Directors of the American Society of Clinical Oncology (ASCO).
MWK is Chair of the Department of Quantitative Health Sciences at Cleveland Clinic in Cleveland, OH. His research is primarily focused on the development, validation, and use of prediction models in cancer.
QH is a graduate student in Biostatistics at Case Western Reserve University.
XA is a graduate student in Biostatistics at Case Western Reserve University.
GSC is a Professor of Medicine-Gastroenterology at University Hospitals Case Medical Center/Case Western Reserve University in Cleveland, OH. He directs the Office of Comparative Effectiveness Research at the Case Clinical and Translational Science Collaborative and co-leads the Cancer Prevention, Control and Population Research Program at Case Comprehensive Cancer Center.
Declarations
Acknowledgements
JR, NJM, MWK, and GSC were supported for this work in part by a National Cancer Institute Program Grant (5P30 CA043703-21). JR was supported by a Mentored Research Scholar Grant in Applied and Clinical Research, MRSG-13-315-01-CPHPS from the American Cancer Society. The funders played no role in the study design, in the collection, analysis, and interpretation of data; in the writing of the manuscript; or in the decision to submit the manuscript for publication.
The authors confirm that neither the submitted manuscript nor any similar manuscript, in whole or in part, is under consideration, in press, or published elsewhere.
Authors' Affiliations
(1)
Case Western Reserve University School of Medicine, Cleveland, USA
(2)
Case Comprehensive Cancer Center, Cleveland, USA
(3)
Norwegian National Centre of Telemedicine and Integrated Care, University Hospital North Norway, Tromsø, Norway
(4)
Massachusetts General Hospital, Boston, USA
(5)
Seidman Cancer Center, University Hospitals Case Medical Center, Cleveland, USA
(6)
Cleveland Clinic, Cleveland, USA
Copyright
© Rose et al.; licensee BioMed Central Ltd. 2014
This article is published under license to BioMed Central Ltd. This is an Open Access article distributed under the terms of the Creative Commons Attribution License (http://creativecommons.org/licenses/by/2.0), which permits unrestricted use, distribution, and reproduction in any medium, provided the original work is properly credited.