Automated ventricular systems segmentation in brain CT images by combining low-level segmentation and high-level template matching
BMC Medical Informatics and Decision Making
2009
9(Suppl 1):S4
Published: 3 November 2009
Abstract
Background
Accurate analysis of CT brain scans is vital for diagnosis and treatment of Traumatic Brain Injuries (TBI). Automatic processing of these CT brain scans could speed up the decision making process, lower the cost of healthcare, and reduce the chance of human error. In this paper, we focus on automatic processing of CT brain images to segment and identify the ventricular systems. The segmentation of ventricles provides quantitative measures on the changes of ventricles in the brain that form vital diagnosis information.
Methods
First all CT slices are aligned by detecting the ideal midlines in all images. The initial estimation of the ideal midline of the brain is found based on skull symmetry and then the initial estimate is further refined using detected anatomical features. Then a two-step method is used for ventricle segmentation. First a low-level segmentation on each pixel is applied on the CT images. For this step, both Iterated Conditional Mode (ICM) and Maximum A Posteriori Spatial Probability (MASP) are evaluated and compared. The second step applies template matching algorithm to identify objects in the initial low-level segmentation as ventricles. Experiments for ventricle segmentation are conducted using a relatively large CT dataset containing mild and severe TBI cases.
Results
Experiments show that the acceptable rate of the ideal midline detection is over 95%. Two measurements are defined to evaluate ventricle recognition results. The first measure is a sensitivity-like measure and the second is a false positive-like measure. For the first measurement, the rate is 100% indicating that all ventricles are identified in all slices. The false positives-like measurement is 8.59%. We also point out the similarities and differences between ICM and MASP algorithms through both mathematically relationships and segmentation results on CT images.
Conclusion
The experiments show the reliability of the proposed algorithms. The novelty of the proposed method lies in its incorporation of anatomical features for ideal midline detection and the two-step ventricle segmentation method. Our method offers the following improvements over existing approaches: accurate detection of the ideal midline and accurate recognition of ventricles using both anatomical features and spatial templates derived from Magnetic Resonance Images.
Keywords
Compute Tomography Slice
Traumatic Brain Injury
Compute Tomography Dataset
Iterate Conditional Mode
Neighborhood Configuration
Introduction
It is estimated that every year, 1.4 million people in the United States sustain a Traumatic Brain Injury (TBI) [1]. TBI occurs when a sudden event damages the brain, such as a blow or jolt to the head. Over 50,000 of these patients will not survive, and many others will be left permanently disabled [1]. 50% of those who die do so within the first two hours after injury [2]. Speed of diagnosis is therefore vital, and so Computed Tomography (CT) imaging, which is faster and much less costly than other medical scan, e.g., Magnetic Resonance Imaging (MRI) scan, is still the gold standard for initial TBI assessment [3]. A CT scan can also clearly reveal any severe abnormalities such as fractures or hematomas. One common cause of death and other serious long-term complications after TBI is increased intracranial pressure (ICP) resulting from edema caused by the original injury. Increased ICP causes shift and deformation of brain tissue, complicating the injury further and rapidly proving fatal if unchecked. Cranial trepanation allows a monitoring device to be placed inside the skull, but puts the patient at risk of infection, bleeding, and further damage to the brain tissue. If possible, a non-invasive pre-screening method to evaluate the need for cranial trepanation is preferable. A CT scan is usually taken soon after TBI in emergency setting. It may show shifting of the tissue - "midline shift" - or a significant change in the size of the lateral ventricles. The shift and size of ventricles can either suggest for or against performing cranial trepanation. Surgeons may use both these features to evaluate the severity of the ICP, but these calculations have to be done manually and so involve estimation. In order to improve accuracy, speed and consistency, automated processing of this procedure is preferred. This paper proposes an method to automate the analysis of CT scan, including method of detecting ideal midline (where "ideal" refers to the position expected in a normal non-pathological subject), segmenting the lateral and third ventricles. The ventricle segmentation result can be used to provide statistics about the change of ventricles and for further diagnosis.
In this paper, bone symmetry and then direct detection of anatomical features in CT images are applied to capture the ideal midline. In capturing the midline, using symmetry alone cannot guarantee that the resulting line is consistent with the actual location of the ideal fissure (the fissure of the brain before TBI). In other words, while the fissure is a suitable representation of the midline, the fissure plane is not always representing the plane separating the two sides of the brain symmetrically. This is more evident in pathological cases associated with TBI where the midline is clearly shifted to one side, thus violating the symmetry of a typical normal brain. In [4], a genetic algorithm is applied to model the deformed midline; this may be the closest related work. This method assumes symmetric textures in the brain tissue. However, the algorithm does not work well when the midline shift is larger than 5 mm, which reflects the asymmetry present in most pathological cases.
The ventricular system is the target for segmentation, as it is typically visible in CT scans and can be used for midline estimation. Figure
1
shows a 3D model of the ventricular system with the presence of a MR slice of the brain. In this paper, the fourth ventricle is not considered in this work because it is rarely used to measure the midline shift, but it can be easily included. Several automated segmentation techniques have been extensively specialized for medical images, particularly MRI scans. Segmentation methods for medical image can be divided into two groups based on their incorporation of prior knowledge. The first one uses prior/expert knowledge explicitly. One popular approach in whole brain MRI segmentation is the use of probabilistic anatomical atlas [
5
,
6
]. Region growing is another method of incorporating the continuity of objects in images, scans between adjacent slices especially in MRI. Xia et al. [
7
] apply this to extract ventricles from separated regions of interest in the brain, and design very specific rules to grow each part into the entire ventricle system. Region growing is also employed by Schonmeyer et al. [
8
] to segment lateral ventricles. It incorporates a descriptive feature rule based system, called cognition network technology, for image segmentation and shows promising results. The second group of segmentation methods applies classification and clustering methods, which can be considered as using prior knowledge implicitly through several training examples, or extracting some statistical features inside images to train a model. For example, artificial neural networks are used in [
9
] for segmentation of multi-spectral MRI scans. Wells et al. [
10
] use the expectation/maximization (EM) algorithm to classify white matter, gray matter. In [
11
], expectation maximization segmentation is combined with the use of active contour models. In [
12
], fuzzy c-means (FCM) clustering method is combined with bias field modeling for MRI segmentation.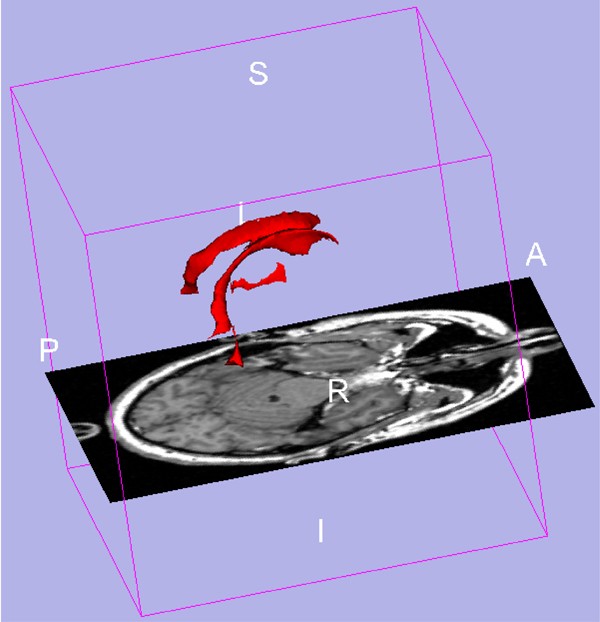 However, in several of these studies the test subjects are healthy patients, or have relatively little distortion of brain structures. Furthermore, these studies all focus on MRI segmentation; research on automated brain CT segmentation is still relatively scarce. MRI offers improved soft tissue contrast over CT, and is therefore more capable of characterizing these tissues to facilitate segmentation [13]. However, while MRI is suitable for soft tissue examination and when time and cost are not important factors, in real clinical settings, e.g., in traumatic injuries, CT images are typically used due to time urgency, better visibility of bones and blood as well as low cost. This emphasizes the need to develop more effective methods for CT image processing. Though CT segmentation has been studied previously, much of the work has focused on cardiac and thoracic anatomy [14–16], for which CT is a standard method of diagnosis. In [17], a 2D atlas is used for segmentation of abdominal CT volume. Some attempts at segmenting brain CT images have been made. Li et al. [18] devised a method to model spatial relationships between objects in the brain. However, the algorithm was not tested on severe pathological cases. In [19] k-means clustering and neural network are applied to segment areas of hemorrhage in brain CT slices, but the approach is only tested on a single CT slice. The method described in this paper, besides using traditional image segmentation methods, also incorporates anatomical information, making the algorithm robust enough to deal with pathological cases. The two main challenges of segmenting axial head CT images are as follows: lack of high-resolution soft tissue definition compared to MRI and the difficulty of dealing with complex pathological subjects. In this paper, we present an algorithm on ideal midline detection and ventricular system segmentation to deal with these challenges. Testing is performed on a dataset of TBI cases provided by the Carolinas Healthcare System (CHS). The proposed segmentation method is validated on approximately 400 CT slices for multiple patients. The initial forms of the ideal midline detection and ventricle recognition algorithms were briefly described in our previous paper [20]. In this paper we present the details of our refined and extended algorithms.
Results
Data
The testing CT dataset was provided by the Carolinas Healthcare System (CHS). All subjects were diagnosed with mild to severe TBI when first admitted to hospital. The dataset contains 40 patients. The age range is from 8 to 70, with average age 38.4 and standard deviation of 19. From this set, 391 axial CT scan slices are selected that show ventricles or region that should have contained ventricles. To our knowledge, and based on the literature of the brain CT image segmentation [18, 19, 25, 26], our database is relatively large, and as a result, the reliability of the testing results for the proposed CT segmentation method should be at least as high as that of almost all comparable works in this field.
Results of ideal midline detection
The midline detection algorithm was tested on 391 CT slices. Out of these, 291 were detected as first type slices, and 100 were detected as second type. Performance was evaluated by the collaborating physician, as this is the only method to identify the true ideal midline and compare it to the one detected by the algorithm. Prior to the inter-slice consistency check, the accuracy for first class images was approximately 90%. With the consecutive inter-slice adjustment added, the accuracy increased to 98%, more over 95% of the detected midlines in the second class images were also acceptable. An example result is shown in Figure 6. The solid line is the initial midline approximation and the dashed line represents the refined ideal midline.
Analysis of ICM and MASP
Since both ICM and MASP use spatial neighborhood information and probability model in their algorithm, it is interesting to compare these two algorithms. In the following we analyze the similarity, differences and their link between these algorithms.
Similarity
One of the two assumptions in ICM and MASP is the same, which assumes that given the label of the pixel, its gray scale value is independent of other neighborhood labels. For the other assumptions in ICM and MASP, the common points are that both assumptions assume local neighborhood dependence. In sum, both methods assumes a two layer way of viewing images. The higher layer is the label grid for each pixel location, the lower layer is the actual image based on Gaussian distribution for each label.
Differences
The ICM assumes Markov Random Field model to generate the label grid. This means that the model is expressed as p(x = k|N), where x is the center label and N is the neighborhood labels configuration. MASP, however, assumes that the neighborhood depends on the center pixel, which can be expressed as p(N|x = k). The directions of dependence is the main difference between these two methods. Other differences are the calculations made to estimate these probabilities. In ICM, p(x = k|N) is calculated using a defined probability function, e.g., using ratio of labels in the neighborhood to calculate the probability function. In MASP, the probability p(N|x = k) is estimated from the image by counting the proportion of each pattern. If the number of distinct labels K is large, MASP is computationally expensive because the number of neighborhood pattern is K n , where n is the number of pixels defined in neighborhood.
Relationship between ICM and MASP
It can be proved that the objective functions used in modified MASP and ICM are equivalent, the only difference is the different approaches to evaluate conditional probability functions based on the different assumptions made in the two cases. For ICM, the probability function being evaluated is
Modified MASP attempts to maximize the following function with different label k:
As it can be seen, in terms of formal expression, both ICM and modified MASP try to maximize the probability of P(x = k) conditioned on its gray scale g and its current estimated neighborhood N c . The difference between modified MASP and ICM are that ICM use MRF to model the probability function P(x = k|N c ), which is later estimated using current estimated labels, where as modified MASP uses the current estimated labels directly to estimate the probability P(N c |x = k). Since they both use the same objective function to choose labels, ICM and modified MASP should have similar labeling result. However, because of the large space of neighborhood configuration, using image data for probability estimation may not be sufficient. Therefore ICM seems a safer method of using spatial information.
Illustration on CT Ddta
In order to assess and compare the performance of the segmentation algorithms, we apply both methods on the CT dataset. For ICM, the simplest non-degenerated MRF is used and
β
= 1.5 [
23
]. For MASP and modified MASP, 8-neighborhood is used. Each algorithm runs for 10 iterations, given a starting label map generated via k-means with fixed seeds initialization. As a baseline, K-means result is also presented. The difference between K-means, ICM, MASP and modified MASP can be seen in Figure
18
. From the result we can see that ICM, MASP and modified MASP have smoother effect than simple K-means. This is due to the incorporation of local neighborhood information into labeling pixels. Compared to MASP, ICM has very clear boundary and shows a suitable performance dealing with noise. However, due to the smoothing effect, ICM also loses some detailed information, e.g., the upper horn on the lateral ventricles. MASP tends to maintain more details in segmented result, however it also keeps noisy part inside. For example, on the upper right corner, a part of the bruise region is classified as ventricle class. Since modified MASP has similarity with both ICM and MASP, it shows intermediate segmentation result, i.e., it shows more noise than ICM while keeping some detail of horns. However, it has less noise than MASP. Testing results on other CT images show similar characteristics of these algorithms.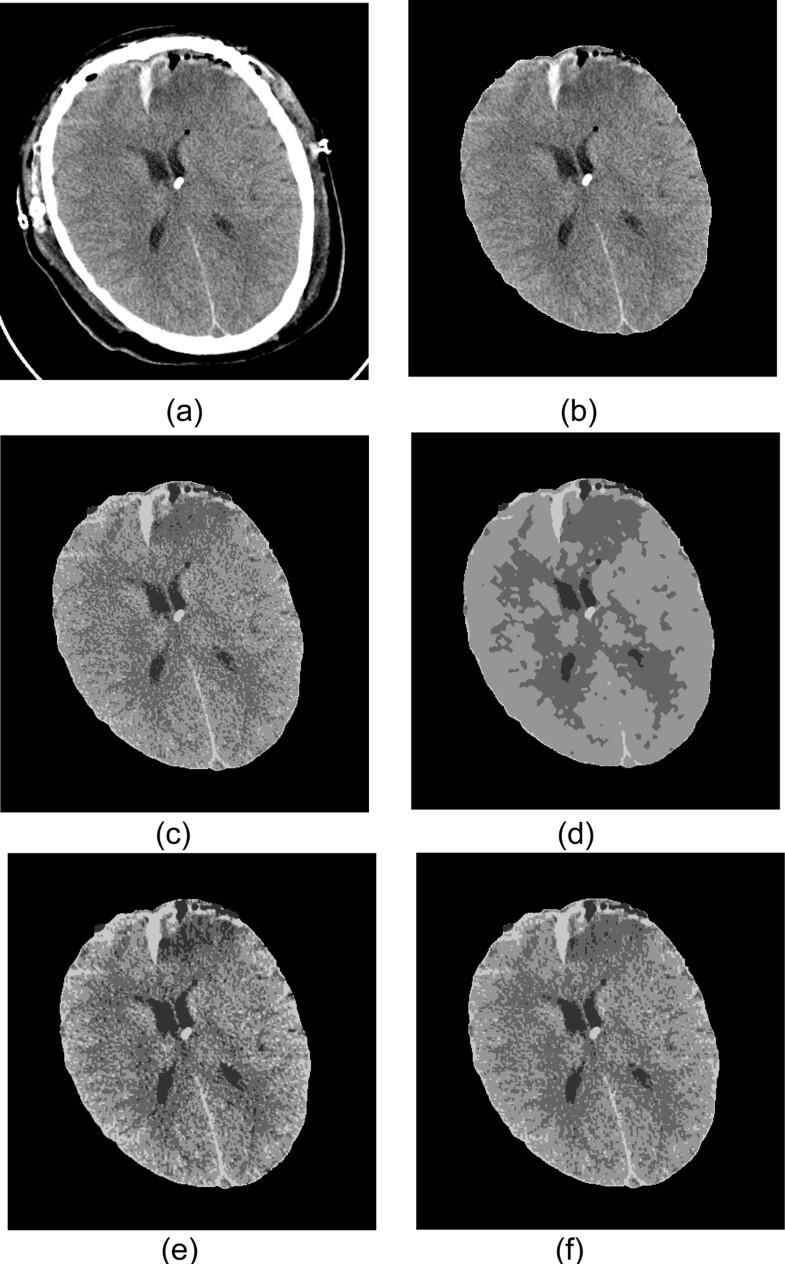 Results of ventricle segmentation
Since ICM is faster and has smoother results than MASP, ICM is used as our low-level segmentation method for evaluation of the proposed entire ventricle segmentation method. Then template matching method is used to recognize ventricles. Evaluation of final ventricle recognition was done by visual inspection conducted by the participating physician. Here two measurements are defined to evaluate the result. The first is a sensitivity-like measure. It is the rate of slices in which ventricular regions are correctly detected as ventricle. The second is a false positive-like measure. It is the rate of slices in which non-ventricular regions are incorrectly detected as ventricle. For the first measurement, the rate is 100% because all ventricles are identified in all slices. The false positives-like measurement is 8.59%, i.e., 33 out of 391 slices have falsely classified ventricles. These false positive objects in CT slices either included non-ventricle objects, e.g. bruised areas, or detected objects in slices where no ventricles were originally visible, which implies some mismatch between the adopted segmentation method and segmentation based on physician's interpretation.
Conclusion and future work
This paper provides a method for automatic ventricle segmentation as well as an ideal midline detection algorithm using axial head CT images. First, an accurate ideal midline detection method is proposed, and used to correctly align the scan set based on the ideal midline. This is a crucial step before using any template matching later because it avoids the need to shift or rotate templates, and therefore simplifies registration. Then low-level segmentation and high-level ventricle recognition using template matching are applied. Our method offers the following improvements over existing approaches: accurate detection of the ideal midline, ventricle recognition using both anatomical features and spatial templates derived from MRI images. In addition, ICM and MASP are analyzed and compared both mathematically and experimentally. The relatively large size of the CT dataset used for testing makes the results of this study more reliable. Future work will focus on refinement of these algorithms and the use of the extracted features to calculate changes in ventricle volume as well as midline shift based on the segmented ventricles, which may lead to a mapping between midline shift and increased ICP in patients with traumatic brain injuries.
List of abbreviations used
(TBI):

Traumatic Brain Injury
(MRI):

Magnetic Resonance Imaging
(CT):

Computed Tomography
(ICP):

intracranial pressure
(ROI):

regions of interest
(ICM):

Iterated Conditional Models
(MASP):

Maximum A Posteriori Spatial Probability
Declarations
Acknowledgements
The authors would like to thank Carolinas Healthcare System (CHS) for providing the CT brain dataset.
This article has been published as part of BMC Medical Informatics and Decision Making Volume 9, Supplement 1, 2009: 2008 International Workshop on Biomedical and Health Informatics. The full contents of the supplement are available online at http://www.biomedcentral.com/1472-6947/9?issue=S1.
Authors' Affiliations
(1)
Department of Computer Science, Virginia Commonwealth University, Richmond, USA
(2)
Department of Emergency Medicine, Virginia Commonwealth University, Richmond, USA
Copyright
© Chen et al; licensee BioMed Central Ltd. 2009
This article is published under license to BioMed Central Ltd. This is an open access article distributed under the terms of the Creative Commons Attribution License (http://creativecommons.org/licenses/by/2.0), which permits unrestricted use, distribution, and reproduction in any medium, provided the original work is properly cited.