Software
Open Access
Open Peer Review
This article has Open Peer Review reports available.
Indivo: a personally controlled health record for health information exchange and communication
BMC Medical Informatics and Decision Making
2007
7:25
Received: 10 July 2007
Accepted: 12 September 2007
Published: 12 September 2007
Abstract
Background
Personally controlled health records (PCHRs), a subset of personal health records (PHRs), enable a patient to assemble, maintain and manage a secure copy of his or her medical data. Indivo (formerly PING) is an open source, open standards PCHR with an open application programming interface (API).
Results
We describe how the PCHR platform can provide standard building blocks for networked PHR applications. Indivo allows the ready integration of diverse sources of medical data under a patient's control through the use of standards-based communication protocols and APIs for connecting PCHRs to existing and future health information systems.
Conclusion
The strict and transparent personal control model is designed to encourage widespread participation by patients, healthcare providers and institutions, thus creating the ecosystem for development of innovative, consumer-focused healthcare applications.
Keywords
Application Programming InterfacePersonal Health RecordHealth Information ExchangeHealthcare InformationWorkplace Health Promotion
Background
Personally controlled health records (PCHRs), [1] a subset of personal health records, [2, 3] enable a patient to assemble, maintain and manage a secure copy of his or her medical data [4]. PCHRs are designed on the principle that patients have the right to own and manage copies of their own medical information. PCHRs are complements to, rather than replacements for existing healthcare information management systems. In exercising control of their records, individuals decide what data sources populate the record and who is allowed to access or annotate any of the documents contained within the record. Here we describe Indivo [5] (formerly PING [6]), an open source, open standards PCHR with an open application programming interface (API).
Indivo is a specific implementation of a PCHR that is Internet based, provides a World Wide Web interface, and is built to public, open standards. The Indivo software allows institutions to create and administer a PCHR infrastructure that exceeds the requirements of the Health Insurance Portability and Accountability Act (HIPAA) Privacy and Security Rules. As described in Simons et al, Indivo is a three-tier system with a data storage tier, a business logic tier, and a user interface. Indivo's unique implementation of the PCHR concept focuses on complete transparency and high security. All Indivo technical documents, including design concepts and source code, are freely available and accessible on the Internet. Critical to interoperability and adoption, all design concepts, application programming interfaces and document formats are open and public. High security is enforced at all three tiers of the system and is a primary feature.
Implementation
Figure
1
shows the conceptual components in Indivo, including the Indivo API, server, encrypted storage, PCHR applications, the subscription agents and data sources, users, and the external services.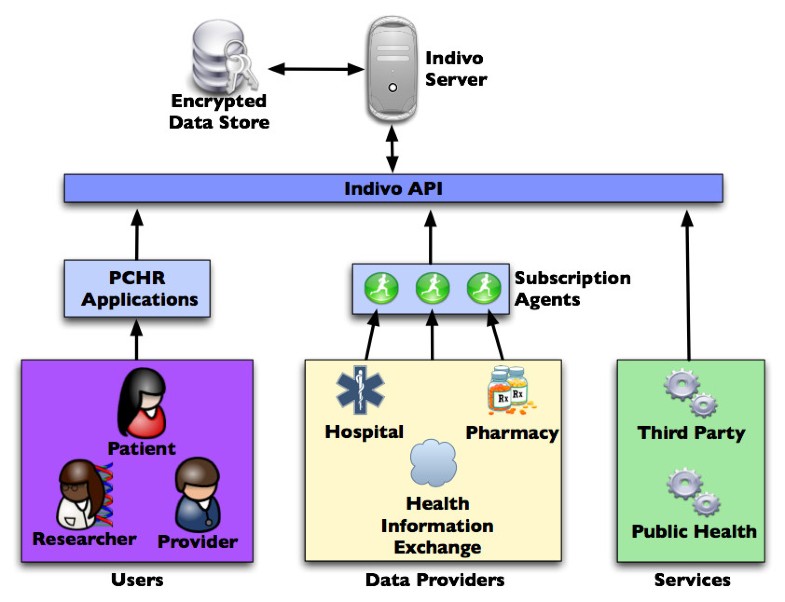 The Indivo API is a central and unique feature of the system. The core PCHR functionality, consisting of the ability to aggregate a longitudinal health record from various component data sources, and the ability to share components of an aggregated record with third parties, can be implemented in a variety of ways depending on the originating data sources and the requirements of the user community. The Indivo API allows us to deliver this core functionality in a flexible way, separate from specific implementations of user interfaces or source databases.
Three tiered architecture
The core of the Indivo platform is the Indivo Server, the "middle" or business logic tier, responsible for managing the set of documents that make up a PCHR record. A document within a PCHR may represent an individual laboratory result, a clinical encounter, allergy, medication, annotation, survey result, or any other discrete piece of relevant healthcare information. The document model was described in Simons et al [6]. The document-based approach provides substantial flexibility, as the server remains agnostic to content and instead acts as a provider of integration and security services. Each Indivo account is implemented as a bundle of documents associated with an individual actor. The Indivo Server makes documents available to client applications via the Indivo API, and determines which documents are available to which users.
The Indivo Server has two classes of security policies. The first is institutionally-oriented, server-based and explicitly permits or denies certain actions. For example, an institutional policy may only allow users assigned a particular role to create new accounts. The second policy type is user-based, enabling a patient to indicate which other users have particular privileges on specific portions of her record. These personal policies are enforced by the Indivo Server along with the institutional policies. For example, users can choose to restrict access to individual documents within their PCHR, or to classes of documents within the PCHR. The server resolves conflicts between user and institutional policies by favoring the strictest policy. That is, if an institutional policy permits a particular action, and the user policy denies it, the action will be denied. Since personal control is a paramount feature, there are only rare instances where the institutional policy to deny overrides the user policy to permit. An example would be when the server prevents the updating of a document from someone who is not the original author of that document (even if that person had full update access granted by the record owner). This kind of institutional policy is important for ensuring the integrity and accuracy of data contributed to the PCHR by external healthcare providers. Lastly, when no policies exist on either the institutional or user side to govern a certain action, the institutional side defaults to a lax policy (always allow) while the user side defaults to a strict policy (always deny). Indivo's dual-class (server and individual) approach to access policies is a defining feature of the system. The policy evaluation rules afford maximum control by the record owners over their personal health data within the boundaries set by the system administrators.
The Indivo Server uses the data storage tier to store the various data documents that make up a user's PCHR. In Indivo, the data storage tier is encrypted to protect users even in the event of hardware loss or theft. Encryption keys are hosted on a separate physical server to prevent decryption of patient data if the data storage machine is ever compromised. Further, each record stored in the system is fractured into loosely-related, encrypted data packets to mask the size of an individual record – simply having a large record may be revealing of a complex medical history. The design of the data storage tier is critical, particularly given a recent report of poor data protection in non-server based PHR [7]. Encryption of data at rest also contributes to the long term secure preservation of patient data.
The graphical user interface (GUI), shown in Figures
2
and
3
, is responsible for presenting the data contained in the patient's record in a meaningful and comprehensible way. Because the user interface obtains all PCHR data from the Indivo Server, all policies are automatically applied – any action that the user interface tries to perform is passed through the middle tier via the API and thus subject to the security policies that are enforced there. The user interface also helps patients configure the policies that the middle tier will enforce.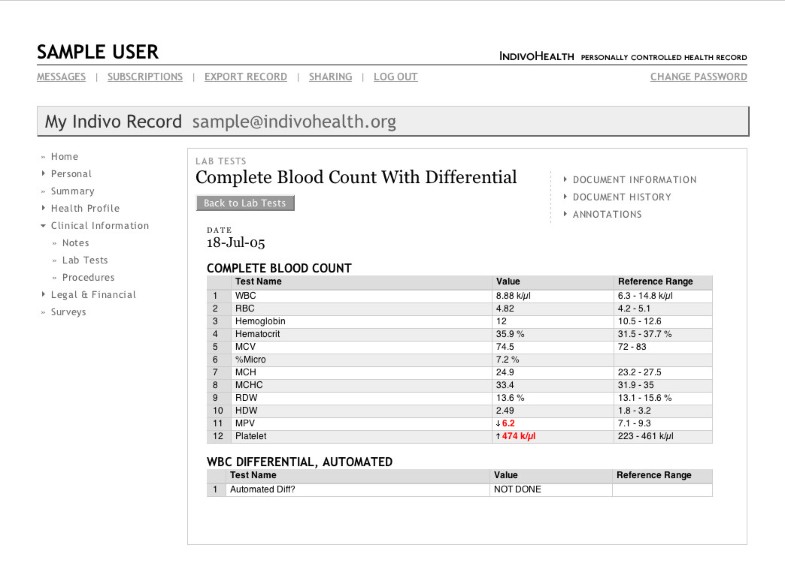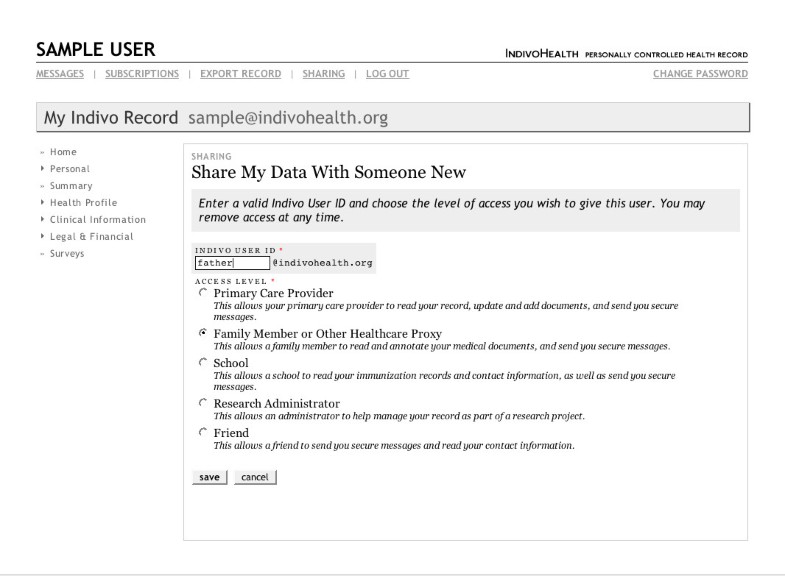 Because the user interface interacts with the Indivo Server as a client, via a standard API, a single Indivo Server can support multiple user interfaces depending on the needs of the patient population. The reference implementation of Indivo provides a simple interface for patients, care providers, and administrators using the World Wide Web. The Indivo API is open, allowing others to create their own user interfaces, which can be highly customized in look and feel and provide targeted views of health data for various subsets of the Indivo user community. For example, a tool for managing chronic illnesses like diabetes might only show the user a portion of her record, but may incorporate distinctive workflows and manage specialized data types that are not displayed by the reference implementation's user interface.
By designing the graphical user interface as a client that uses the standard API, the Indivo approach encourages a distributed process of application development that supports creation of "home grown" as well as commercial modules.
Standards and interoperability
Since the inception of the project in 1998 [8] the Indivo team has been committed to transparency and open standards. All communication with the Indivo system occurs through standard web protocols. The approach to interoperability of PCHRs with electronic medical records (EMRs) and other information systems relies on a simple principle – use widely-adopted, standardized methods for exchanging (importing and exporting) data. Currently, Indivo handles both the Continuity of Care Record (CCR) and the Continuity of Care Document (CCD) for such information transfer and is working closely with the Healthcare Information Technology Standards Panel (HITSP) [9] on interoperability. Standard coding systems, such as LOINC, may be used when the source data provider supports them. Our mechanism for importing data from EMRs and other sources, the subscription agent, is discussed below.
The Indivo architecture is document-centric, with a document model adapted for information needed by patient-centric applications, rather than one which simply wraps electronic health record data. The document model standard is open and available as part of the Indivo open source suite. The highly granular design of the Indivo document model greatly facilitates patient control over exchange of discrete portions of the record. This, in turn, enables individual autonomy in the control of information flows in and out of the PCHR and across a health information exchange.
Conclusion
The recent release of Indivo version 3.0 included improvements in usability, performance (server and client), and architecture over our previous software versions (PING 1.x and 2.x). While we will continue to support, improve, and issue further software releases based on our 3.0 technology, we also have conceptual improvements in store for a 4.0 release. Specifically, we will (1) adopt the concept of a health URL for every Indivo user; (2) provide a mechanism for users and agents in the system to send requests to other users for access privileges on their records; (3) leverage the latest enterprise technologies to further improve performance and scalability; and (4) decentralize certain aspects of the user interface by modifying our API to more closely model today's popular web platforms such as Flickr and Amazon. Our current Indivo deployments are focused on proving the utility of the PCHR as a platform for patient centric integration of healthcare information and for the development of effective, patient driven applications to improve the quality, effectiveness, and convenience of the healthcare system. A widespread PCHR platform, built on fully open APIs and standards, may, by providing aggregated data and patient-led security, enable the development of an ecosystem of personalized healthcare applications. Unlike other approaches to healthcare information exchange and aggregation, the PCHR model fully empowers users to identify new uses for the healthcare data, and supports data providers' participation by allowing them the choice of different levels of engagement with the data provisioning process.
Availability and requirements
Project name: Indivo

Project home page: http://www.indivohealth.org

Operating system(s): Platform independent

Programming language: Java, PHP

Other requirements: Java 1.5 or higher, Tomcat 4.0 or higher, PHP 5.2 or higher with PEAR DB, Log, and Config packages, Apache Web Server 2.0, MySQL, PHP-Java Bridge 4.1.2 or higher

License: LGPL.

Any restrictions to use by non-academics: None
Declarations
Acknowledgements
This work was supported by grants P01 CD000260-01 and 1 R01 CDC 000065-01 from the Centers for Disease Control and Prevention and contract N01-LM-3-3515 from the National Library of Medicine, National Institutes of Health, and by contract number 5225 3 338CHI from the Massachusetts Department of Public Health. We would like to thank Isaac S. Kohane, Nathan Finstein and Clark Freifeld of the Indivo team.
Authors' Affiliations
(1)
Children's Hospital Informatics Program at the Harvard-MIT Division of Health Sciences and Technology, Boston, USA
(2)
Center for Biomedical Informatics, Harvard Medical School, USA
Copyright
© Mandl et al; licensee BioMed Central Ltd. 2007
This article is published under license to BioMed Central Ltd. This is an Open Access article distributed under the terms of the Creative Commons Attribution License (http://creativecommons.org/licenses/by/2.0), which permits unrestricted use, distribution, and reproduction in any medium, provided the original work is properly cited.