Research article

Open Access

Open Peer Review
This article has Open Peer Review reports available.
Design and implementation of GRIP: a computerized glucose control system at a surgical intensive care unit
BMC Medical Informatics and Decision Making
2005
5:38
Received: 05 September 2005
Accepted: 19 December 2005
Published: 19 December 2005
Abstract
Background
Tight glucose control by intensive insulin therapy has become a key part of critical care and is an important field of study in acute coronary care. A balance has to be found between frequency of measurements and the risk of hypoglycemia. Current nurse-driven protocols are paper-based and, therefore, rely on simple rules. For safety and efficiency a computer decision support system that employs complex logic may be superior to paper protocols.
Methods
We designed and implemented GRIP, a stand-alone Java computer program. Our implementation of GRIP will be released as free software. Blood glucose values measured by a point-of-care analyzer were automatically retrieved from the central laboratory database. Additional clinical information was asked from the nurse and the program subsequently advised a new insulin pump rate and glucose sampling interval.
Results
Implementation of the computer program was uneventful and successful. GRIP treated 179 patients for a total of 957 patient-days. Severe hypoglycemia (< 2.2 mmol/L) only occurred once due to human error. With a median (IQR) of 4.9 (4.2 – 6.2) glucose measurements per day the median percentage of time in which glucose fell in the target range was 78%. Nurses rated the program as easy to work with and as an improvement over the preceding paper protocol. They reported no increase in time spent on glucose control.
Conclusion
A computer driven protocol is a safe and effective means of glucose control at a surgical ICU. Future improvements in the recommendation algorithm may further improve safety and efficiency.
Keywords
Hypoglycemia
Glucose Control
Glucose Measurement
Intensive Insulin Therapy
Recommendation Algorithm
Background
Critically ill patients often suffer from 'stress hyperglycemia', a condition in which insulin resistance due to increased catecholamine levels causes high blood glucose values [1]. The association between stress hyperglycemia and adverse outcome has been observed in numerous patient categories, ranging from patients admitted to the general ward [2] to myocardial infarction [3] and stroke patients [4]. For decades, stress hyperglycemia was thought to be merely a marker of disease, and was tolerated as long as glucose levels were not excessively high (e.g., over 11.0 mmol/L). The publication of the Leuven intensive insulin therapy study in September 2001 caused a paradigm shift in critical care medicine [5]. This study showed that rapid lowering of blood glucose levels below 6.1 mmol/L and subsequent maintaining of normoglycemia reduce mortality and morbidity markedly. These results were confirmed by a before-after study performed by Krinsley, in which also a decrease in mortality was achieved with tight glucose control [6]. Especially for septic patients, guidelines now recommend using insulin to reduce high glucose levels [7]. However, infusing insulin in order to lower glucose levels bears the risk of inducing life-threatening hypoglycemia, especially in sedated patients admitted to an intensive care unit (ICU). In order to cut back this risk, glucose levels must be frequently measured. Each measurement calls for a decision on what action to take to keep glucose levels in the normal range. With recommended sampling frequencies ranging from every 1 – 2 hours to every 6 hours, implementation of tighter glucose control poses an important logistic challenge. Many investigators have proposed nurse-driven protocols for glucose control. After each glucose measurement, simple if-then rules or lookup tables yield an advice on how much insulin needs to be administered [8–10]. Even though glucose sampling frequency is high, reduction of hyperglycemia is often not satisfactory, and, more important, hypoglycemia is relatively common [9]. Glucose metabolism is also an important topic in acute coronary care. Several studies have evaluated glucose-related therapies as strategies to improve outcome in acute coronary syndromes, such as high dose glucose-insulin-potassium (GIK) infusion [11, 12], or combined glucose-insulin infusion to reduce glucose levels [13, 14]. Although clinical results have been mixed, with most recent results being negative, the efficacy of glucose-lowering interventions in acute coronary care is still unknown since none of the published trials achieved tight glycemic control [11, 14]. Because coronary care units (CCU) are a less controlled environment with a lower personnel-to-patient ratio than ICUs, intensive insulin therapy is hard to achieve with paper protocols [14]. An optimized decision making algorithm might be able to make tighter control possible.
We hypothesized that a computer program can employ the necessary complex logic to achieve the desired level of both safety and efficiency of glucose control without excessive glucose sampling frequencies. In the beginning of 2003 we initiated development of a computer controlled decision support system.
Results
Implementation details
Implementation of GRIP began in the beginning of 2003. In the fall of 2003 an initial version of GRIP was tested for three weeks at the surgical ICU without nurses or doctors following its recommendations. Nurse feedback indicated that this test version's user interface was insufficiently intuitive. In November 2004 the final version of GRIP, including the improved user interface as described in the methods, was deployed. First it was monitored for 6 weeks, while the regular paper protocol was still followed. In the next two weeks we started following GRIP's recommendations, gradually increasing its usage bed-by-bed. From January 2005 on, insulin therapy of patients on all beds was determined by GRIP. During the first weeks of deployment a number of small changes to solve trivial problems were needed. Thereafter, two major problems have occurred. First, the computer running GRIP experienced a sudden complete hard-disk crash in April 2005, losing all data. Using our automatic daily backup, the system was up and running again within 6 hours, with less than 24 hours data loss, which was easily reentered into GRIP from the charts. The second problem was the transition to daylight savings time. This was handled correctly by GRIP, but unfortunately the central hospital system only picked up the correct time later during the next day. Before the central system was adjusted to the proper time, all measurements appeared to GRIP one hour later than they actually were. Apart from inconvenience to the nurses, these problems caused no misleading recommendations or dangerous situations. Currently, the system has been running without interruption for over 3 months without any change, maintenance, crash or other problem. A number of other problems have occurred, all external to GRIP, which would have affected a paper protocol equally as much as it affected GRIP. These included measurements that failed to be included in the central hospital database and malfunction of the point-of-care analyzer. After these problems were resolved and GRIP started receiving correct data again, its recommendations could immediately be followed, because GRIP ignored the erroneous data.
Training of nurses
Basic data entry in GRIP proved to be very straightforward. Only data entry of events that happened in the past was not completely obvious. During the first 2 month observation period, residents were asked to perform data entry and as no recommendations were used, they could experiment and save any questions until the lead programmer (MV) was present at the ICU. When real use of GRIP by nurses was initiated, almost all residents knew how to work with GRIP and could provide explanation to nurses. The staff intensivist (MN) involved in the design of GRIP also provided explanation when asked. No special meetings for training had to be scheduled.
Safety and efficiency
During the 4-month period from January 1st to May 1st, 2005, 179 patients were treated at our ICU, for a total of 957 patient-days. Patient characteristics are shown in table
2
. Severe hypoglycemia (< 2.2 mmol/L) occurred once in one patient (0.6 %). Analysis revealed that this was caused by a human error involving accidentally increasing the rate of the insulin pump. Mild hypoglycemia (< 3.5 mmol/L) occurred in 20 patients (11.2 %). 109 out of 179 patients stayed longer than one day at the ICU. Data regarding hyperglycemia in these patients is presented in table
3
. Glucose levels met the target range for more than three-quarters of the time in 66 patients (61 %). The glucose sampling frequency was less than 6 times a day in 76 patients (70 %). The median hyperglycemic index indicates that the median patient had a time-weighted glucose level of 6.9 mmol/L. The maximum insulin dose of 10 units/hour was needed in 5 patients (5 %). At the time of maximum insulin infusion, the glucose values of these patients were 8.3, 8.8, 9.3, 14.9 and 17.6 mmol/L. Figure
5
shows median and interquartile range of glucose levels during the first 48 hours of ICU stay.
Table 2
Patient characteristics
| | |
| --- | --- |
| N | 179 |
| Age | 62 (51 to 72) |
| Male sex | 109 (61 %) |
| Reason of admission | |
|    Abdominal surgery | 87 (49 %) |
|    Vascular surgery | 24 (13 %) |
|    Trauma | 17 (9.5 %) |
|    Liver transplant | 14 (7.8 %) |
|    Miscellaneous | 37 (21 %) |
| APACHE II | 14 (11 to 19) |
| History of diabetes | 26 (14.5 %) |
| Length of stay at the ICU (days) | 1.6 (0.8 to 4.7) |
| Mortality at the ICU | 19 (10.6 %) |
| Hospital mortality | 26 (14.5 %) |
| | |
| --- | --- |
| Time from admission to first glucose (hours) | 0.7 (0.3 to 2.7) |
| Admission glucose (mmol/L) | 8.1 (6.1 to 10.5) |
| Time to first glucose < 7.5 mmol/L (hours) | 5.7 (1.2 to 11.4) |
| Glucose change in the first 24 hours (mmol/L) | -1.2 (-3.9 to +1.4) |
| Glucose level after 24 hours (mmol/L) | 6.7 (6.0 to 7.5) |
| Fraction of time with glucose between 4 and 7.5 mmol/L | 78 % (66 % to 88 %) |
| Hyperglycemic index (mmol/L) | 0.96 (0.68 to 1.37) |
| Number of glucose samples per day | 4.9 (4.2 to 6.2) |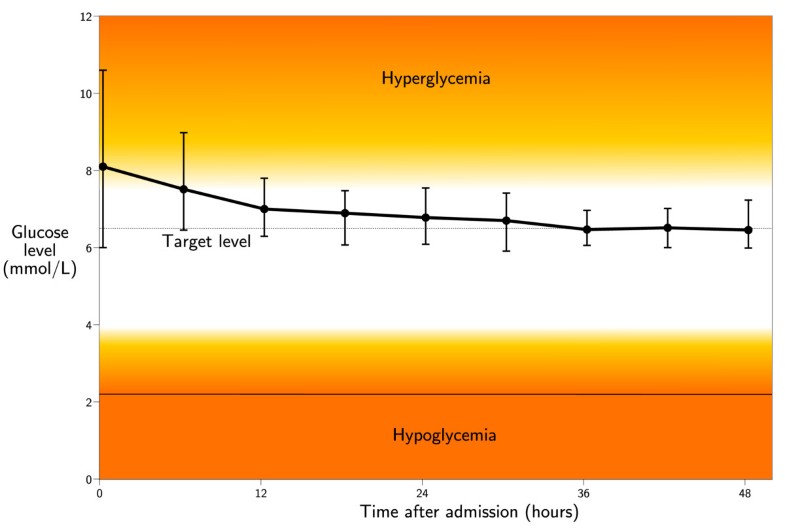 User acceptance
Questionnaires were filled out by 32 nurses before implementation of GRIP and by 22 nurses after implementation. After deployment of GRIP, nurses judged glucose control to be running more smoothly than before deployment of GRIP (p < 0.001, figure
6
). There was a trend towards nurses finding that glucose values are less often too high or too low. GRIP was judged as being simple to work with, and chosen almost unanimously as an improvement over the old paper protocol. Estimated time spent on glucose control per working shift was 10 (6 to 12) minutes before GRIP and 10 (10 to 15) minutes after GRIP (p = 0.13). Analysis of paired observations before and after implementation of GRIP revealed similar results. From the free text section of the questionnaire it was clear that the nurses found that GRIP was able to adequately manage glucose control in more patients than the paper protocol. Nurses therefore did not need to call the attending physician as often as before and thus were able to devote more time to other tasks.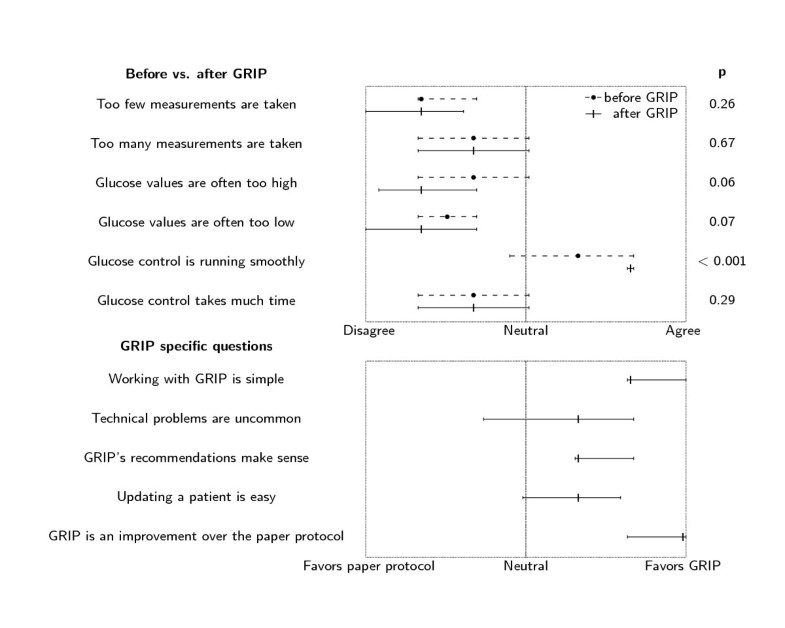 Discussion
In this report we present GRIP, a computer decision support system for glucose control by intensive insulin therapy. This system was successfully implemented at a surgical ICU, and was found to provide safe and efficient glycemic control. User acceptance, an important hurdle for successful implementation of a clinical decision support system, was excellent with minimal training. Nurses clearly rated GRIP as an improvement over the conventional sliding scale protocol. GRIP will be released under an open source license and will thus be free to use and improve by anyone in the future. We think especially GRIP's independence of a patient data management system (PDMS) is a strong point that makes it widely usable. At ICUs where a PDMS is already operational, GRIP might introduce double data entry. However, this can be easily resolved by either letting GRIP query the PDMS for information or by converting GRIP's advice module into a plug-in of the PDMS.
The efficiency and safety of control achieved by GRIP's current relatively simple algorithm was satisfactory. In the Leuven study, a mean glucose level of 5.7 mmol/L was achieved in a cohort of patients with a median APACHE II score of 9 [5]. Krinsley achieved a mean of 7.3 mmol/L in a sicker cohort of patients (median APACHE of 15) [6]. Our group had APACHE scores similar to Krinsley's, and a mean glucose level that was 0.4 mmol/L lower. With regard to hypoglycemia, in the Leuven study 39 out of 765 patients (5.1 %) had one or more values lower than 2.2 mmol/L, compared to 1 out of 179 (0.6 %) in our group. Krinsley describes the number of hypoglycemic episodes as the proportion of total number of glucose measurements, instead of as the proportion of patients at risk. In Krinsley's study, 0.34 % of measurements were lower than 2.2 mmol/L, compared to 0.02 % in our group.
During the design of the current recommendation algorithm a number of arbitrary decisions were taken. Based on experience, we chose to include glucose value and glucose difference as the two most important determinants of advised pump rate, and we chose to limit pump rate to 10 units per hour. Although evidence for the rationality of the latter decision exists [16, 19], most decisions were taken purely based on prior experience in controlling glucose levels. Our results show that this algorithm gives satisfactory results, but we are aware that GRIP has the potential for substantial improvements in the future, as our choices are unlikely to be the most optimal. For example, the current algorithm is very cautious and only takes small steps when increasing the insulin pump rate, sacrificing rapid control in favor of safety. Analysis of the data that have been collected thus far may reveal situations in which the algorithm can safely take larger steps to achieve more timely glucose control. It will be interesting to analyze differences between groups of patients with respect to factors such as reason of admission, presence of diabetes, and concomitant drug use. This will allow glucose control to transition from the current general "one size fits all" approach, which uses the same advice for every patient, to a more tailor-made approach, which makes use of as much information as possible to make its advice fit an individual patient's needs. As the advice generation module can be changed without affecting the user interface, algorithm improvements can be implemented without additional training of the nurses.
Prior studies have evaluated different types of computer systems for glucose control in critically ill patients. A number of studies have evaluated feasibility of continuous glucose sensors, which in theory provide ultimate efficiency and safety of control. However, apart from the obvious extra costs, continuous sensors have been found to lack reliability, requiring frequent replacements of the sensor, and report inaccurate data in the hypoglycemic range [22, 23]. We believe that for the foreseeable future, the vast majority of glucose control schemes will still employ sequential discontinuous measurements. Chase et al. have worked on developing models for accurate insulin dose prediction in critically ill patients, but with 2 measurements per hour, measurement frequency was much higher than GRIP's [19, 24]. Rood and colleagues have previously investigated computerizing guidelines for glucose control and found that glucose measurements were taken at the prescribed time more often, and glucose control improved in comparison with the preceding paper protocol [25]. Unfortunately, a PDMS plug-in with an undisclosed 4-page flowchart was used, limiting widespread usability, and in our opinion a formula-based approach as taken by GRIP will be easier to optimize and customize to different patient groups than a flowchart-based set of rules. Naturally, in case the latter approach may prove to yield better control, GRIP's advice generation module can be easily altered to follow that approach.
We are currently in the process of starting implementation of GRIP at other ICUs. Furthermore, we are implementing GRIP in the coronary care unit. We consider a personalized algorithm to be the key to more efficient and safe glucose control in acute coronary care.
Conclusion
GRIP, a computer decision support system for glucose control by intensive insulin therapy, exhibited efficient glucose control without inducing severe hypoglycemia during a 4 month period. Acceptance by nurses was excellent, with minimal training needed. GRIP will be released as free/open source software.
Declarations
Acknowledgements
The authors want to thank the residents and nurses of the surgical ICU for their excellent cooperation and useful feedback during the development of GRIP. We are grateful to the local ICT department for their help establishing the link between GRIP and the central hospital database.
Authors' Affiliations
(1)
Surgical Intensive Care Unit, Department of Surgery, University Medical Center Groningen, University of Groningen, Groningen, The Netherlands
(2)
Department of Cardiology, Thoraxcenter, University Medical Center Groningen, University of Groningen, Groningen, The Netherlands
Copyright
© Vogelzang et al; licensee BioMed Central Ltd. 2005
This article is published under license to BioMed Central Ltd. This is an Open Access article distributed under the terms of the Creative Commons Attribution License (http://creativecommons.org/licenses/by/2.0), which permits unrestricted use, distribution, and reproduction in any medium, provided the original work is properly cited.