Research article
Open Access
Open Peer Review
This article has Open Peer Review reports available.
The challenges of implementing a telestroke network: a systematic review and case study
BMC Medical Informatics and Decision Making
2013
13:125
Received: 19 July 2013
Accepted: 13 November 2013
Published: 14 November 2013
Abstract
Background
The use of telemedicine in acute stroke care can facilitate rapid access to treatment, but the work required to embed any new technology into routine practice is often hidden, and can be challenging. We aimed to collate recommendations and resources to support telestroke implementation.
Methods
Systematic search of healthcare databases and the Internet to identify descriptions of the implementation of telestroke projects; interviews with key stakeholders during the development of one UK telestroke network. Supporting documentation from existing projects was analysed to construct a framework of implementation stages and tasks, and a toolkit of documents. Interviews and literature were analysed with other data sources using Normalisation Process Theory as described in the e-Health Implementation Toolkit.
Results
61 telestroke projects were identified and contacted. Twenty projects provided documents, 13 with published research detailing four stages of telestroke system development, implementation, use, and evaluation. Interviewees identified four main challenges: engaging and maintaining the commitment of a wide range of stakeholders across multiple organisations; addressing clinicians perceptions of evidence, workload, and payback; managing clinical and technical workability across diverse settings; and monitoring how the system is used and reconfigured by users.
Conclusions
Information to guide telestroke implementation is sparse, but available. By using multiple sources of data, sufficient information was collated to construct a web-based toolkit detailing implementation tasks, resources and challenges in the development of a telestroke system for assessment and thrombolysis delivery in acute care. The toolkit is freely available online.
Keywords
Normalisation Process TheoryAcute Stroke CareImplementation TaskStroke PhysicianImplementation Resource
Background
The thrombolytic drug alteplase is the only widely accepted medical treatment for acute ischaemic stroke. It has been licensed for several years in North America and most European countries, for intravenous use within three hours of stroke, but this restriction, and the need for immediate brain scanning, mean that only a small minority of patients receive the treatment. Although this proportion is increasing, recent estimates range from only 1.4% in UK [1], to 3.7% in USA [2], and 6.6% in Sweden [3].
As well as urgent neuro-imaging, potential candidates for stroke thrombolysis need rapid specialist assessment, which may be required at any time of the day or night. Telemedicine ("telestroke") has been proposed as a means of providing access to such assessment in hospitals where stroke physicians or neurologists are not always available out of hours [4]. The most common telestroke configuration is a "hub-and-spoke" model, whereby a central "hub" organisation provides remote audio-visual access to a stroke specialist for decision support in a number of peripheral hospitals.
The use of telestroke systems is increasing. An American Heart Association (AHA) survey in 2009 [5] identified a total of 33 organisations providing acute telestroke services (USA 22, Canada 3, Europe & UK 7, Asia 1), compared with 12 identified by a Canadian survey in 2006 [6]. An AHA update in 2012 identified 97 potential telestroke programmes in the USA alone [7]. Systematic reviews of telestroke systems suggest they can improve time to treatment [5, 6, 8, 9], with regional collaborations able to achieve higher rates of thrombolysis than local services working in isolation [10]. Minimum standards for the implementation of telemedicine for stroke care have been published [11], but it is not known how telestroke systems are operationalising this guidance in practice.
The UK Medical Research Council (MRC) framework for complex interventions emphasises the importance of evaluating the process of implementation, as well as clinical and cost effectiveness [12]. This is particularly relevant to telestroke, given the well-known problems of embedding e-health technology initiatives into routine services [13]. Evidence on the characteristics of successful telemedicine applications relates mainly to their use in managing chronic conditions [14, 15]. Less is known about systems for emergency care. Recent systematic reviews have pointed to the need for formative methodologies to study telemedicine as a complex and collaborative process [16, 17].
As part of a wider project to improve the delivery of thrombolysis in clinical networks, we aimed to develop a web-based "toolkit" to support telestroke implementation, by systematic collation of available guidance for best practice. The guiding framework was Normalisation Process Theory (NPT): an evaluation model that asks what people do to make a complex intervention workable, and to integrate it into practice [18, 19]. NPT has been proposed as a suitable framework for evaluating the implementation of complex interventions [20–22], and has previously been used to study the integration of e-health initiatives [13, 23–26].
Methods
The study reported here is part of a larger National Institute for Health Research funded project to support telestroke implementation in one UK region. This paper reports the results of:
 systematic review of the literature to identify good practice recommendations;

 collation and analysis of implementation resources supporting telestroke;

 stakeholder interviews in one UK telestroke project to identify implementation challenges.
Systematic review
The search targeted telestroke feasibility studies, process evaluations, project descriptions or case studies; qualitative research or surveys of stakeholders; and evaluative or experimental research. We used the short form Cochrane search for stroke, combined with MESH terms and free text words for telemedicine (see Additional file 1). In smaller databases the short search string "stroke and tele*" was used. The following sources were searched:
 databases of published studies: The Cochrane Library, MEDLINE, EMBASE, CINAHL, AMED, PsychInfo, Web of Knowledge, International Bibliography of the Social Sciences (IBSS), Health Management Information Consortium (HMIC) from inception to April 2011;

 citation searching: via Web of Knowledge for all included studies;

 Conference proceedings and Internet searching: to identify telestroke systems in operation, but not reported in publications.
Two reviewers independently screened records on title and abstract, and filtered all full-text papers for inclusion. The inclusion criteria for papers were:
 Types of studies: Publically available studies (2000–2010), containing descriptive, operational, or evaluative data on telestroke systems.

 Types of participants: People with suspected or acute stroke, receiving emergency treatment in a health care setting.

 Types of intervention: Telestroke systems were defined as the use of audio-visual real-time communication for remote consultation with a decision support provider at a site distant from the patient, for diagnosis or treatment of acute stroke.
Data to be extracted included: description of development, use, or evaluation of a telestroke system; stakeholders' views on barriers and enablers; reference to "implementation resources" (e.g. standards, policies, specifications, protocols, manuals, memoranda, contracts, decision aids, guidelines, algorithms) to support telestroke system use in acute stroke care; or researcher's comment on recommendations for best practice (i.e. in discussion). Data extraction and coding were undertaken independently by two reviewers, after training and inter-rater reliability checks. Extracted data were analysed using the Normalisation Process Theory framework, detailing the challenges impacting on telestroke during four stages of system: 1) development, 2) implementation, 3) use, and 4) evaluation. We chose NPT because it is available as a structured analytical framework expressly designed to understand the process of embedding technological systems in health care, and the complexity of the interaction between individuals, new technologies, and context [27]. It comprises 16 dimensions in four categories, illustrated in simplified form from the NPT toolkit [28] in Additional file 2.
Collation of implementation resources
Identified contacts for telestroke projects were emailed to ask about the public availability of implementation resources referred to in publications or on websites. Content analysis of documents was undertaken to identify the details of discrete implementation tasks.
Case study of Lancashire and Cumbria telestroke network
We chose to study implementation of a telestroke system in Lancashire and Cumbria (L&C), a geographically diverse area in North West England with long travel times between hospital sites and no obvious central hub organisation. A "network" model, with a roster of specialists from all participating organisations providing out-of-hours clinical decision support, was chosen as the most suitable telestroke service configuration for the area. One organisation was designated lead for governance purposes, and implementation was facilitated by a Cardiac and Stroke Network (CSN): one of 28 regional networks with a remit to support improvement in stroke services in the UK (more information on the features of the telestroke network are provided in Additional file 3). Using this network as a case study facilitated real-time access to people with direct experience of managing telestroke implementation across multiple organisations, rather than relying primarily on the perspective of hub organisations; or on evaluative data from end-users.
Nine purposively sampled stakeholders were interviewed during the year up to July 2011, when the system went live. These included executive, project, and information technology managers from the regional Strategic Health Authority, the CSN, and lead organisation; and doctors and nurses from participating emergency, neurology, and stroke medicine departments. Semi-structured interviews were conducted in the workplace by trained researchers, audio-taped and transcribed. The study was approved by the University of Central Lancashire School of Health Ethics Committee. Approval was requested from the Ethics Committee for the UK Health Service but was not required.
Transcripts were coded using NPT definitions by two trained coders who discussed and agreed final codes. Summaries of key challenges raised were fed back to interviewees (four of whom altered aspects of wording), and were then integrated into an overall summary of challenges within each component of the NPT framework.
Results
The initial search identified 4,567 records, which were screened and filtered as shown in Figure
1
.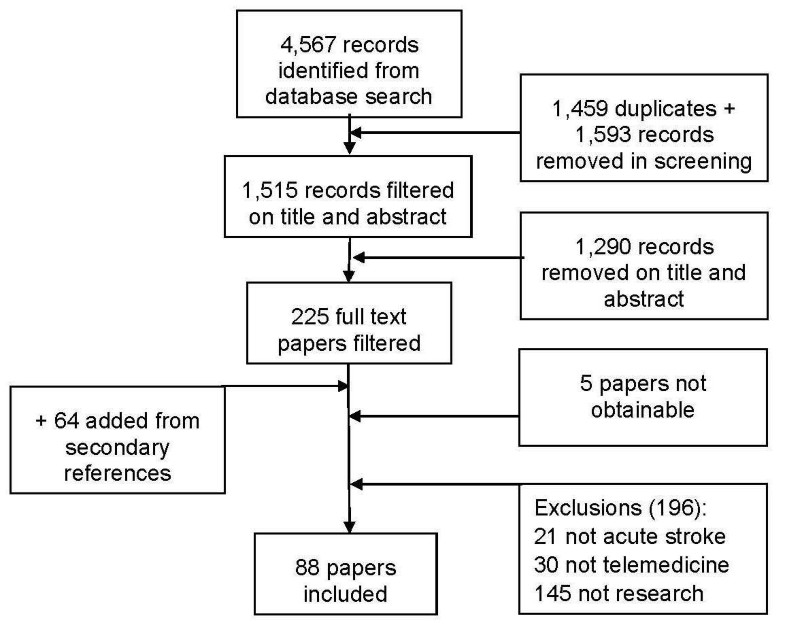 Internet searching on Google (telestroke or stroke + telemedicine) identified 1,290 hits; 218 sites were selected, and 61 telestroke projects identified. Their Internet sites were searched, if available, and principal contacts emailed to ask about publically available implementation resources.
Written information from 20 telestroke projects was located: 13 had published descriptive or evaluative research; and eight projects had resources available on the Internet (Table
1
).
Table 1
Type of data available from telemedicine projects
| Country | Projects | Process description, evaluation | Outcomes research | Internet resources |
| --- | --- | --- | --- | --- |
| USA | STROKE-DOC | | x | |
| | REACH, Georgia | x | x | |
| | TELEBAT, Maryland | x | x | |
| | Massachusetts | | x | |
| | STARR, Arizona | x | | |
| | SOS, Houston Texas | x | x | |
| | INTEGRIS, Oklahoma | | | x |
| UK | East of England | | | x |
| | Northumbria | | | x |
| | Scottish Telestroke | | | x |
| | Avon, Gloucestershire, Wilts, | | | x |
| | East Kent | | | x |
| Europe | Finnish Network | x | | |
| | STENO, Germany | | x | |
| | TEMPiS, Germany | x | x | |
| | TESS, Germany | x | x | |
| | Barcelona, Spain | x | x | |
| Canada | Edmonton | | x | |
| | Ontario | | x | x |
| | British Columbia | | | x |
| | Totals | 8 | 11 | 8 |
In addition to project-related papers, we identified a policy statement from the American Heart Association [11, 28]; and a national survey of US stroke and emergency physicians' attitudes to telestroke [29]. Of the eight telestroke projects described, only one (REACH, Georgia) had published a formal process evaluation [30, 31]: the remainder were descriptive studies or acceptability surveys included with reports of clinical outcomes, with little methodological detail. Critical appraisal was not attempted.
For each stage of telestroke system 1) development, 2) use, 3) implementation and 4) evaluation, results are presented from the three different data sources in order:
a)

research-based recommendations for telestroke implementation;

b)

implementation tasks and documentary resources from existing telestroke projects;

c)

implementation challenges extracted from case study interviews (interview number in brackets).
Discussion
This study involved a search of the main healthcare databases, analysis of documents from existing telestroke projects, and a longitudinal case study of one UK team developing telestroke. The research literature shows limited process evaluation of telestroke, with most of the barriers identified relating to issues of technical and clinical compatibility, and organisational governance. In contrast, findings from the case study tended to highlight the complex relationships between the technical system, and potential users in diverse contexts. The networked nature of the telestroke case study system emphasised the work needed to develop consensus. Factors influencing network workability included the importance of users' perceptions of evidence, workload, potential, and payback; the amount of "human" work involved in enrolling and maintaining the commitment of a wide range of stakeholders in diverse organisational contexts; and the challenges of managing technical and clinical workability across multiple environments. The facilitating role of the overarching regional Cardiac and Stroke Network was crucial: their actions included pathway mapping, analysis of training needs, providing extensive training opportunities and individualised support, arranging cross-site interdisciplinary peer review and links with existing service improvement initiatives, managing telestroke walkthroughs, and monitoring adjustment of clinical workloads and system use.
Only one other telestroke project has published a process evaluation [30, 31]. Our study confirms the importance of harmonising technical, business, and governance systems across organisations but perhaps places more emphasis on the impact of introducing a telestroke system on professional work patterns and clinical care processes, and the amount of time and attention to detail required for implementation work. This is the first process evaluation of a network telestroke model, and it may be that developing horizontal working relationships across multiple organisations needs more intensive preparation than in a hub and spoke configuration, but it is likely that clinical concerns about establishing and adjusting to new working patterns across professional and organisational boundaries are common to all systems. A recent systematic review identified 145 articles relating to the evaluation of telestroke [39] compared with our search in 2009 which yielded 88 research articles, but none of the newer articles are process evaluations, so this type of study is under-represented.
The strengths of our study include combining information from multiple sources (primary, secondary, grey literature sources) to make the complex and often hidden work of implementation more visible. The limitations of this study are the reliance on single case study for primary data collection. The timeframe of the case study was pre-implementation, but this is also the timeframe least studied. We also limited our collation of research literature and documents from existing telestroke systems to those available in the English language, which means we may not have tapped into literature from the strong tradition of telemedicine innovation in European countries. Much process information came from brief descriptions of system commissioning contained within studies focusing on outcome, or unreferenced reports traceable only via the Internet, so little of it could be critically appraised. The most useful information came from excellent implementation support packs from Ontario and Oklahoma, and the materials to support telestroke evaluation from British Columbia. These provided much of the detail for the tasks and resources listed in the tables above.
Conclusions
Generic toolkits are available to support the implementation of E-Health initiatives [40]. This study affirmed the importance of establishing an implementation process to facilitate mutual adaptation and problem solving across organisational and professional boundaries, and dealing with the clinical challenges that occur when adopting a new technology [15], focusing on the specific example of telestroke. Without published accounts of these formative processes it is not easy to learn from others to proactively design for successful uptake and sustainability of telestroke. To help future projects we have constructed a Standardised Telestroke Toolkit based on the research review, populated with the stroke-specific resources made available by the Lancashire & Cumbria Telestroke Network. It can be accessed at http://www.astute-telestroke.org.uk/[41]. The website also gives detailed information from the L&C stakeholder interviews, so that others can see the amount of work involved and the kind of challenges that occurred, and how they were tackled by the project team. As one stakeholder said: "I never thought it would take this long – it is a complex piece of work!" (4).
Declarations
Acknowledgements
We acknowledge the generosity of all of the staff involved in the development of the Lancashire and Cumbria Telestroke Network in sharing their experiences and expertise.
Funding
This paper summarises independent research funded by the National Institute for Health Research (NIHR) under its Research for Patient Benefit Programme (Grant reference number PB-PG-1208-18280). The views expressed are those of the authors and not necessarily those of the NHS, the NIHR or the Department of Health.
Authors' Affiliations
(1)
University of Central Lancashire, Preston, UK
(2)
Cardiac and Stroke Networks Lancashire and Cumbria, Preston, UK
(3)
Lancashire Teaching Hospitals NHS Foundation Trust, Royal Preston Hospital, Preston, UK
(4)
North Cumbria University Hospitals NHS Trust, The Cumberland Royal Infirmary, Carlisle, UK
(5)
Institute for Ageing and Health, Newcastle University, Royal Victoria Infirmary, Newcastle, UK
(6)
NHS Improvement – Stroke, St John's House, Leicester, UK
(7)
University of Southampton, Faculty of Health Sciences, Southampton, UK
(8)
Blackpool Teaching Hospitals NHS Foundation Trust, Blackpool Victoria Hospital, Blackpool, UK
(9)
Wansbeck General Hospital, Ashington, UK
Copyright
© French et al.; licensee BioMed Central Ltd. 2013
This article is published under license to BioMed Central Ltd. This is an open access article distributed under the terms of the Creative Commons Attribution License (http://creativecommons.org/licenses/by/2.0), which permits unrestricted use, distribution, and reproduction in any medium, provided the original work is properly cited.