Research article

Open Access

Open Peer Review
This article has Open Peer Review reports available.
Deficiencies in the transfer and availability of clinical trials evidence: a review of existing systems and standards
BMC Medical Informatics and Decision Making
2012
12:95
Received: 27 September 2011
Accepted: 24 August 2012
Published: 4 September 2012
Abstract
Background
Decisions concerning drug safety and efficacy are generally based on pivotal evidence provided by clinical trials. Unfortunately, finding the relevant clinical trials is difficult and their results are only available in text-based reports. Systematic reviews aim to provide a comprehensive overview of the evidence in a specific area, but may not provide the data required for decision making.
Methods
We review and analyze the existing information systems and standards for aggregate level clinical trials information from the perspective of systematic review and evidence-based decision making.
Results
The technology currently used has major shortcomings, which cause deficiencies in the transfer, traceability and availability of clinical trials information. Specifically, data available to decision makers is insufficiently structured, and consequently the decisions cannot be properly traced back to the underlying evidence. Regulatory submission, trial publication, trial registration, and systematic review produce unstructured datasets that are insufficient for supporting evidence-based decision making.
Conclusions
The current situation is a hindrance to policy decision makers as it prevents fully transparent decision making and the development of more advanced decision support systems. Addressing the identified deficiencies would enable more efficient, informed, and transparent evidence-based medical decision making.
Keywords
Clinical Trial Result
Systematic Reviewer
Clinical Trial Evidence
International Clinical Trial Registry Platform
Clinical Trial Information
Background
Motivation
Health care policy decision makers such as drug regulatory authorities, reimbursement policy makers and guideline committees routinely evaluate the efficacy and safety of medicines, as well as other factors such as costs. Clinical trials provide the pivotal evidence for drug efficacy and safety. The ability to efficiently identify and make use of the results of existing clinical trials is critical to evidence-based policy decision making.
Until recently, journal publications were the only generally available source of trial designs and results. Thus, systematically reviewing the medical literature for the clinical trials that address a specific topic is of central importance to evidence-based health care policy [1, 2]. This provides decision makers with a coherent overview of the current evidence, and also helps to set the agenda for future clinical research [3, 4]. However, systematic reviewing is currently not feasible for most decision makers, because it is time consuming and expensive.
Therefore, most decision makers will have to rely on published systematic reviews. However, this is problematic because the review may not match the needs of the decision maker. Thus, even when a relevant systematic review is available, there may be a need to go back to the underlying trial data, especially for quantitative decision modeling. It may additionally be necessary to update or extend the review, or to combine several of them. Doing so also requires access to the underlying trial data, but these are not commonly reported. This is a serious limitation to the efficiency of both evidence-based decision making and systematic reviewing.
Thus, the quality of health care policy could be improved if systematic reviews could be performed for whatever decision is currently at hand, ideally even on demand. This would require enormous improvements to the manner in which clinical trials evidence is made available. Although efforts to standardize the information systems for the management and regulatory submission of clinical trials have been successful [5–7], this has not so far resulted in similar improvements in the dissemination of clinical trial evidence. A comprehensive overview of the various information systems that store and process clinical trials information could identify the gaps in information transfer that limit the efficiency of systematic reviews and consequently health care policy decision making.
Systematic review
The need to identify and summarize the evidence for decision makers is evident from the sheer scale of the available information: PubMed alone indexes nearly 20 million publications from over 5,500 journals, and this is only a selected subset of the biomedical literature [3]. Systematic review addresses this need and consists of three steps: literature screening, data extraction, and reporting. In the first step, literature databases are searched, yielding a set of potentially relevant publications. These are screened for suitability, which results in them being included in, or excluded from, the review. Because literature searches are often inaccurate, thousands of publications may need to be screened. Moreover, to ensure comprehensiveness and avoid bias, multiple databases have to be searched [8] and multiple publications of a single trial have to be identified as such. Once the relevant trials have been identified and the corresponding reports retrieved, the data have to be extracted from the reports. Finally, the collected data are summarized and combined (e.g. using meta-analysis), and reported in a journal article or a technical report. Typically only this final product is made available, even though making the results of the screening step and the extracted data available would greatly enhance the efficiency of future systematic reviews and decision making. Thus, to assess the efficiency of clinical trials results dissemination, systematic review should not be ignored.
The difficulty of performing a systematic review also impacts the quality of systematic reviews themselves: it leads to reviews that focus on a single treatment or a pair of treatments. Consequently, for one particular therapeutic indication many competing reviews may be available, that each provide only a small part of the overall picture [9]. This has led to 'overviews of reviews' or 'umbrella reviews' summarizing the results of several existing reviews [10]. Umbrella reviews generally merely repeat the pooled summaries of treatment effects from the original reviews, but it has been argued that they may lead to misleading and inconsistent conclusions [9]. An approach based on the individual studies is therefore preferable but labor-intensive if the data are not available in a structured format.
Scope and objectives
The aim of this paper is to identify opportunities to enhance the efficiency of systematic review and evidence-based decision making, supported by a broad and useful overview of the current state of the art in the transfer and availability of clinical trial evidence. To these ends, we provide a critical overview of existing systems and standards that support the dissemination of clinical trial results.
Because publicly available clinical trial results are nearly always aggregated (at the population level) rather than reported per patient, and because most decision makers base their decisions on such data, we limit the scope of this paper to systems and standards for the aggregate level.
Methods
We included academic publications and websites of manufacturers or standardization bodies that describe information systems or standards that deal with the transfer and availability of aggregate-level results of clinical trials. We also considered review articles and peer-reviewed position papers related to such information systems.
We identified relevant publications through key word searches using Google, Google Scholar, ISI Web of Science and PubMed (last searched May 2011). We also screened the reference lists of included publications. In addition, through our participation in the Escher project of the Dutch Top Institute Pharma (TI Pharma), we were able to engage in discussions with many experts from the pharmaceutical industry, regulatory authorities, and academia.
Publications (both peer-reviewed articles and web pages published by companies or standardization bodies) were screened for eligibility using titles and abstracts (if applicable). Potentially relevant publications were read in full. If a peer-reviewed article and a web page conveyed (nearly) identical information, only the peer-reviewed work was included. Moreover, web pages were excluded if the source was not considered authoritative for the subject matter. Included publications were summarized using keywords, and especially important sections were highlighted for later reference. For each system and standard we collected the context in which it is used, its purpose, its defining features, the types of data it handles and/or produces, its connection to other systems or standards, and expected future developments.
Results
In this section, we present the identified systems grouped according to the processes they support. These are publication in the scientific literature, trial registration, systematic review, and regulatory assessment. Figure
1
shows how these processes relate to each other, to the operation of the trial itself, and to policy decision making. Subsequently, standards and data models relevant to the dissemination of aggregate level results of clinical trials are discussed.

Discussion
Having reviewed the information systems and standards dealing with the information from clinical trials, we will now summarize their deficiencies concerning the integration of clinical trials information from different resources, discuss how the status quo could be improved and identify directions for future research.
Identified deficiencies
Systems and standards oriented towards the management of single studies are relatively mature, but this is not the case for cross-study analysis. There are no known large, successful, and publicly available data warehouses, nor any standards that would enable cross-study analyses of aggregate level results. Considerable effort is required to harmonize the current clinical research standards. Important areas that require standardization are the representation of statistical analyses and aggregate results, as well as complex semantic structures such as patient eligibility criteria. None of the general purpose data models being developed are yet in widespread use, and from the perspective of capturing the designs and results of clinical trials in a reusable way, none of them are close to completion.
Although much effort is spent to publish the results of clinical trials, the current systems do not facilitate optimal use of the information. The journals and abstract databases that publish the trial results do not preserve the results' structure and thus require manual data extraction. Moreover, relevant articles are hard to identify and the retrieval of all available studies cannot be guaranteed. Public registries are meant to improve the efficiency and reliability of the identification of relevant studies, but the available data is not sufficiently structured to realize this. Moreover, the systems that currently deal with clinical trials results are not interlinked nor do they use interoperable standards. In short, there is not yet a comprehensive system of structured machine-understandable databases that contains descriptions of the design, execution, and summary-level results of individual trials. This situation hinders systematic review and makes cross-study analyses and data-mining prohibitively difficult. Thus, current infrastructure is focused on text-based reports of single studies, whereas efficient evidence-based medicine requires the automated integration of multiple clinical trials from different information resources.
Moreover, while systematic review collects and appraises the available evidence that is relevant to a certain question, the results are published in an unstructured format. This makes it hard to use the underlying data to inform evidence-based decisions, to verify the analyses, to update the review or to perform a combined analysis of several reviews for an umbrella review. The effort spent on literature screening and data extraction does not result in availability of this information for future reviewers, leading to duplication of effort.
Therefore, the current systems are unnecessarily burdensome and do not sufficiently facilitate reuse of the information. Figure
2
visualizes the current results dissemination process. Due to these shortcomings, decisions are not explicitly linked to the underlying evidence, leading to a lack of transparency, traceability, and reproducibility that is harmful for all stakeholders.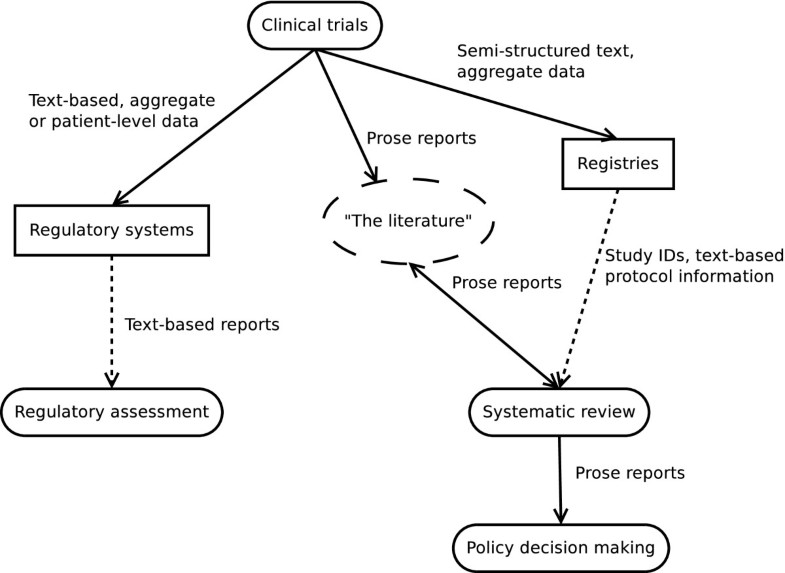 Importantly, the perceived lack of transparency in regulatory decision making may erode public trust in drug regulation and the pharmaceutical industry. More explicit quantitative decision models would enable a more transparent and reproducible regulatory process, as well as a clearer communication of the requirements to the industry. However, for most real-world decisions it is currently too expensive to include all the evidence. This difficulty of accessing existing data is not only relevant to regulators and the industry, but also to reimbursement organizations, prescribing physicians and patients.
Proposed future situation
Now, we consider how these deficiencies might be addressed. Let us assume for a moment that a comprehensive machine-understandable standard were available for the design and aggregate level results of clinical trials. Then, it would be better for those submitting the data if both regulators and registries used this format, rather than a number of disparate formats. In addition, journal publications could easily be supplemented with data in this format.
Availability of a standard alone, however, is not enough to enable efficient access to the evidence. The data sets also need to be collected and made available in such a way that relevant clinical trials are easily identified. For this a collaborative (federated) system of databases should be established to capture all clinical trials data. Some of the stakeholders (e.g. regulators and registries) may require that data be submitted to a database that they control so that they can ensure the integrity of the data. This is fine as long as (1) the databases are interoperable and enable access to the information in the same format, (2) there is a single point of access through which the different databases can be identified and located, and (3) duplicate entries can be easily identified. It seems more likely for such a combination of databases to emerge from the current registries than a single centralized system.
A comprehensive record of clinical trials in a machine-understandable format would make systematic review and consequently evidence-based decision making much more efficient. Decisions could then finally be explicitly linked to the underlying data (traceability). In addition, this could also enable a new generation of decision support systems for health care policy decision makers. The proposed future situation is visualized in Figure
3
.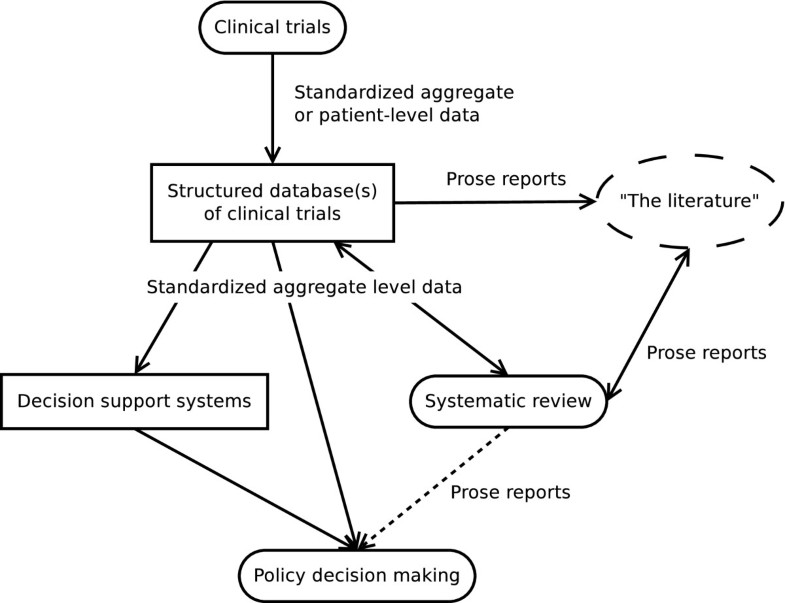 However, a suitable general-purpose data model is not likely to become available in the near future. Further, the usefulness of any data model should be demonstrated to the industry and other stakeholders before putting it into practice. We argue that the requirements for a general purpose data model for cross-study analysis and decision making are not sufficiently well known at the moment. Therefore, analysis tools and decision support systems that ensure data extraction done for the analysis can be shared with other researchers should be developed first, to illuminate these requirements.
Research directions
In order to attain the desired future system for aggregate-level clinical trial results dissemination, we identify concrete research directions for medical informatics, decision making and statistics researchers. Progress on each of these topics can be made in parallel.
policy decision making based on clinical trials – to enable a direct and explicit link between the decision and the supporting evidence in drug regulation, reimbursement policy and guideline formulation

Development of a platform to share structured systematic review data sets

Discovery or creation of incentives for systematic reviewers to share the results of literature screening and data extraction

Identification of the core data elements and modeling that are needed to increase the accuracy of literature searches

Automated tagging and data extraction to facilitate transition to more structured data sets

Development of search tools to integrate querying of abstract databases and registries

Development of methods to identify duplicate trial publications and registrations

Development of a comprehensive data model for clinical trials and their aggregate level results
Limitations
As with any review paper, there is a risk that relevant publications have not been identified, either because the search terms were not broad enough, or because relevant studies were not identified as such based on their title and abstract. We acknowledge that the broad scope of this particular review increases that risk.
The nature of the collected information necessitates a qualitative synthesis, and the identified deficiencies are at least partially subjective. The future that we propose is based on the premise that a standard for aggregate clinical trial data will become available. Unfortunately, it is unclear how and when this could be realized. Finally, the list of proposed research directions is sure to be incomplete, and we hope the present paper will ignite discussions on this topic.
Conclusions
We reviewed the existing systems and standards dealing with aggregate level results of clinical trials. The transfer of evidence to scientific journals, public registries, and regulators is a largely ad hoc and text-based affair. In part, this is because there are currently no data standards that enable cross-study analyses. We have argued that the lack of a standardized, federated system for results dissemination leads to gaps in the transfer and availability of evidence to the relevant decision makers. As long as such a system does not exist, systematic review will remain an incredibly inefficient ad-hoc process, and evidence-based decision making will remain unnecessarily difficult. We believe that these difficulties lead to a lack of transparency in health care policy decision making, which threatens public trust in the decision makers.
In the future, results registries and regulatory systems should be harmonized and federated to create a system of databases that forms the core of a more automated and efficient process of systematic review and evidence-based decision making. In addition, systematic reviews are currently a missed opportunity to introduce additional structure to the domain of clinical trials information, which should be addressed by more complete dissemination of their results. Although this vision is still far from realized, current trends seem to support this direction. Future work should not only focus on developing the 'ideal' data model for all of clinical research (justly called a monumental task) but start by creating useful tools to support decision makers and systematic reviewers. Availability of such tools will lead to increased demand for an accessible evidence base and to a better understanding of its requirements.
Authors' information
GvV is a PhD student for the Escher project of Top Institute Pharma, working on evidence-based decision support for medicines regulation. He has an MSc in Artificial Intelligence.
TT is an assistant professor of Business Intelligence Systems at the Econometric Institute of the Erasmus University Rotterdam. Formerly, he was a post-doc researcher for the Escher project. He has a double PhD degree in Computer Science (University of Turku, Finland) and Management Science (University of Coimbra, Portugal). His main expertise is in Multi-Criteria Decision Analysis (MCDA).
BdB is a professor of Business Information Modelling at the University of Groningen. He is interested in databases and information modelling with interdisciplinary applications to bioinformatics and medicine.
HH is a professor of Cardiology at the University Medical Center Groningen. There, he is also director of the Trial Coordination Center and head of the Data-Management Project. Moreover, he is a clinical assessor for the Dutch Medicines Evaluation Board and clinical expert for the European Medicines Agency (EMA).
Declarations
Acknowledgements
This study was performed in the context of the Escher project (T6-202) of Top Institute Pharma.
Authors' Affiliations
(1)
Department of Epidemiology, University of Groningen, University Medical Center Groningen, Groningen, The Netherlands
(2)
Faculty of Economics and Business, University of Groningen, Groningen, The Netherlands
(3)
Econometric Institute, Erasmus University Rotterdam, Rotterdam, The Netherlands
Copyright
© Van Valkenhoef et al.; licensee BioMed Central Ltd. 2012
This article is published under license to BioMed Central Ltd. This is an Open Access article distributed under the terms of the Creative Commons Attribution License (http://creativecommons.org/licenses/by/2.0), which permits unrestricted use, distribution, and reproduction in any medium, provided the original work is properly cited.