Research article
Open Access
Open Peer Review
This article has Open Peer Review reports available.
The role and benefits of accessing primary care patient records during unscheduled care: a systematic review
BMC Medical Informatics and Decision Making
BMC series – open, inclusive and trusted
2017
17:138
Received: 26 December 2016
Accepted: 8 August 2017
Published: 22 September 2017
Abstract
Background
The purpose of this study was to assess the impact of accessing primary care records on unscheduled care. Unscheduled care is typically delivered in hospital Emergency Departments. Studies published to December 2014 reporting on primary care record access during unscheduled care were retrieved.
Results
Twenty-two articles met inclusion criteria from a pool of 192. Many shared electronic health records (SEHRs) were large in scale, servicing many millions of patients. Reported utilization rates by clinicians was variable, with rates >20% amongst health management organizations but much lower in nation-scale systems. No study reported on clinical outcomes or patient safety, and no economic studies of SEHR access during unscheduled care were available. Design factors that may affect utilization included consent and access models, SEHR content, and system usability and reliability.
Conclusions
Despite their size and expense, SEHRs designed to support unscheduled care have been poorly evaluated, and it is not possible to draw conclusions about any likely benefits associated with their use. Heterogeneity across the systems and the populations they serve make generalization about system design or performance difficult. None of the reviewed studies used a theoretical model to guide evaluation. Value of Information models may be a useful theoretical approach to design evaluation metrics, facilitating comparison across systems in future studies. Well-designed SEHRs should in principle be capable of improving the efficiency, quality and safety of unscheduled care, but at present the evidence for such benefits is weak, largely because it has not been sought.
Background
One of the key justifications for developing Shared Electronic Health Records (SEHRs) is their potential to improve the quality and outcome of care for unanticipated or unscheduled events such as emergencies. In 1998, British Prime Minister Tony Blair famously stated that "If I live in Bradford and fall ill in Birmingham then I want the doctor treating me to have access to the information he needs to treat me" [1] as a justification for embarking on the £13 billion National Programme for Information Technology (NPfIT). Similar large-scale SEHR projects have been undertaken in many other countries including Canada, Australia and The United States of America.
Shared records come in many forms. Some are special-purpose 'summary care records' stored in centralized repositories [2]. Others, such as some Health Information Exchanges (HIEs), take a decentralized approach by creating a virtual health record that is assembled from working clinical record systems. Some SEHRs are government-owned and operated. Other nations take a less-direct "middle-out" approach, emphasizing the development of interoperability standards and encouraging the IT industry to work directly with the healthcare system [3, 4].
A surprising feature of most SEHR initiatives is that they have proceeded ahead of any significant body of research evidence for their likely costs and benefits. Since the early evaluations of the UK experience with SEHRs by Greenhalgh et al. between 2008 and 2012 [5–14], there has been a steady accumulation of evidence from post-hoc evaluations of other shared record projects. Parallel literature from the US has explored the benefits of Health Information Exchanges (HIEs), but the generic nature of these systems makes it hard to identify any specific impact on unscheduled care [15–17].
We undertook a systematic review of the published literature to summarize the evidence for costs and benefits of using electronic patient records created in primary care during unscheduled care. Unscheduled care is defined as any care that cannot reasonably be foreseen or planned in advance of contact with a health professional. Unscheduled care, by definition, is urgent with the need to take action at the time of contact with services [18].
Methods
We undertook a PRISMA-compliant systematic review of studies to be included in the review, studies needed to meet the following criteria:
The article was published in English;

The article reported the use or impact of a SEHR on unscheduled care;

The record system included primary care records;

The study reported quantitative outcomes using randomized controlled trials, quasi-experimental studies, before-and-after studies, case-control studies, cohort- or case studies and cross-sectional studies.
Articles were searched for using Scopus, PubMed and Google Scholar with no date restriction and using the search string ("primary care" OR "general practice") AND ("unscheduled care" OR "emergency care" OR "after-hours care"), AND (("Health Information Exchange" OR HIE) OR ("Electronic Health Record" OR EHR)). Abstracts were excluded if they did not report study data. Study quality was assessed by examining study design, bias risk, study duration and population size.
Search identified 192 potential articles. An additional 15 articles were found by hand searching or citation following. After assessment against inclusion criteria, 22 studies remained (Fig.
1
). Study data were extracted using a standardized template that covered system architecture, scale, level of uptake, and impacts on clinical outcomes or patient safety.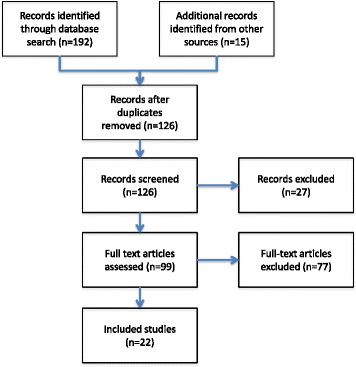 Discussion
The studies in this review included many large-scale national and regional SEHRs, typically covering millions of individuals, and capable of supporting unscheduled care. A striking feature is the near complete absence of data regarding system impacts on the quality and safety of unscheduled care, or economic outcomes. Some evidence points to improved admission decisions [22, 24, 25] and reduction in unnecessary radiology and pathology procedures [27], but the significant variation in SEHR context and system design makes it hard to generalize these results to other settings. The situation is similar in the literature for scheduled care. In the US, most regional health information exchanges struggle with low provider engagement, and it is still not clear how information exchange affects the cost and quality of healthcare services [30].
One would expect that the huge investments required to design, build and implement such systems would be based on strong prior evidence, and would have triggered evaluation of system benefits post-implementation. Taken as a whole this suggests that, at least for this globally-significant class of system, the drivers for system design, development and operation are not yet evidence-based. This is underscored by the absence of peer-reviewed studies for many long-running national SEHRs such as Australia's My Health Record system, Singapore's National Electronic Health Record (NEHR) system, Hong Kong's Electronic Health Record Sharing System (eHRSS) and Regional Health Information Exchange Organisations (RHIOs) in the US.
This review has been limited by the low number, and relatively poor quality, of published studies. No studies were prospective trials. Each study reported different systems in different contexts, and this heterogeneity makes generalizing results challenging. The review did not include government or organizational reports that were not peer-reviewed.
The role of theory in evaluating the impact of electronic records
None of the papers reviewed took advantage of a theoretical framing to guide evaluation. As a consequence, little rationale was provided for the selection of one outcome measure over another. Yet without clear causal mechanisms for the changes one might expect from a SEHR, it is difficult to design studies that clearly separate any changes due to an SEHR from other events in a health system. It is also difficult to compare the different outcomes found in studies, given that systems and contexts varied so much.
The
Value of information
(VOI) models provide one such theoretical foundation [
31
]. Health records can only have impacts on care when the information they provide to decision-makers triggers a change in decision with the potential for a higher-value outcome.
Information value chains
can be constructed using this VOI [
32
]. For health records the value chain begins with clinicians interacting with the record system, then retrieving information, making a decision and initiating processes such as ordering a test or medication (Fig.
2
). Outcome changes follow. Transitioning from one stage to the next is dependent on the previous stage and is not guaranteed as the probability of progression will vary with context and system.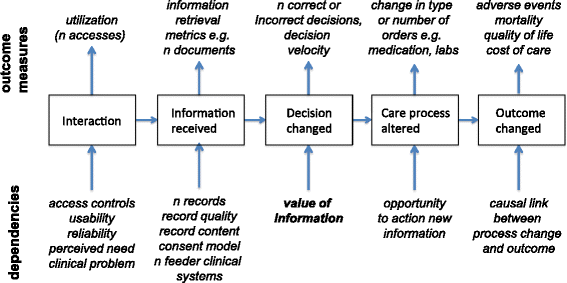 For any formal evaluation of a SEHR, value chain analysis suggests that measurements need to be taken at multiple points in the decision-making process, and that variations in outcome at any stage can only be understood by modelling earlier upstream events. Thus, failure to demonstrate clinical outcome changes following the implementation of an SEHR might arise because of problems with events early in the chain e.g. record quality. Alternately, a lack of impact on outcomes may be unrelated to the SEHR (for example organizational challenges may prevent important information from the SEHR being translated into process changes).
Utilization of records for unscheduled care
In the few cases where electronic record utilization rates were reported, there was considerable variation (Table 2). Relatively high rates were reported in several US studies (often rising above 20% of encounters). In contrast there were relatively low rates in England and Scotland with between 3 and 46 accesses per clinician per month. In a 2011 study of the Memphis Metropolitan area, 12 ED sites and nine ambulatory care clinics found that users accessed records for 6.8% of encounters, with higher rates for repeat visitors, patients with co-morbidities, patients known to have pre-existing data and at sites where access by both nurses and doctors was allowed. Discharge summaries and test reports were the most frequently accessed items [28, 33].
Access rates are likely to be dependent on a number of factors. The complexity of access controls, as well as system usability and reliability, are all likely to influence a clinician's decision to use an SEHR. If the expectation is that records will not be available, or that information is unlikely to be useful, then the perceived need that drives access will also be low [5, 26, 28]. The lower UK access rates may be partially explained by the need to toggle between the SEHR and clinical systems, and the record being only a small subset of the full record.
Higher utilization studies typically came from HMOs, where accessing the SEHR was part of the normal EHR workflow, and the clinical data available came from the entire health record. Few studies reported on the number of health services providing data into the SEHR. Those that did were mainly in the UK, and reported very high levels of connection, probably reflecting that these health systems were largely public rather than private. In contrast, despite extensive investment in Health Information Exchange (HIE) technology in the US, only 14% of US physicians reported sharing data with providers outside their organization [34].
In Israel, clinicians reported higher SEHR utilization rates when the ED was under pressure [22]. In the Indiana Network for Primary Care, physicians identified specific patient groups for whom SEHR information was of greater value in unscheduled care. These groups included patients who could not communicate their health history (for example those who were unconscious, uncooperative or intoxicated) and elderly patients with existing co-morbidities [19]. Patients with a low perceived need for additional information included those with trauma or able to clearly express their history [19, 28].
Implications for policy and practice
There is urgent need for better evaluation studies of safety, quality and outcomes. The level of evaluation reported here is incommensurate with the expense and effort involved in creating SEHRs. With record systems typically servicing millions of patients, it would seem both prudent to demonstrate value for money in making this investment, as well as to demonstrate clear clinical benefit. With health budgets constrained everywhere, expenditure in one area means reduction of resources elsewhere. Given that SEHRs appear to increasingly be politically sensitive and controversial systems, formal and well-designed evaluations should be an essential project element whenever planning, implementing, or operating an SEHR. An SEHR is not a singular health service intervention, but is a bundle of different technical and operational elements, along with an implementation strategy. When creating an SEHR one would hope that the existing evidence base could help in customizing this bundle to best suit the needs of a particular health service. At present such an evidence base does not appear to exist.
When implementing a shared record system, maximizing utilization should be a focus. Whilst utilization of an SEHR is no guarantee that it will deliver the outcomes and cost-benefits, nothing is likely to be delivered in the absence of healthy utilization rates. Barriers to utilization include poor system usability, reliability [19, 21] and utility. If systems are hard to use, erratically available, do not fit into the pre-existing workflow [33, 35], or deliver no perceived benefit, then clinicians are unlikely to use them. This suggests that SEHR projects should focus strongly on clinical needs and work practices, to minimize the barriers to SEHR access and maximize the clinical value of information retrieved.
The selection of record content is likely to shape utilization rates. In unscheduled care, one would expect a minimum clinical summary to cover data that would have an immediate impact on the care delivered. Allergies, current medication and diagnoses are likely to be useful in triage and immediate treatment decisions, whereas access to the full record will probably deliver higher value at a later stage in a patient's workup. Utilization rates appeared higher when a full record is available, typically in US HMOs [19, 27]. It is not clear, however, whether these rates are inflated by episodes of scheduled care.
Privacy and consent models that do not meet the expectations of the community can lead to program failure. Consent models can be hard to evaluate and difficult to choose from, but their implementation is vital to the success of SEHRs. Whilst privacy and consent concerns are commonly expressed by consumer organisations, typically there is also strong support for SEHRs amongst those with chronic illness, or other reasons to regularly engage with the health system [36]. The desire by consumers to explicitly decide if their records are placed into an SEHR, and the controls they wish over record access, will be influenced by events in the public domain. The increasing prevalence of privacy and security breaches involving medical records is likely to diminish trust in system security. Failure to disclose which data are collected, and who is authorized to use them, can have a major impact. Denmark's DAMD (The Danish General Practice Database) system, for example, was authorized to collect a small subset of important data and records of 4.9 million patients. However, in November 2014 it was discovered that DAMD was holding a much larger set of patient data than authorized, forcing immediate suspension of the system. A major challenge with privacy is that consent models for data sharing such as opt-in or opt-out are often conflated with access control strategies. For example consumer opt-in is seen by some as a better privacy model because there has been an informed decision to share data, whereas opt-out might end up seeing data shared without explicit patient understanding or consent [37]. Yet one can have an opt-in system which gives clinicians access to all records with minimal auditing – a very poor approach to privacy. Alternatively an opt-out system that placed stringent gatekeeper demands on clinicians to prove who they are, that they have the right to access a document, and that audits any document access is likely to be a very secure system.
Middle-out programs appear more likely to engage stakeholders and ultimately succeed. Large-scale health IT programs have the option of being driven top-down by governments and large organisations, bottom-up driven by the end user community, or a blended 'middle-out' approach [37]. The evidence reported here seems to suggest that, at least in terms of system implementation and user acceptance, SEHR projects fare best when they are collaborative "middle out" ventures. There need to be clear roles for different authorities and users. Distribution of ownership and input into design and implementation decisions seems to be effective.
Limitations of this review
We can only cautiously generalize the lessons from the studies reported here, because of the significant variation in record systems and context of use, and the often weak nature of study designs. This heterogeneity across system design, implementation strategy and population also precluded any meta-analyses.
The search strategy for this review would have missed any published system evaluations that did not use one of the keywords "unscheduled care", "emergency care" or "after-hours care". Equally many systems that are in operation do not have published evaluations in the scientific literature at this point in time. Some EHR systems such as HIEs may have provided functions that support unscheduled care, but the generic nature of evaluations for these system made it hard to identify specific impacts on unscheduled care.
As a result there is always a risk of bias in the sample of systems reported on, and it is possible that data from these unreported systems is somehow different to those reported on. For example, there may be disincentive to publish evaluations of systems where performance has been poor, and their inclusion may have painted a different picture.
Conclusions
Shared electronic records, if well designed and appropriately targeted to meet specific and high value informational needs, should in principle improve the quality, safety and effectiveness of clinical care. At present however, the evidence for such benefits is weak, largely because it has not been sought. Given the scale and cost of such systems, this absence of evidence is both surprising and concerning.
It is also the case that there has been little clarity in connecting the informational needs which arise during unscheduled care with system design and scale. The lack of theoretical models to underpin SEHR design and evaluation means that some of the systems surveyed may not have been fit for purpose [33], but rather were generic technology driven endeavours. Seeing the SEHR as part of an information value chain emphasizes that information delivery must be connected to decision making, for example through decision support systems, to deliver the most value.
Abbreviations
ED:

Emergency Department
EHR:

Electronic Health Record
HIE:

Health Information Exchange
NPFIT:

The English National Health Service's National Programme for Health Information Technology (now concluded)
SEHR:

Shared electronic health record
Declarations
Acknowledgements
Not applicable.
Funding
This review was supported by the NHMRC Centre for Research Excellence in eHealth (APP1032664).
Availability of data and materials
Not applicable.
Authors' contributions
TB and EC conceived of and designed this study, analysed data and wrote the paper. TB conducted the literature search and data extraction. Both authors have read and approved the final version of the manuscript.
Ethics approval and consent to participate
Not applicable.
Consent for publication
Not Applicable.
Competing interests
The authors declare that they have no competing interests.
Publisher's Note
Springer Nature remains neutral with regard to jurisdictional claims in published maps and institutional affiliations.
Open AccessThis article is distributed under the terms of the Creative Commons Attribution 4.0 International License (http://creativecommons.org/licenses/by/4.0/), which permits unrestricted use, distribution, and reproduction in any medium, provided you give appropriate credit to the original author(s) and the source, provide a link to the Creative Commons license, and indicate if changes were made. The Creative Commons Public Domain Dedication waiver (http://creativecommons.org/publicdomain/zero/1.0/) applies to the data made available in this article, unless otherwise stated.
Authors' Affiliations
(1)
Centre for Health Informatics Australian Institute of Health Innovation, Macquarie University, Sydney, Australia