Technical advance

Open Access

Open Peer Review
This article has Open Peer Review reports available.
Orchestrating differential data access for translational research: a pilot implementation
BMC Medical Informatics and Decision Making
BMC series – open, inclusive and trusted
2017
17:30
Received: 6 October 2016
Accepted: 3 March 2017
Published: 23 March 2017
Abstract
Background
Translational researchers need robust IT solutions to access a range of data types, varying from public data sets to pseudonymised patient information with restricted access, provided on a case by case basis. The reason for this complication is that managing access policies to sensitive human data must consider issues of data confidentiality, identifiability, extent of consent, and data usage agreements. All these ethical, social and legal aspects must be incorporated into a differential management of restricted access to sensitive data.
Methods
In this paper we present a pilot system that uses several common open source software components in a novel combination to coordinate access to heterogeneous biomedical data repositories containing open data (open access) as well as sensitive data (restricted access) in the domain of biobanking and biosample research. Our approach is based on a digital identity federation and software to manage resource access entitlements.
Results
Open source software components were assembled and configured in such a way that they allow for different ways of restricted access according to the protection needs of the data. We have tested the resulting pilot infrastructure and assessed its performance, feasibility and reproducibility.
Conclusions
Common open source software components are sufficient to allow for the creation of a secure system for differential access to sensitive data. The implementation of this system is exemplary for researchers facing similar requirements for restricted access data. Here we report experience and lessons learnt of our pilot implementation, which may be useful for similar use cases. Furthermore, we discuss possible extensions for more complex scenarios.
Keywords
Data AccessTranslational ResearchClinical DataBiomedical DataHealth Data Protection
Background
Translational research is a promising approach to speed up discovery of new therapies and diagnostic methods. In order to realise such objective, tight collaboration of biomedical researchers and clinical practitioners is required [1, 2]. Their work is data intensive [3, 4] and must rely on information technology to enable efficient data exchange and analysis [5, 6]. Compared to more traditional drug research, access to a larger variety of trials from diverse sources can improve the characterisation of benefits and unwanted effects of drugs and therapies at lower costs and better efficiency [7]. Drug approval processes and drug safety/effectiveness surveillance are improved by faster access to data about active ingredients similar to the ones being under consideration. An example of that is the effectiveness of using existing evidence, or even the prior obligation to make trial outcomes publicly available, to prevent selective reporting [8, 9], that is, the presentation of evidence that is favourable for the interest of the reporter (such as having a drug approved), and the exclusion of unfavourable evidence. Another potential advantages of these approaches is making clinical experimentation more efficient and avoiding the exposure of trial's potential participant to known risks, as well as, for instance in the case that evidence shows adverse effects to particular health conditions, avoiding unnecessary risks. Ability to perform data analyses other than those for which clinical trials were originally conducted is another opportunity that clinical data sharing offers [10], which is relevant in the translational research field, enabling approaches like comparative genomics [11, 12]. Overall, this has social benefits such as faster improvement of healthcare and its safety, and increasing the confidence of the general public in the scientific community, public services and industry [10]. On the other hand, dealing with biomedical information, and with human patient data in particular, poses complex challenges with respect to ethical, legal and social implications (ELSI [13, 14]), which need to be addressed when software products are developed and IT infrastructures deployed [15, 16]. An obvious example is the wish and right of patients to keep their health information private, which can be motivated by various reasons, including the kind of relationship that an individual wants to maintain with his relatives and social relations [17, 18], the social stigma associated to certain diseases [19, 20], and access to private healthcare [21]. Another reason to resist data sharing lies in the commercial or academic interests of researchers, including the willingness to be the first to submit unpublished research, and the wish to produce evidence useful to file patent applications [22, 23]. These issues pose potential conflicts with the research needs. For instance, anonymization and reidentification-prevention techniques, which are used to grant data access while ensuring patient privacy, imply that data essential for a research goal might be concealed from the researchers [24, 25].
Life science shares technological challenges with other areas of science [26], and generic technological solutions can be employed, either of commercial or open source type [6, 27–29]. However, addressing ELSI in the translational research arena is particularly difficult, due to the above mentioned reasons, which can be summarised as heterogeneity of information systems, different types of professional roles involved, the conflicting needs to share information and, at the same time, ensure this is done in a way that respects patients and associated legislation [30–32]. The domain of biobanking and biosample research is characterised by special restrictive sample and data usage conditions, since highest ethical standards to ensure the support and participation of human research participants are required. In addition to confidentiality, consent about the data usage, intellectual property and data/sample ownership must be considered. Sophisticated mechanisms to provide restricted access to sensitive data is a way to address this problem. The risk of improper use of the data can be mitigated through legally binding agreements, subscribed by trial participants and researchers, which constrain the purpose for which data access is granted. Access is mediated by some form of a data access agreement between a data consumer and a data provider. These access agreements have to take into account legal and ethical requirements, professional guidance, and good practices. Agreements are in general executed by data stewards or data access committees, but recently they are implemented in electronic form employing software for identity and access management. This approach is not without difficulties, such as the impossibility to foresee useful research goals at the time of data and consensus collection [9, 10]. However, it can be seen as a compromise between the different needs that it addresses.
In this paper we report on a pilot implementation (from now on, 'the pilot') that aims at integrating research resources and clinical resources, including data bound to a varying range of access policies, from fully open to data requiring access approval. Implemented in the context of the BioMedBridges project [33–35], the pilot shows how identity and permissions management can be simplified by means of a modular approach, utilizing well known software components.
The BioMedBridges project
The European Strategy Forum on Research Infrastructures (ESFRI) initiative has been promoting an agenda to build Research Infrastructures (RIs) in Europe since 2002 [36]. Its current agenda comprises 21 projects in all scientific fields. This includes RIs for the life science area, several of which teamed up in the FP7 BioMedBridges project. The main aim of this project was to facilitate the translation of ideas into medical applications, by promoting data interoperability in a variety of disciplines, across different scales. The project concentrated on five use cases, including cross-species data integration, personalised medicine, imaging, and structural biology. This work was supported by technological, cross-domain activities, such as terminology and data standards harmonisation [37], and secure access to data. The latter was investigated both from the point of view of ELSI, as well as what concerns the realisation of concrete IT solutions. All reports of the project are available [38]. The pilot presented here is documented in detail in the report D5.4 [39], which was preceded by the analysis and design done for D5.3 [40] and by the preparatory investigations on ELSI topics in D5.1 [40, 41] and D5.2 [42].
Methods
In the following we describe the software components that we have employed to deal with the use case addressed by the pilot.
Results
Figure
1
, taken from the previously mentioned BiomedBridges report [
39
], summarises the workflow that we have implemented in the pilot presented in this paper, based on previous work within the BiomedBridges project [
40
,
41
]. This workflow supports the use case where a researcher is looking for samples of interest, both human and non-human, with an aim to explore experimental data derived from such samples, as well as acquire bio-material for further studies. As discussed above, EBI's Biosamples Database is a significant starting point for such a use case. We uploaded summaries about demonstration data sets onto BioSD, linking them to more detailed information available in the BBMRI Hub. For instance, a search initiated from BioSD (step 1 in the figure) might lead (step 2) to the page about the data set named DE_Biobank7.
1
The decision to use realistic demo data, which does not belong to real patients, allowed us to concentrate on the technical issues, leaving aside the legal and ethical implications.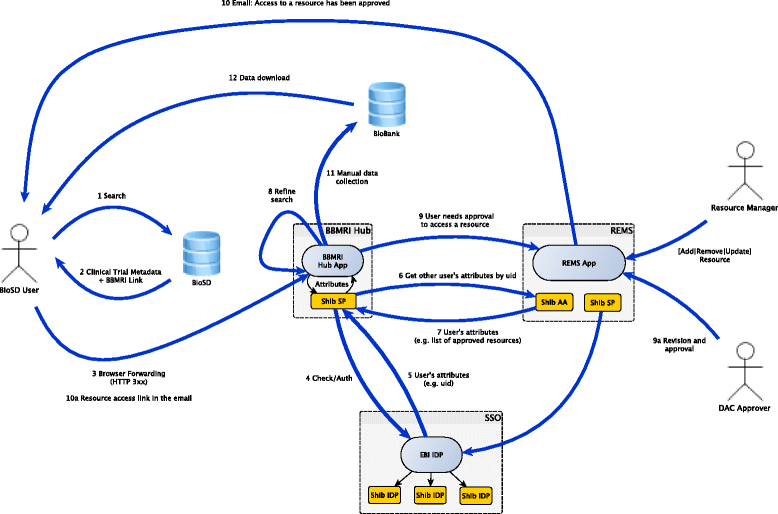 The BBMRI Hub provides summary information for the requested dataset (e.g., number of samples for each biological characteristic), and mediates the access to individual level data (e.g., anonymised patient records). Namely, the Hub checks that the requesting client has an associated Shibboleth session (it uses the Shibboleth Java API, and the SP plug-in for the Apache web server). If this is not the case, the Shibboleth component transparently redirects the user to a sign-on page (step 4; we have set up a single sign-on demonstration service for the pilot). After successful authentication the browser is sent back to the Hub, where the now-existing user session is used to query REMS-related session attributes. These contain the list of resource entitlements associated to the user, such as the access rights the user has for the biobank (s)he is trying to access. Such information is obtained by coupling REMS with Shibboleth's Attribute Authority component (steps 6/7). If the user does not have the rights to access the requested data, (s)he is forwarded to REMS (again, via browser redirection), to apply for such access (step 9), i.e., provide the research plan, confirm compliance with the data access agreement etc. The exact workflow for the resource access application depends on the resource being accessed, and REMS allows the data manager to define it. Once the user has completed his/her application, this is forwarded to a DAC user for approval. Approved applications (or rejections) are notified to the applicant via email messages, which are also used to send a link to resume the pilot workflow from step 11, i.e., access the protected biobank. A variant of this workflow can happen at step 8, when the initial searches can be refined in BBMRI.
Systems robustness, testing and performance considerations
The pilot aims at demonstrating the technical feasibility to utilize the above workflow in order to mediate access to data of the LPC Catalogue which is reflected in the BioSD. As such, we have tested the infrastructure as a whole with an initial small set of 3 test Shibboleth federations and about 10 Shibboleth-authenticated users. In order to perform such tests, we have populated BioSD and the LPC demo catalogue with information about 14 fictitious human data sets.2 The components that the pilot is based on have been extensively tested, by both the original developers and the many organisations that use them. Both cases include the organisations participating in the pilot.
As an example, the Biosamples database has been developed following sound software engineering methodologies, including extensive use of test-driven coding an unit tests (for instance, [58, 59]). The repository currently stores about 5 million samples, grouped into about 58 thousand data sets, provided by 14 thousand organisations.3 From internal web server logs, we can estimate that BioSD successfully processes on average 158'000 requests per day from about 28 unique client IP addresses, without significant traffic peaks. This makes it clear that BioSD is a valuable resource for biomedical samples, involving a significant number of users. We keep the user community engaged by running periodic exercises of user experience [60] and outreach activities [61]. Regarding the quality of data and annotations in BioSD, while this varies due to our aim to accommodate the needs of as many data submitters as possible, we host sample information from important and well known biomedical sources (see previous section), and we provide ontology-based semi-automatic data reannotation, which improve the original metadata [62].
As another example, at the time writing the LPC Catalogue contains data about 22 large population-based biobanks, including two European networks (MORGAM, EPIC), and data about more than 3.8 million biosamples comprising more than 9 material types (e.g. DNA, cDNA/RNA, whole blood, blood cell isolates, serum, plasma, tissues, cell lines, urine). Eleven out of the 22 participating biobanks state to have diseases of the circulatory system as a focus of research, followed by endocrine, nutritional, and metabolic diseases, mental and behavioural diseases, as well as diseases of the respiratory system with ten biobanks each, respectively. The Catalogue plays an important role in the context of calls for tender within BBMRI-LPC. Two out of four proposals which have already been approved specifically request biosamples from three participating LPC cohorts each. The other two proposals involve all participating LPC cohorts which comprise a sufficiently large number of cases with obtainable biosamples. Further proposals are under review. This indicates the practicability, importance and user acceptance of our approach [63].
In order to estimate the performance of an infrastructure like the pilot, consider the following. According to performance test results [64], a modestly performant server (single or dual-core recent CPUs, up to 12Gb RAM) can uphold 50–100 Shibboleth requests per second, under a workload of up to 3500 parallel requests. The same tests show that Shibboleth scalability is also good, with request latency staying below 5 s for a workload under 500 threads. In [26] it is shown that these limits are well compatible with what we would expect in a scenario like the one described in the pilot, including the figures about organisations managing up to 30'000 users per year through Shibboleth. The above-mentioned figures about BioSD web traffic are well below the values shown above about Shibboleth, especially considering that only a small part of BioSD traffic would come from authenticated users, interested in protected clinical data. The LPC Catalogue and REMS are also able to support similar workloads. These rough figures make us confident that the approach proposed by our pilot is usable from the performance point of view. Moreover, the results achieved in the BioMedBridges project will be leveraged by the CORBEL project, which aims at developing harmonised user access to biomedical data from research infrastructures [65], and by the ELIXIR-EXCELERATE [66] project, which will ease data access in the ELIXIR biomedical network [67]. CORBEL and EXCELERATE are involving 11 and 41 organisations across Europe [68, 69], for a total number of researchers in the order of hundreds. Again, these figures are well below the limits mentioned above.
A further point about robustness lies in the process in place to create credentials for users participating in an identity federation like the test federations that we have set up for the pilot. Clearly homogeneous and safe procedures must be established for that. While this is not within the scope of this paper, we wish to make a few considerations, based on the experience with our organisations and resources. Similarly to other cases [70], all the pilot participants have well defined security policies. For instance, EBI has an internal policy such that electronic credentials are supervised by a senior staff sponsor, including initial identity certification.
Discussion
Common open source software components are sufficient to create a secure system for differential restricted access to sensitive data. The components used to implement the pilot are freely reusable to realise a similar infrastructure in a situation similar to the one we address. In particular, Shibboleth and REMS can be adapted to a different set of biomedical resources that other organisations might want to integrate. Technical details and first experiences about the pilot implementation are described in a report for the BioMedBridges project [39]. Such report includes implementation details that would be useful for the pilot reproducibility. In this section, we are discussing the feasibility, advantages and limitations of our approach, to provide additional information for researchers confronted with similar data protection needs when dealing with similar use cases, and explain our experience with the pilot implementation. Furthermore, we frame the pilot work into a wider legal and technological context.
Conclusion
Protected access to digital resources related to translational research is a significant challenge that encompasses technology, law, ethics and society, and the importance of this for translational research is growing. In the work presented we have shown an approach to face this challenge, based on open, common components and standards. In addition to showing the feasibility of such an approach, our pilot for secure biomedical data access can be a reference for similar data access use cases and can offer useful experience and lessons learned for researchers confronted with similar data protection needs. Moreover, it encourages researchers to use open source components as the basis to integrate ELSI tools into data management software, as well as for developing more complex usage scenarios, such as data access based on web services and linked data technologies. The pilot can be a model for researchers who want to use readily available open source modules to create a solution for the handling of sensitive data. Compared to other solutions, our approach is simple yet effective, being focused on the authentication and authorisation problem, without dealing with the technical about the access to specific resources. This also means it is relatively easy to realise a pilot-like solution over components already in place (only some integration work is needed between those, Shibboleth and REMS, existing Shibboleth-based IdPs can be reused) and it is not required to deploy a new infrastructure, as it is the case for SHRINE [99] and i2b2-based systems [6, 98], caGRID [93] and DataSHIELD [96]. At the same time we delegate to systems like Honest Broker [100] advanced privacy enhancing techniques. The work between the research infrastructures that have participated in the pilot is continuing in CORBEL [65] and AARC [129] projects. In particular, similar production services are being implemented thanks to the funding provided by the EXCELERATE initiative.
Abbreviations
BBMRI:

Biobanks and Biomolecular Resources Research Infrastructure, related to the BBMRI-LPC project and LPC Catalogue (also named BBMRI Hub), see the main text
BioSD:

European Biosamples Database (see the main text)
DAC:

Data Access Commitee (see the main text and also: REMS). Institutional Review Board (IRB) is a commonly used term that represents a similar concept
Data de-identification The process of deriving more generic data from detailed sensitive and individual human data:

e.g., through the removal of identifying information (name, address), by means of ranges (age 0–5 in place of precise birth dates), by means of aggregation (the number of patients aged 0–5, rather than individual records)
ELSI:

Ethical, Legal and Social Implications. The kind of issues arising when dealing with human biomedical data
HTTPS:

SSL, TLS, X.509, HTTPS refers to the World Wide Web protocol wrapped by some communication channel protection/encryption technology. TLS (Transport Layer Security) is a typical protocol to do so, which succeeded SSL (Secure Socket Layer). These protocols use the standard X.509 to deal with data encryption (i.e., to encode data in a way that they are only readable by a target recipient and, in the X.509 context, with the certainty of the data producer identity)
IdP:

Identity Provider, a system like Shibboleth, used to manage user information and authentication in a network of organisations and IT applications
LINDDUN:

Linkability, Identifiability, Non-repudiation, Detectability, Disclosure of information, the specific privacy-related threats addressed by the LINDDUN methodology to secure an IT system to access sensitive human data
REMS:

Resource Entitlement Management System, which enables Data Access Commiteess (DAC) to administrate access to data resources (see the main text)
SAML:

Security Assertion Markup Language, a standard XML-based format for exchanging authentication and authorization information between IT components. Used by the Shibboleth system (see)
Shibboleth:

An identity management system based on the SAML standard (see the main text)
SP:

Service Provider, an application that relies on an IdP (see) to manage user authentication and authorization. In the specific context of Shibboleth, a programming library that allows an application developer to realise SP functionality managed via Shibboleth
STRIDE:

Spoofing, Tampering, Repudiation, Information Disclosure and Elevation of privileges, the threats addressed by the STRIDE methodology to secure an IT system
Declarations
Acknowledgements
Not applicable.
Funding
This work originated from and was funded by the BioMedBridges project (European Commission FP7 Capacities Specific Programme, grant agreement number 284209).
Availability of data and materials
Summaries about the data set used for the pilot are available at the web links reported in the article text. Detailed data, accessible via the BBMRI Hub by authorised users, are available upon request. Implementation files (e.g., configuration files) are available upon request. Some implementation details are reported in the BioMedBridges report related to the pilot, which is cited in the article.
Authors' contributions
MB designed the pilot, together with OM, participated in its implementation, including the integration of BioSD in the pilot, wrote the first draft of the manuscript and related reports. OM worked on the implementation, especially the integration of Shibboleth. US and AB coordinated the work between the participating organisations and contributed to the design of the pilot. KK contributed to the design of the security architecture and the pilot, as well as continuously discussed its development. FK provided expertise about the state of the art in the fields of security and privacy, and participated in the design and implementation of the pilot, including the integration of an adapted instance of the LPC Catalogue. RB and HS worked on the integration of the LPC Catalogue. TM, ML and TN provided expertise about REMS and contributed with its integration in the pilot. IL contributed to leveraging previous work about integration of REMS into the European Genome-phenome Archive (EGA). WK and CO contributed to the legal background, especially the influence of data protection regulations on access policies. MB, BCR, WK, CO have contributed to the manuscript and the related bibliographical research. All authors have reviewed and approved the final version of the manuscript.
Competing interests
The authors declare that they have no competing interests.
Consent for publication
Not applicable. The demonstration data we have used for the pilot are not real.
Ethics approval and consent to participate
Not applicable, same reasons as the previous item.
Publisher's Note
Springer Nature remains neutral with regard to jurisdictional claims in published maps and institutional affiliations.
Open AccessThis article is distributed under the terms of the Creative Commons Attribution 4.0 International License (http://creativecommons.org/licenses/by/4.0/), which permits unrestricted use, distribution, and reproduction in any medium, provided you give appropriate credit to the original author(s) and the source, provide a link to the Creative Commons license, and indicate if changes were made. The Creative Commons Public Domain Dedication waiver (http://creativecommons.org/publicdomain/zero/1.0/) applies to the data made available in this article, unless otherwise stated.
Authors' Affiliations
(1)
European Molecular Biology Laboratory, European Bioinformatics Institute (EMBL-EBI), Wellcome Trust Genome Campus, Hinxton, UK
(2)
Chair of Medical Informatics, Institute of Medical Statistics and Epidemiology, University Medical Center rechts der Isar, Technical University of Munich, Munich, Germany
(3)
Heinrich-Heine Universität Düsseldorf, Coordination Centre for Clinical Trials, Düsseldorf, Germany
(4)
European Clinical Research Infrastructure Network (ECRIN), Düsseldorf, Germany
(5)
CSC - IT Center for Science Ltd, Espoo, Finland