Research article

Open Access

Open Peer Review
This article has Open Peer Review reports available.
What is the extent of research on the characteristics, behaviors, and impacts of health information technology champions? A scoping review
BMC Medical Informatics and Decision Making
2016
16:2
Received: 23 September 2015
Accepted: 5 January 2016
Published: 12 January 2016
Abstract
Background
Although champions are commonly employed in health information technology (HIT) implementations, the state of empirical literature on HIT champions' is unclear. The purpose of our review was to synthesize quantitative and qualitative studies to identify the extent of research on the characteristics, behaviors, and impacts of HIT champions. Ultimately, our goal was to identify gaps in the literature and inform implementation science.
Methods
Our review employed a broad search strategy using multiple databases—Embase, Pubmed, Cinahl, PsychInfo, Web of Science, and the Cochrane library. We identified 1728 candidate articles, of which 42 were retained for full-text review.
Results
Of the 42 studies included, fourteen studies employed a multiple-case study design (33 %), 12 additional articles employed a single-case study design (29 %), five used quantitative methods (12 %), two used mixed-methods (5 %), and one used a Delphi methodology (2 %). Our review revealed multiple categories and characteristics of champions as well as influence tactics they used to promote an HIT project. Furthermore, studies have assessed three general types of HIT champion impacts: (1) impacts on the implementation process of a specific HIT; (2) impacts on usage behavior or overall success of a specific HIT; and (3) impacts on general organizational-level innovativeness. However the extent to which HIT projects fail even with a champion and why such failures occur is not clear. Also unclear is whether all organizations require a champion for successful HIT project implementation. In other words, we currently do not know enough about the conditions under which (1) a health IT champion is needed, (2) multiple champions are needed, and (3) an appointed champion—as opposed to an emergent champion—can be successful.
Conclusions
Although champions appear to have contributed to successful implementation of HIT projects, simply measuring the presence or absence of a champion is not sufficient for assessing impacts. Future research should aim for answers to questions about who champions should be, when they should be engaged, what they should do, how management can support their efforts, and what their impact is given the organizational context.
Keywords
Health information technology
Champion
Implementation science
Organizational innovation
Organizational change
Background
The promise of increased health information access and information exchange for improving health systems and patient outcomes has prompted efforts within many countries to enhance the health information technology (HIT) infrastructure. For example, in the United States, financial incentives through the Medicare and Medicaid programs for "Meaningful Use" of electronic health records (EHR) are contributing to substantial increases in adoption of EHRs and related HIT. Between 2009 and 2012, physician adoption of EHR technology used to demonstrate five Meaningful Use core objectives increased by approximately 66 % [1], and by the end of 2012, more than 75 % of all eligible U.S. hospitals had qualified for financial incentives [2]. As of July 2015, eligible hospitals and providers had received more than $31B in Meaningful Use incentive payments [3]. In addition to Meaningful Use, value-based payment and care delivery models in the U.S., such as Accountable Care Organizations, are increasing the need for health care providers and organizations to exchange patient information electronically [4], thus incentivizing the adoption of interoperable EHR systems.
Although adoption of EHRs and other HIT is increasing, implementation of these innovations carries substantial risk due to the financial investment required, the potential to negatively affect the provider and patient experience, and the opportunity cost of failure. Furthermore, implementing new health information systems is complex because these systems affect multiple organizational members and work processes [5]. Because of the risk and complexity involved, organizations are typically advised to undergo a careful planning process and dedicate adequate financial and human resources in order to deploy successful implementation strategies [6, 7].
Numerous approaches for implementing HIT and similar innovations in health care organizations have been documented, but there is mixed evidence about which are most important for promoting consistent and appropriate use of these innovations [7, 8]. Having a champion to promote an innovation and support the requisite change effort (i.e., "fight for the cause") is one approach commonly cited in the literature and used in practice [9, 10]. Despite being commonly employed in HIT implementations, however, champions may not be well understood. For example, several years ago Howell and Higgins, whose work was not health specific, identified that research has not sufficiently examined the characteristics of champions or how their roles may (or may not) differ from other organizational members in the implementation process [11, 12]. Now, approximately 25 years after Howell and Higgins made these observations, the current state of the literature on HIT champions, in particular, is unclear. This lack of clarity impedes development of evidence-based approaches for identifying champions, supporting the efforts of champions, and assessing the impacts of champions. The purpose of our review was to synthesize empirical studies, both quantitative and qualitative, to identify the extent of research on the characteristics, behaviors, and impacts of HIT champions. Ultimately, our goal was to identify gaps in the literature on HIT champions to inform future research.
Methods
We conducted a scoping review, which "provides a preliminary assessment of the size and scope of available research literature" [13]. Scoping reviews are similar to systematic reviews with respect to search methodology and approach to describing a body of literature. However, systematic reviews typically have more specific research questions than do scoping reviews. Also, systematic reviews use methodologies to assess the quality of articles included in the review, whereas scoping reviews typically do not [14]. We chose to conduct a scoping review because we anticipated that HIT champions had not been well studied and that there would not be a sufficient evidence base to answer specific research questions about HIT champion impacts. The methods we employed were similar to those recommended for scoping studies by Levac et al., for example (1) combining a broad research question with a clearly articulated scope and clear definitions of key concepts; (2) using an iterative, team-oriented approach to study selection and data abstraction; and (3) drawing upon qualitative analytical techniques to identify themes in the literature [15].
Data sources and searches
We conducted searches for relevant studies in Embase, Pubmed, Cinahl, PsychInfo, Web of Science, and the Cochrane library through September 2014. Prior to submitting the manuscript for review, we conducted an additional search to determine whether additional relevant articles had been published since our original search. For our review, we defined champion as an individual who is a member of an organization (i.e., internal) and facilitates the change necessary to implement a new HIT system within the organization. This definition is consistent with Schon's seminal definition of product champion [16]. Although champion is distinct from concepts such as change agent and opinion leader [17], we anticipated that some authors might use such terms synonymously. Therefore, we used a broad range of search terms: champion, change agent, innovator, opinion leader, super user, entrepreneur, leader, and boundary spanner. In addition to our database searches, we manually forward-searched references of articles that met our inclusion criteria to identify additional articles that might be relevant but did not appear in our database search results.
Study selection
Because we were particularly interested in champions of HIT implementation, we included only articles about such champions, rather than using the broader strategy of including champions of any type of organizational change (e.g., an educational intervention) or champions of IT in all types of settings (e.g., manufacturing companies). We did so because implementing IT, unlike some other types of innovations, requires learning to use a new technology and modifying existing work processes; therefore, IT implementation may require different champion characteristics and tactics as compared to other innovations. Also, health care organizations are organized and staffed in ways that are substantially different from most other types of organizations and provide services to clients (patients) that are not analogous to other types of products/services. In summary, studies of changes unrelated to IT in healthcare settings, or of IT implementations in non-health settings, likely would yield some results not applicable to champions of HIT.
Studies were excluded from full-text review if they did not meet the following criteria:
1.

2.

Published in 1990 or later

3.

4.

Empirical study using qualitative or quantitative methods

5.

Investigates development, implementation, and/or use of health information technology. HITECH Act definition of health information technology: "hardware, software, integrated technologies, or related licenses, intellectual property, upgrades, or packaged solutions sold as services that are designed for or support the use by health care entities or patients for the electronic creation, maintenance, access, or exchange of health information" [18]. Examples include technologies involving clinical notes, medication lists, radiology and laboratory results, alerts, and telemedicine.

6.

Includes analysis of a champion that is internal to the organization implementing the HIT.
This study used the PRISMA statement flow chart to analyze literature search results (Fig.
1
). After one author (CB) reviewed abstracts using the inclusion criterion 1 through 4 (listed above), a 20 % random sample of the abstracts was selected and reviewed by the other author (CS) to validate the inclusion/exclusion process. Using inclusion criteria 1–6, both authors (CB and CS) then completed a full-text review of articles that were not excluded during abstract review.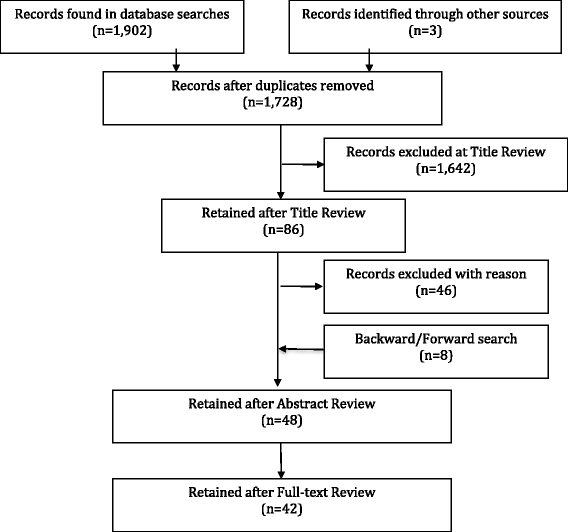 Data extraction
Articles selected for full-text review were charted [
15
,
19
] using a charting form developed in an Excel spreadsheet [
19
,
20
]. We adapted the Howell & Higgins framework [
11
] to determine which variables were needed to answer the research questions. We then iteratively developed the charting form used to extract the variables from each study. One member of the research team (CB) extracted data from all articles included in the review, and the other team member (CS) performed the same process on a sample of articles [
15
]. The charting form included the following fields for each study:
Author, year, setting, study design, sample

Type of HIT studied

Whether the term "champion" was used. If so, whether "champion" was explicitly defined; if not, which term was used instead of champion.

Champion characteristics (e.g., role in the organization)

Champion influence tactics (e.g., building coalitions)

Management support for the champion (e.g., supporting pilot projects)

Champion impact (e.g., on adoption)
Once the charting process was complete, we synthesized the results to develop summary findings pertinent to the variables in the charting form. Consistent with the stated purpose of our review, we then considered these summary findings in the context of current HIT implementation practice in order to develop recommendations for future research [15].
Discussion
The number of empirical studies focusing on HIT champions is relatively modest, and existing studies employ a variety of methodological and measurement approaches. Therefore, identifying evidenced-based practices for HIT champions remains a goal for future research, particularly in light of the complex role of champions in implementation. Nevertheless, our review revealed some important insights.
In general, champions appear to contribute to the successful implementation of many HIT projects. However the extent to which HIT projects fail even with a champion and why such failures occur is less clear. Also unclear is whether all organizations require a champion for successful HIT project implementation. More specifically, we currently do not know enough about the conditions under which (1) a health IT champion is needed, (2) multiple champions are needed, and (3) an appointed champion—as opposed to an emergent champion—can be successful. A number of qualitative studies in our review provide rich details suggesting that organizational climate, resources, technical capability, workflow modifications, and resistance to change influence the characteristics, tactics, management support, and impacts of champions. However, many of our studies provided little detail about characteristics of the organizations or the organizational members undergoing implementation, let alone the circumstances under which the implementation was occurring. Therefore, the extent to which the organizational context may influence the need for a champion (including the number and type of champions); the phase of the IT project that requires a champion (e.g., adoption-decision, pre-implementation planning, etc.); the tactics a champion should employ; and how management can best support the champion(s) remain largely unknown. For example, an organization already undertaking multiple implementation efforts may require a top-level administrator to communicate the strategic value of a new HIT change, including how the effort aligns with broader organizational priorities and change efforts. The organization may also need a team of champions representing various roles to serve as subject matter experts and to assist with training peers to use the system effectively. Multiple-case-study approaches, similar to that used in Shaw et. al., could be useful for assessing relationships between organizational context and champion characteristics, tactics, and impacts [39].
Robust studies that focus on champions and HIT implementation effectiveness, require appropriate theories to guide hypothesis generation. The model we employed to guide our review was useful for characterizing the nature of the literature; however, we believe it would require modification in order to inform future research on HIT champions. In general, more attention is needed to developing theory that predicts champion impacts given the number and characteristics of champions, tactics they employ, characteristics of the HIT being implemented, and organizational context within which the implementation is occurring. Theory development should account for different types and levels of impact (e.g., impacts on user adoption, user productivity, and organizational capacity for future implementations). Without theory-informed studies, our understanding of the conditions under which champions promote successful implementation will be dependent upon the results of a small number of studies that may not account for interactions between some of the most influential organizational, individual, and technological factors.
Although our study focused on HIT, our findings complement studies from the information systems literature that are not specific to health care. Specifically, information systems research has demonstrated that change agents have varying characteristics and roles during implementation [65]; employ various influence tactics [66, 67]; frequently depend on management support, alliances, organizational context [68, 69]; and are associated with positive and negative implementation outcomes [65]. Also, characteristics, roles, influence tactics, support, organizational context, and outcomes have been found to be associated with the complexity of information system implementation [70, 71]. Finally, studies have suggested that complex adaptive system theory holds promise for future work related to developing HIT implementation frameworks [72, 73].
Limitations
Our review has a few limitations. First, we identified a relatively small number of studies focused on HIT champions. Second, many of these studies did not focus explicitly on HIT champions but rather studied HIT implementation in general and included champions as a part of that analysis or as an emergent finding. Third, studies included in our review varied in terms of their level of detail about champions and their methods (with most studies being qualitative). Given the various ways in which champions have been defined and studied, abstracting data for each study required substantial discussion between the authors and an iterative process. However, we believe having a team comprised of researchers with qualitative data analysis experience enhanced the validity of our findings. Finally, we believe these limitations are not uncommon for a scoping review designed to describe the nature of the literature on a broad research question.
Conclusions
Our review was carried out to assess the extent and scope of research on HIT champions for the purpose of informing future research. We identified 42 studies pertinent to HIT champions. Our findings suggest that additional research is needed to analyze the characteristics, influence tactics, and management support needed for different categories of champions. Future work should view champions as one component within the organizational infrastructure for HIT implementation. Answers to questions about who champions should be, when they should be engaged, what they should do, how management can support their efforts, and what their impact will be are likely dependent upon other aspects within the organization. Because many organizations currently appoint champions for HIT projects, rather than allowing them to emerge, researchers should focus on developing evidence-based frameworks and/or tools that assist with identifying which aspects of an implementation require such a champion's efforts, the experience and skills the champion needs in order to perform effectively, and the types of management support that the champion will need.
Declarations
Acknowledgments
Dr. Christopher M. Shea was supported by the National Center for Research Resources and the National Center for Advancing Translational Sciences, National Institutes of Health (KL2TR001109) (UL1TR001111). Dr. Shea also received support from the Department of Practice Quality and Innovation at UNC Health Care. The content is solely the responsibility of the authors and does not necessarily represent the official views of the NIH or UNC Health Care.
Open AccessThis article is distributed under the terms of the Creative Commons Attribution 4.0 International License (http://creativecommons.org/licenses/by/4.0/), which permits unrestricted use, distribution, and reproduction in any medium, provided you give appropriate credit to the original author(s) and the source, provide a link to the Creative Commons license, and indicate if changes were made. The Creative Commons Public Domain Dedication waiver (http://creativecommons.org/publicdomain/zero/1.0/) applies to the data made available in this article, unless otherwise stated.
Authors' Affiliations
(1)
CB# 7411 McGavran-Greenberg Hall, Gillings School of Global Public Health, University of North Carolina-Chapel Hill, Chapel Hill, USA