BioDEAL: community generation of biological annotations
BMC Medical Informatics and Decision Making
2009
9(Suppl 1):S5
Published: 3 November 2009
Abstract
Background
Publication databases in biomedicine (e.g., PubMed, MEDLINE) are growing rapidly in size every year, as are public databases of experimental biological data and annotations derived from the data. Publications often contain evidence that confirm or disprove annotations, such as putative protein functions, however, it is increasingly difficult for biologists to identify and process published evidence due to the volume of papers and the lack of a systematic approach to associate published evidence with experimental data and annotations. Natural Language Processing (NLP) tools can help address the growing divide by providing automatic high-throughput detection of simple terms in publication text. However, NLP tools are not mature enough to identify complex terms, relationships, or events.
Results
In this paper we present and extend BioDEAL, a community evidence annotation system that introduces a feedback loop into the database-publication cycle to allow scientists to connect data-driven biological concepts to publications.
Conclusion
BioDEAL may change the way biologists relate published evidence with experimental data. Instead of biologists or research groups searching and managing evidence independently, the community can collectively build and share this knowledge.
Keywords
Gene Ontology
Natural Language Processing
Semantic Concept
Semantic Annotation
Uniform Resource Locator
Introduction
Over the past decade, systems biology research has undergone two key transformations. On the one hand, public databases of experimentally generated -omics data are increasing in number, size and diversity, along with annotations predicted from these data by computational tools. Such annotations may include the predicted protein functions as part of genome annotation pipelines, the predicted high resolution 3-dimensional structures of proteins from amino acid sequence information alone, the predicted protein-protein interactions and interaction networks derived from databases of yeast-2-hybrid, or mass spectrometry pull-down experiments.
On the other hand, the number of on-line research articles, many of which are open access, is continually growing. There are currently over 20 million scientific abstracts in MEDLINE, growing at 500,000 articles per year [1]. Such articles often report the discovered evidence (e.g., mutagenesis experiments) for various hypotheses derived via mining these heterogeneous databases of publicly available data and annotations. For example, GenBank [2] may report the predicted annotations for the two genes, designated omcB and omcC, to encode putative outer membrane polyheme c-type cytochromes, which are important for Fe(III) reduction by Geobacter sulfurreducens bacteria. Later, the open access paper by Prof. Lovley's lab (PMID 12644478) may report experimental evidence indicating that OmcB, but not OmcC, has a major role in electron transport to Fe(III) in this organism.
The interesting question is how to close the growing gap between these two paths of scientific discovery in biomedical sciences: the data-to-annotations-to-databases path and the annotations-to-hypotheses-to-evidence-to-publications path. Essentially, what is the proper infrastructure to enable streamlining published evidences, which rely on upstream database annotations, into the databases, thus establishing a feedback loop into the database-publication cycle? Without such an infrastructure, it is quite likely that highly valuable knowledge extracted by researchers, who browse the databases for valuable annotations and spend tedious efforts to support their findings with possibly published evidences, is recorded only in researchers' personal notes and is not integrated into the database-publication cycle to assist other researchers.
In this paper we present and extend BioDEAL [
3
], a community
Bio
logical
D
ata-
E
vidence-
A
nnotation
L
inkage system that introduces a feedback loop into the database-publication cycle to allow scientists to make connections between data-driven biological concepts and publications, and vice versa. The cycle is illustrated in Figure
1
. By subscribing to the services provided by BioDEAL, an end-user can annotate the facts reported in literature, associate them with semantic concepts, link them to semantically annotated biomedical events or relationships, and share these literature annotations with other researchers in a social network. For example, while reading the paper by Lovley et. al (PMID 1264447), the genome annotation expert may decide to link the omcB (GSU2887) gene with electron carrier activity (GO:0009055) in the Gene Ontology (GO) [
4
] and add a comment on experimental validation of its predicted function as the Fe(III)-reductase. Likewise, the reader interested in
Shewanella oneidensis
may annotate the event reported by Thompson et. al (PMID 11823232) that the chromate shock in
Shewanella
causes the repression of omcA and omcB genes and significant up-regulation of two-component signal transduction systems (SO_2426).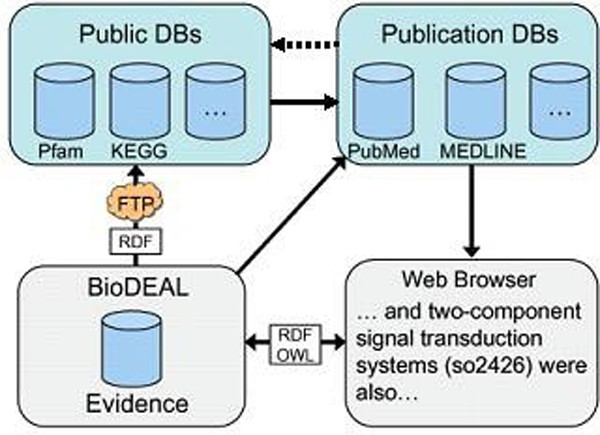 BioDEAL will record these annotations in a structured (XML) format so that other databases, such as GenBank or UniProt, may parse this information and potentially update its "Related Articles in PubMed" field for this gene page with the PubMed ID. Typically, public databases reference publications on the original genome sequencing and annotation. Other references are not captured, such as those associated with the genes, pathways or subsystems-level and the events or relationships between them, for example. It is typically very tedious work for people studying a particular system/gene(s) to track this information through time-consuming literature reading. Although a number of databases and frameworks can benefit from and/or enhance the functionality of BioDEAL, to the best of our knowledge, BioDEAL is the first system that enables such a feedback loop into the database-publication cycle.
Results
User frontend interface
BioDEAL supports a Web browser plugin interface that allows users to create and store document evidence while reading publications. The frontend contains the following core component panels: the Publication panel, the Database Reference panel, the Entity panel that contains the Term and Event/Relationship tables, and the Ontology panel, all shown in Figure 3. The Publication panel (top-right) contains the publication text, for example, from PubMed or MEDLINE; BioDEAL supports both PDF and text (HTML, PHP, etc.) documents. The former is typically a full publication identified by its URL on the journal web site, while the latter may be an abstract from PubMed.
The BioDEAL Database Reference panel (top-left) contains database indexable fields at various levels: gene level (e.g., TIGR or UniProt locus tag), protein domain level (Pfam or InterPro ID), or pathway level (KEGG or BioCyc ID). Such fields enable data exchange between public databases. It also contains common fields at the organism taxa level (e.g., organism name) and gene attributes level (e.g., function description). Although those fields do not typically have associated ID numbers, they are frequently used. For a similar purpose, this panel also includes event/relationship fields such as primitive associations (e.g., Is-A, Part-Of) as well as common interest ones (e.g., Cause, Binding, Up-regulation, Down-regulation, Expression).
The BioDEAL Entity panel (bottom) supports two entity types: terms and events/relationships (see the Semantic Annotation of Terms and Semantic Annotation of Events and Relationships sections). It contains a tabular list of terms and events annotated for a given publication. Each term annotation associates a word phrase in the publication with a semantic concept from the Ontology or Database Reference panels. For example, the word phrases omcB, GSU2887, and Geobacter sulfurreducens from the PMID:1264447 publication can be linked to the semantic concepts of Gene_name, Locus_tag and Organism_name, respectively, from the Database Reference panel. GSU2887 can be associated via a HAS A relationship with the 'electron carrier activity (GO:0009055)' GO node selected from the Ontology panel. Likewise, the 'outer membrane' phrase can be associated with the 'Localization' event concept in the GENIA ontology [7]. The BioDEAL Ontology panel (bottom-left) includes multiple ontologies such as GO and GENIA and supports extensions of other ontologies of interest, discussed in the Normalization of Semantic Concepts Through Ontologies section.
Semantic annotation of terms
Semantic annotation of biomedical terms in a publication is an association of term semantic concepts (or keys) such as proteins, compounds, amino-acids, etc. with the word phrases (or values) in the publication, such as OmcB. The annotation process is quite simple; it involves highlighting a word phrase of interest in the Publication panel and double-clicking on the target semantic concept in the Database Reference panel or the Ontology panel. Similarly, a user may double-click on the target concept, which will create a new row in the Term table of the Entity panel and then drag the target term into the Value column in the table. Users can annotate terms in a document and link them with any number of semantic concepts. Each annotation action creates a row in the Term table with the (key, value) pair along with the context in the publication in which the term appears, which is displayed in the Context column. While only a few neighboring words around the term are shown in this column, mousing over the table cell will display the entire field. If a term contains multiple words that need to be jointly associated with the same term semantic concept, then BioDEAL assumes that these words appear as a continuous span in the text, which is supported by the previous study [16] concluding that 98% of terms appear in continuous spans.
Although terms denote semantically simple concepts, various ambiguities may arise depending on users and biomedical domains. To reduce such ambiguity, BioDEAL allows users to create key/value mappings with keys selected from the standardized semantic concepts that are created and agreed upon by user groups or domain experts; these normalized semantic concepts are called ontologies and are accessible through the Ontology panel (Normalization of Semantic Concepts Through Ontologies section). However, to accommodate domain-dependent definitions, for which standardized ontologies may not exist, BioDEAL provides ways to extend the supported ontologies. Mapping terms (e.g., omcB) to standard semantic concepts (e.g., gene_name), allows users and systems to conduct a dialogue with the same agreed upon terminology and enrich the types of searches that databases may choose to support. BioDEAL facilitates semantic associations that span multiple ontologies that may be concurrently used.
Semantic annotation of events and relationships
BioDEAL also supports semantic annotation of biomedical events and relationships associated with semantically annotated biomedical terms. Examples may include the annotation of the Binding event through the linkage of a substrate term (e.g., malate) with a protein term (e.g., Mdh) or the annotation of a more complex Cause event through the linkage of the stress term (e.g., chromate shock) with the Up-regulation and Down-regulation events, which are, in-turn, linked with the proper gene-related terms (e.g., SO_2426 and omcB). BioDEAL supports semantic annotation of events expressed in terms of their related entities. An entity may be a term or another event. Therefore, BioDEAL supports complex events by allowing events to contain other events.
Users can create a semantic annotation of an event by double-clicking on the semantic concept denoting the event of interest from the Ontology or Database Reference panels. This action will create a new row in the Event/Relationship table in the Entity panel (see Figure 3). He/she may then drag-and-drop into that row previously annotated term and event rows from the Term and/or Event/Relation tables, respectively. The relationships may be unary, binary or k-nary, all of which are supported by BioDEAL. In addition, if the event directionality matters, BioDEAL allows each entity associated with the event to be labeled as either on the Left (an input) or the Right (an output). If an entity is bidirectional, then it appears as both Left and Right. The event ontology contains an attribute that specifies whether the events are directional (see the Normalization of Semantic Concepts Through Ontologies section).
Unlike terms, events are often not situated near related events or terms, so there is no corresponding context column in the Event table. Instead, the Keyword column serves a similar function for events by allowing users to highlight and drag keywords to the appropriate Keyword cell in the table. The Event table also contains an index column, the type of event (e.g., Up-regulation, Binding), an auto-generated value column constructed from the underlying terms, and a dynamic number of associated entities, which may be terms or other events.
Gene cards
Many public databases (e.g., TIGR, UniProt, KEGG) support site-specific representations of fundamental genomic information called gene cards. Gene cards provide users with a simple interface to retrieve basic gene information in one place. Many of these databases present common fields, such as Locus_tag and Gene_name, and database-specific fields, such as KEGG pathways, as well as cross-references between fields from different databases, such as TIGR, NCBI-GI and UniProt locus tags. Existing gene cards, however, rarely contain records of relevant publications, and generally only include the original genome sequencing and annotation publications but not future evidence associated with specific genes, pathways, subsystems, etc. They also do not contain biological events, such as expression, binding and regulation, which could provide users with a new level of information.
BioDEAL supports gene cards that organize all user annotated evidence regarding a gene by the source publications. To create gene cards, BioDEAL allows users to group entities from the entity tables related to the target gene of interest by selecting the check-boxes in the
Gene Card
column. The grouping must contain one Locus_tag row associated with the target gene. An example gene card derived from such a grouping is shown in Figure
5
.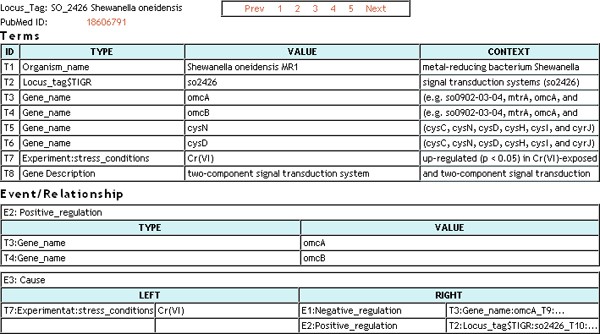 The underlying gene card representation is in XML/OWL, described in the Data Accessibility section, and can therefore be consumed by external database systems by linking to the fields from the Database Reference panel discussed in the User Frontend Interface section. All gene card information is present in the containing publication with the possible exception of the Locus_tag field, which is user-editable in case it does not appear in a publication (see the Quality Assurance and Control section).
Although the current BioDEAL implementation only supports gene cards, the system is extensible to other types and searches, such as Pathway cards or Gene Mutant cards, which we will investigate in future BioDEAL versions.
Search
Users may access the BioDEAL gene cards through the BioDEAL search page. BioDEAL supports a simple query engine, shown in Figure
6
, that allows users to search for data using some basic fields: PubMedID,
Locus_tag
,
Gene description
,
Gene_name
, etc. Each row in the search results corresponds to a gene card indexed by
Locus_tag
, along with gene-related information and the publication source (e.g., PubMed ID and hyperlink) in which the evidence recorded was reported. The
Locus_tag
is a hyperlink to the BioDEAL gene card. Basic gene-related information presented to the user includes, if available, the organism name for that gene, the common gene name, and the gene function description.

The search feature is available at the server web page. The request returns all evidence in the database that matches the search criteria, including any gene ID fields (e.g., Pfam, GenBank) and relationships. The search engine does not attempt to analyze the results prior to displaying them; if there are inter-annotator conflicts, all results are shown.
Social networking
The BioDEAL server also contains a web portal with several features, including a social networking component where users can login, publish, and edit annotations within their permissions' sandbox. Collaborative features are becoming more crucial for scientists as researchers are increasingly geographically dispersed. Therefore, users can annotate as an individual or within communities. A scientist may publish annotations with different intentions: he/she may want to inform other scientists about a result, solicit opinions, or foster dialogue, to name a few. Our environment supports collaborative functionality, shown in Figure 2, by displaying annotations to users within their permission groups. By incorporating social networking features into BioDEAL, we hope to foster dialogue in the research community, and support a checks-and-balances system to improve the integrity of ontological annotations by allowing research group members to review the annotations of other members and make suggestions. While ontologies have been enthusiastically received in Biology, biologists may lack the background required to use them appropriately, and integrating social networking may produce better overall annotations. Annotations are public by default, but BioDEAL allows research groups to configure privacy settings that prevent non-group members from accessing their annotations. This feature can allow biologists to annotate evidence without exposing research-in-progress. In this scenario, the evidence is useful for the research group, but does not affect the data-publication cycle because the data cannot be consumed by public databases, unless the research group decides to make the evidence public at a later date.
Data accessibility
The BioDEAL design supports storing information and recalling it in formats consumable by public databases, such as GenBank or UniProt. BioDEAL publishes OWL evidence files regularly on an FTP server that allows any system to retrieve public evidence. The primary keys in the evidence files are the BioDEAL Database Reference fields discussed in the Results section, with the Locus_tag field serving as the database cross-reference purpose. The success of our system as a feedback mechanism depends on whether existing systems incorporate BioDEAL into their life cycles.
During the course of annotating publication evidence, some data may not be attributed to a BioDEAL Database Reference field, and therefore will not be included in the FTP file. However, this data is still important because users can search on these fields. For example, consider a compound X that is not associated with a single gene. If evidence exists in BioDEAL for X, then users can query for all publications that refer to X.
Discussion
The actual impact of web user annotated corpora creation remains to be seen, since BioDEAL is still a research tool, however, the potential benefits of such a framework are manifold. For example, public databases (e.g., TIGR, GenBank, BioDAS servers) can link to supporting evidence with predicted annotations. This may ultimately improve annotations through resolving inconsistencies and confirming their validity from published evidence.
Public databases can leverage BioDEAL annotation-evidence data using the FTP output files either directly or through an interface such as BioDAS [17], a communication protocol to exchange biological data annotations. Likewise, BioDEAL can present annotations generated by external projects such as BioCreAtIvE [9, 18], whose overarching goal is to enhance abstracts with annotations. BioCreAtIvE users can gain from BioDEAL by querying our system to determine what has been annotated. BioCreAtIvE is limited to NLP tasks, which does not include many common tasks, such as identifying up and down regulation, therefore BioDEAL can augment BioCreAtIvE results.
Developers of NLP tools can generate annotated corpora beyond those currently supported (e.g., protein/gene names, functional and interaction annotations). NLP designers often lack the corpora necessary to develop their algorithms and BioDEAL builds corpora during its normal lifecycle, which NLP designers can use to reduce the difficulty of corpora generation, while improving the quality because they are manually curated by domain experts. We do not expect users to annotate every entity in a publication, however, it is likely that the key facts and evidence will be identified. Therefore, BioDEAL may be more suitable for the enrichment of public databases with evidence information, although the NLP community can likely benefit from this expert knowledge recorded through structured annotations.
Experts in different fields of biomedicine may exchange their annotations, comments, and open issues, thus improving the quality of genome annotations through collaborative knowledge creation. BioDEAL can help identify ambiguous annotations and facilitate community discussion and consensus on annotations, perhaps using an alert system when conflicting annotations are found. BioDEAL can also enable better classification of biological information and structured representation, while facilitating better search and information retrieval functionality beyond the standard available fields (e.g., author, affiliation, etc.).
Conclusion
In this paper we presented the BioDEAL biological evidence and curation system that introduces a feedback loop into the database-publication cycle by allowing scientists to link experimental data-driven biological concepts to published evidence. BioDEAL supports a Web browser frontend that allows biologists to semantically annotate evidence from publications within a native browser setting. Evidence can be simple terms or complex events, and users can run NLP tools to facilitate semi-automation. External databases can use the reference fields (e.g., TIGR ID, Pfam ID) in the FTP output files to map evidence to their internal data. The social networking component allows the Biology community to annotate and curate evidence en masse, and provides a mechanism for research groups to verify the integrity of annotated evidence while providing a secure environment to conduct research.
Users can link evidence to specific genes and BioDEAL provides a Gene Card browser interface that allows users to search and review curated evidence. Similarly, users may use the BioDEAL search page to identify publications that contain user specified words, gene names, etc. BioDEAL also outputs evidence to OWL files that are available via FTP to allow other systems to consume the curated evidence. External databases can use the reference fields (e.g., TIGR ID, Pfam ID) in the FTP files to map evidence to their internal data.
BioDEAL may change the way biologists relate published evidence with experimental data. Instead of biologists or research groups searching and managing evidence independently, the community can collectively build and share this knowledge.
Declarations
Acknowledgements
This work was funded by the Department of Energy's Scientific Discovery through Advanced Computing program, Scientific Data Management Center https://sdm.lbl.gov/sdmcenter and the Genomes to Life program, Shewanella Federation Project. Oak Ridge National Laboratory is managed by UT-Battelle for the LLC U.S. D.O.E. under contract no. DEAC05-00OR22725.
This article has been published as part of BMC Medical Informatics and Decision Making Volume 9, Supplement 1, 2009: 2008 International Workshop on Biomedical and Health Informatics. The full contents of the supplement are available online at http://www.biomedcentral.com/1472-6947/9?issue=S1.
Authors' Affiliations
(1)
North Carolina State University, Raleigh, USA
(2)
Oak Ridge National Laboratory, Oak Ridge, USA
Copyright
© Breimyer et al; licensee BioMed Central Ltd. 2009
This article is published under license to BioMed Central Ltd. This is an open access article distributed under the terms of the Creative Commons Attribution License (http://creativecommons.org/licenses/by/2.0), which permits unrestricted use, distribution, and reproduction in any medium, provided the original work is properly cited.