Research article
Open Access
Open Peer Review
This article has Open Peer Review reports available.
Towards pervasive computing in health care – A literature review
BMC Medical Informatics and Decision Making
2008
8:26
Received: 05 November 2007
Accepted: 19 June 2008
Published: 19 June 2008
Abstract
Background
The evolving concepts of pervasive computing, ubiquitous computing and ambient intelligence are increasingly influencing health care and medicine. Summarizing published research, this literature review provides an overview of recent developments and implementations of pervasive computing systems in health care. It also highlights some of the experiences reported in deployment processes.
Methods
There is no clear definition of pervasive computing in the current literature. Thus specific inclusion criteria for selecting articles about relevant systems were developed. Searches were conducted in four scientific databases alongside manual journal searches for the period of 2002 to 2006. Articles included present prototypes, case studies and pilot studies, clinical trials and systems that are already in routine use.
Results
The searches identified 69 articles describing 67 different systems. In a quantitative analysis, these systems were categorized into project status, health care settings, user groups, improvement aims, and systems features (i.e., component types, data gathering, data transmission, systems functions). The focus is on the types of systems implemented, their frequency of occurrence and their characteristics. Qualitative analyses were performed of deployment issues, such as organizational and personnel issues, privacy and security issues, and financial issues. This paper provides a comprehensive access to the literature of the emerging field by addressing specific topics of application settings, systems features, and deployment experiences.
Conclusion
Both an overview and an analysis of the literature on a broad and heterogeneous range of systems are provided. Most systems are described in their prototype stages. Deployment issues, such as implications on organization or personnel, privacy concerns, or financial issues are mentioned rarely, though their solution is regarded as decisive in transferring promising systems to a stage of regular operation. There is a need for further research on the deployment of pervasive computing systems, including clinical studies, economic and social analyses, user studies, etc.
Keywords
Chronic Obstructive Pulmonary DiseaseHealth Care SettingUbiquitous ComputingPervasive ComputingComponent Type
Background
Pervasive computing and related concepts
Pervasive computing, ubiquitous computing, and ambient intelligence are concepts evolving in a plethora of applications in health care. In the literature, pervasive computing is loosely associated with the further spreading of miniaturized mobile or embedded information and communication technologies (ICT) with some degree of 'intelligence', network connectivity and advanced user interfaces [1–5]. Because of its ubiquitous and unobtrusive analytical, diagnostic, supportive, information and documentary functions, pervasive computing is predicted to improve traditional health care [6, 7]. Some of its capabilities, such as remote, automated patient monitoring and diagnosis, may make pervasive computing a tool advancing the shift towards home care, and may enhance patient self-care and independent living. Automatic documentation of activities, process control or the right information in specific work situations as supplied by pervasive computing are expected to increase the effectiveness as well as efficiency of health care providers. For example, in hospitals pervasive computing has the potential to support the working conditions of hospital personnel, e.g., highly mobile and cooperative work, use of heterogeneous devices, or frequent alternation between concurrent activities [8]. 'Anywhere and anytime' are becoming keywords – a development often associated with 'pervasive healthcare' [9, 10]. On the other hand, the social, economic and ethical concerns regarding the use of pervasive computing may detract from its acceptance and societal desirability, which is equally relevant to health care [11, 12].
Purpose of this review
Pervasive computing entered health care in almost every setting, making it difficult to develop an idea of its typical implementation and maintain an overview of recent developments. We address this difficulty by providing a systematic overview and analysis of systems developments and implementations of pervasive computing in health care and highlighting experiences in deployment. Summarizing published research, this literature review provides a resource for researchers, scholars, or practitioners dealing with pervasive computing. That said, many systems developments and implementations are not published in the literature. Therefore, this article does not fully cover the field of pervasive computing in health care. Rather, it provides an overview of peer-reviewed literature on this topic.
Methods
Scope of systems
As the technology is still evolving, there is neither an appropriate definition of pervasive computing [13] nor an exact distinction from similar terms, such as ubiquitous computing [14] or ambient intelligence [15]. This often leads systems developers, imprecisely, to declare their systems 'pervasive' or simply not use any of these terms. Therefore, for this literature review a set of criteria which defined the framework for the selection process had to be developed. The criteria are minimum features of pervasive computing regarded as new and distinctive. This selection seeks to identify articles in which systems with inherent pervasive computing features are covered in line with the criteria outlined below. The selection criteria were defined to include a broad range of different systems. They were also designed so as to distinguish our search and position it in broader concepts, such as telemedicine or e-health. Articles not clearly telling whether the systems described meet the inclusion criteria were not considered.
Inclusion criteria for systems
First, systems were included, when they were ubiquitous in the sense of being not bound to one dedicated location, such as a computer at a workplace. For example, systems of telemedicine via video conferencing at dedicated places were not considered (e.g., stationary desktop computers). Instead, systems were included which featured:
• mobile devices (e.g., laptops, PDAs, tablet PCs, mobile phones),
• wearable items (computer-enhanced textiles, accessories, or medical devices),
• implanted devices, as well as
• stationary devices, such as sensors or other ICT components embedded in 'everyday objects' or infrastructure, such as buildings, furniture, etc.
Secondly, systems were considered which had elements of 'intelligence' in the sense of context awareness [16, 17] or decision support capabilities. Systems transferring information only by simply forwarding data were excluded, such as PDAs sending manually entered data to a server. Thirdly, data processing or transmission must be performed by systems without any human intervention. For instance, systems requiring manual data conversion, such as printing and manual re-entering of data in the process chain, were excluded.
Inclusion criteria for studies
Prototypes, tests, pilot studies and case studies conducted in health care settings, or systems involving prospective end users, clinical trials as well as systems already in routine use were included. Experiments in non-medical settings as well as mere descriptions of concepts, designs or architectures were not included. Only complete functioning systems, no components or parts, were taken into account.
Search method
This literature review is limited to published work that has undergone scientific peer-review processes. Our search was restricted to articles in journals and chapters of periodicals written in English and published between 2002 and 2006. Keyword searches were conducted in PubMed, ISI Web of Science (Science Citation Index Expanded), IEEE Xplore and INSPEC by using the search string ("pervasive computing" OR "ubiquitous computing" OR "ambient intelligence" OR "pervasive healthcare") AND (healthcare OR "health care" OR medic*). These databases contain, among others things, literature in the fields of medicine, medical informatics, medical technology, computer science and research, as well as electronic engineering. The database searches led to 247 distinct articles. As many authors do not use the terms 'pervasive computing', 'ubiquitous computing', etc., 46 periodicals were searched manually (see Additional file 1). The journals were selected to represent the fields of medical informatics and pervasive computing most relevant to the subject at hand.
For both the database search and the manual journal search, the titles and abstracts of each article were read by at least two authors, first, to check whether inclusion criteria were met. Dubious articles were not excluded immediately but considered in the second step. Step one resulted in 98 articles from database search and 291 articles from manual journal search. In step two, after duplicates had been eliminated, 326 articles were read in full length, again by at least two authors. In case of any disagreement about inclusion, the respective article was read by a third author who decided about its inclusion or non-inclusion. As illustrated in Figure
1
, the final 67 systems described in 69 articles were included in the analysis. In the analysis and discussions below reference is made to the systems, no longer to the articles.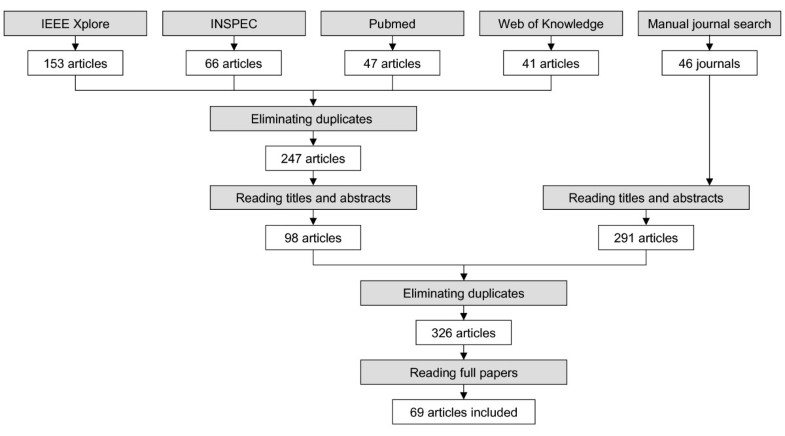 Figure
2
provides an overview of the journals with the largest numbers of selected articles.

Systems and projects were analyzed by the categories of project status, health care setting, users, improvement aims, component types, data gathering, data transmission, systems functions, and deployment issues as well as combinations thereof. For the analyses, the approach of Cruz-Correia et al. [18] was partly adopted, while the definition of categories was partly influenced by other overviews of the topic [7, 8, 19, 20].
Results
Table
1
displays system and project names, countries of implementation, number of references as well as the actual references. When an article includes two or more systems, the systems are listed separately. When different articles refer to the same system or project, the references are listed together. Finally, 67 distinct systems were identified for the review. The countries with the largest numbers of systems in place are USA (24 systems), UK (8 systems), France (4 systems), Taiwan (4 systems), Australia (3 systems), Denmark (3 systems), Germany (3 systems), Spain (3 systems). A total of 31 systems were implemented in the EU. Two commercial systems are employed internationally.
Table 1
Systems included in the review
| System/Project Name | Countries | Number of Publications | Years of Publication | References |
| --- | --- | --- | --- | --- |
| ABC (Activity-Based Computing) Framework, Aarhus | Denmark | 1 | 2005 | [76] |
| Activities of Daily Living (ADL) Monitoring System, St. Paul | USA | 1 | 2006 | [68] |
| Activity Tracking and Ambient Displays | USA | 1 | 2003 | [21] |
| Adaptive Coaching through Sequential Routines | USA | 1 | 2003 | [21] |
| Advanced Care and Alert Portable Telemedical Monitor (AMON) Project | Switzerland, Israel, France | 2 | 2004, 2005 | |
| Airmed-Cardio System | Spain | 1 | 2005 | [50] |
| Allocation and Group Aware Pervasive Environment (AGAPE) System | Italy | 1 | 2006 | [60] |
| Asset-Tracking System, Durham | USA | 1 | 2003 | [56] |
| Asthma Monitoring System, Oxford | UK | 1 | 2005 | [49] |
| Automated Surveillance System, La Tronche | France | 1 | 2003 | [32] |
| Battlefield Medical Information System-Tactical (BMIST) System | USA | 1 | 2006 | [91] |
| Blood Bag Monitoring System, Shimane | Japan | 1 | 2003 | [55] |
| Care in the Community Project | UK | 1 | 2004 | [37] |
| CareMedia Project | USA | 1 | 2004 | [67] |
| Chronic Care Telemedicine System, Madrid | Spain | 1 | 2006 | [88] |
| Cyber Crumb System | USA | 1 | 2004 | [53] |
| Diabetes Telemedicine System, Oxford | UK | 1 | 2005 | [22] |
| DiaBetNet | USA | 1 | 2004 | [57] |
| Elite Care Business | USA | 1 | 2002 | [23] |
| ENABLE Project, Cooker Monitor | UK, Lithuania, Ireland | 1 | 2004 | [72] |
| ENABLE Project, Night Light | UK, Lithuania, Ireland | 1 | 2004 | [72] |
| Gérontologie Assistée par la Recherche et le Diagnostic des Incidents et des Errances Nocturnes (Gardien) System | France | 1 | 2005 | [77] |
| Hand-Held Decision Support System, Sydney | Australia | 1 | 2005 | [78] |
| Hand-Held Devices in Emergency Department, Western Australia | Australia | 1 | 2004 | [83] |
| Health Feedback Displays | USA | 1 | 2005 | [40] |
| Home Asthma Telemonitoring (HAT) System | USA | 1 | 2004 | [48] |
| Home Automated Telemanagement (HAT) System | USA | 1 | 2006 | [26] |
| Home Monitoring of Implanted Cardioverter Defibrillators, Aachen | Germany | 1 | 2006 | [58] |
| Home-Monitoring System for Cardiac Patients, Graz | Austria | 1 | 2006 | [85] |
| Hospital Ward with Virtual Notes, Trondheim | Norway | 1 | 2006 | [74] |
| Hospital Without Walls Project | Australia | 1 | 2002 | [69] |
| iHospital System, Horsens | Denmark | 1 | 2006 | [13] |
| Implantable Haemodynamic Monitoring System, Minneapolis | USA | 1 | 2005 | [59] |
| Integrated Home Telehealth Care System, Seoul | Korea | 1 | 2005 | [45] |
| Intelligent Emergency Respose (IERS) System | Canada | 1 | 2005 | [33] |
| IST@HOME Project | EU | 1 | 2004 | [30] |
| Karma2 Project | Italy | 2 | 2004, 2005 | |
| LifeShirt System | International | 1 | 2004 | [46] |
| MASCAL System | USA | 1 | 2005 | [54] |
| MIThril System | USA | 1 | 2004 | [57] |
| Mobile Emergency Triage (MET) System | Canada | 2 | 2004, 2005 | |
| MobileWard System | Denmark | 1 | 2006 | [75] |
| NASA Arrhythmia Monitoring System | USA | 1 | 2004 | [24] |
| Notfall Organisations- und Arbeitshilfe (NOAH) System | Germany | 1 | 2003 | [80] |
| Pervasive Sensor and Activity Tracking (Severe Cognitive Impairment) | USA | 1 | 2003 | [21] |
| Proactive Activity Toolkit (PROACT) | USA | 1 | 2004 | [38] |
| QuietCare System | USA | 1 | 2006 | [27] |
| Real Time Location System, Antwerp | Belgium | 1 | 2006 | [39] |
| Real-Time Wireless Physiological Monitoring System (RTWPMS), Taipei | Taiwan | 1 | 2006 | [64] |
| Remote Monitoring System, Toulouse | France | 2 | 2002 | |
| Safety Portal, Taipei | Taiwan | 2 | 2005, 2006 | |
| SenseWear System | International | 1 | 2005 | [31] |
| Array-Based Detectors (Simbad) Project | UK | 1 | 2004 | [34] |
| TeleCARE Project | Spain | 1 | 2004 | [35] |
| Triage and Casualty Informatics Technology (TACIT) System | USA | 1 | 2006 | [63] |
| Triage Support System, Taipei | Taiwan | 1 | 2006 | [87] |
| Trinetra System | USA | 1 | 2006 | [86] |
| Tumor Board Project | Germany | 1 | 2006 | [79] |
| Virtual Eye (VI) System | Saudi Arabia, UAE | 1 | 2006 | [29] |
| Wearable Systems in Nursing Home Care, Lulea | Sweden | 1 | 2006 | [73] |
| West Surrey Telemedicine Monitoring Project | UK | 1 | 2003 | [62] |
| Wireless Alerts Pagers, Los Angeles | USA | 2 | 2003, 2005 | |
| Wireless Electronic Prescription (EPS) System, London | UK | 1 | 2006 | [84] |
| Wireless Intelligent Sensors (WISE), Huntsville | USA | 1 | 2003 | [28] |
| Wireless Physiological Monitoring, Taipei | Taiwan | 1 | 2004 | [61] |
| Wireless Sensors in Health and Care (WSHC) Project | Norway | 1 | 2006 | [47] |
| Worker Interactive Networking (WIN) Project | USA | 1 | 2006 | [36] |
Discussion
Although forgoing mere descriptions of systems architectures or concepts and focusing instead on prototypes, experiments, pilot studies, clinical trials – involving intended end users – as well as systems already in regular operation, the articles cover less deployment issues than expected. The partly qualitative analysis thus can only indicate potential deployment problems requiring further consideration. We assume that many authors do not wish to report on critical or negative issues. However, as most systems identified were in the prototype stage, such experiences would be particularly valuable in order to leverage pervasive computing and transfer more systems into routine operation.
Findings in the case studies revealed, for instance, that privacy protection is not only an issue in the relation between health care provider and patient – which currently is the main focus of academic and public debates -, but is also an internal concern of health care staff. When coupled with organizational and personnel concerns, pervasive computing innovations could well be stifled by staff worries about surveillance. Also, the regulatory framework for reimbursement and financing can be decisive for pervasive computing systems to be accepted in routine use. There are also indications that the use of off-the-shelf technologies is promising because of possible costs reductions. Although 34% of the systems reviewed already use conventional mobile devices, we expect their number to increase further, as these devices are becoming more and more powerful.
The case studies also reveal that developers often think about technical measures to protect privacy. We consider institutional measures and policies as equally crucial not only for individual acceptance but for societal acceptability [89]. This latter distinction is crucial, since the individual acceptance of privacy-related applications, for example, by a suffering patient or a dependent health care employee is expected to be much greater than the level of acceptability demanded by society and its representatives in balanced decisions. This is relevant, for instance, to determine the point where the benefits of monitoring are outweighed by threats to privacy protection. This point should be defined in a general manner by guidelines and policies and cannot be determined in case studies involving patients or employees. General binding decisions about the types of data gathered by pervasive computing applications as well as rules about where the data are used, by whom and in what form, should be developed, communicated, adopted, and enforced. Pervasive computing may imply that more players are involved in care relations and the management of personal data, such as systems or service providers, relatives, or multiple medical or care providers in complex health care situations, such as integrated health care.
In the case studies examined, privacy-enhancing technical measures mostly have an 'add-on' character, such as encryption added to data transmission. Instead, a number of systems do not require data transmission to other systems or players. Data transmission involves other parties, thus inevitably raising privacy concerns. Approaches to 'self-supported' [17] pervasive computing requiring neither data transmission nor the use of central and external hardware and software infrastructures are an interesting option in personal health care and personal support of health care staff. For instance, some of the systems mentioned above provide supportive information about health status or make certain suggestions without including data transmission [31, 38, 42, 45, 57]. This can contribute to the development of 'persuasive computing' in health care [90]. Further technological developments, particularly improvements in data storage and processing capabilities of mobile devices and wearables, can accomplish pervasive computing without data transmission. These will enable a shift of analytical, alerting, guiding and other functions from central servers to mobile and wearable devices. Less user worry about surveillance could be a result.
Limitations
There is a gap between the systems we analyzed in our literature review and the full field of pervasive computing in health care. First, many systems developments and implementations might never have undergone scientific peer-review and, therefore, can not be covered by our review of the literature. Second, being limited to the period of 2002 to 2006, the literature studied does not incorporate the most recent developments in computer science, medical informatics, and engineering. In particular, progress in mobile computing technology is substantial, for instance in location-based services. We are aware also of the prevalent time lags between system development, system description, submission and publication of articles.
Our approach does not allow drawing conclusions on whether the results presented in this review are altered by technological progress. In addition, we can not conclude whether the results would be similar for systems not covered by the literature. Therefore, a generalization of conclusions drawn from this literature review is not possible; all conclusions discussed are drawn from the case studies reviewed.
Furthermore, although the inclusion criteria for systems mentioned above are broadly defined and based on previous research, other pervasive computing experts, authors, users etc. may regard other features as decisive.
Conclusion
This review provides an overview of the literature on a broad and heterogeneous range of pervasive computing systems related to health care. Most systems are described in their prototype stages in which developers only rarely report about deployment issues. Since the identifying and solving such issues is decisive for the diffusion of promising systems, a need for further focused research into the deployment of pervasive computing systems in health care is identified. Future research should focus on organizational as well as personnel implications, privacy concerns or financial issues. Systematic evaluations of the effectiveness and efficiency of pervasive computing systems are regarded as inevitable to ensure user acceptance, societal acceptability and financing.
Declarations
Acknowledgements
We would like to thank the librarians of the Forschungszentrum Karlsruhe (Karlsruhe Research Centre), especially Susanne Hill, for their professional, reliable and fast support in searching and obtaining literature. In addition, we are grateful for the helpful comments by the two referees, Kenneth Mandl and Torsten Eymann, as well as for the language improvements by Ralf Friese and Cindy Kim. Knud Böhle, Ulrich Riehm and Arnd Weber make helpful comments. Special thanks go to Carsten Holtmann, Asarnusch Rashid, Mandy Scheermesser, and Michaela Wölk of the PerCoMed project team for fruitful discussions and insights. The literature review is part of the "PerCoMed – Pervasive Computing in der vernetzten medizinischen Versorgung" (Pervasive Computing in Networked Medical Care) research project, which is financially supported in part by the Bundesministerium für Bildung und Forschung (German Federal Ministry of Education and Research) in the "Innovations- und Technikanalyse" ("Innovation and Technology Analysis") program (Foerderkennzeichen 16I1546).
Authors' Affiliations
(1)
Institut für Technikfolgenabschätzung und Systemanalyse (Institute for Technology Assessment and Systems Analysis), Forschungszentrum Karlsruhe in der Helmholtz-Gemeinschaft (Karlsruhe Research Centre, Member of the Helmholtz Association), Karlsruhe, Germany
(2)
Institut für Automatisierungstechnik (Institute for Automatic Control), Otto-von-Guericke Universität Magdeburg (Otto-von-Guericke University Magdeburg), Magdeburg, Germany
Copyright
© Orwat et al; licensee BioMed Central Ltd. 2008
This article is published under license to BioMed Central Ltd. This is an Open Access article distributed under the terms of the Creative Commons Attribution License (http://creativecommons.org/licenses/by/2.0), which permits unrestricted use, distribution, and reproduction in any medium, provided the original work is properly cited.