Research article
Open Access
Short term Heart Rate Variability to predict blood pressure drops due to standing: a pilot study
BMC Medical Informatics and Decision Making
2015
15(Suppl 3):S2
Published: 11 September 2015
Abstract
Background
Standing from a bed or chair may cause a significant lowering of blood pressure (ΔBP), which may have severe consequences such as, for example, falls in older subjects. The goal of this study was to develop a mathematical model to predict the ΔBP due to standing in healthy subjects, based on their Heart Rate Variability, recorded in the 5 minutes before standing.
Methods
Heart Rate Variability was extracted from an electrocardiogram, recorded from 10 healthy subjects during the 5 minutes before standing. The blood pressure value was measured before and after rising. A mathematical model aiming to predict ΔBP based on Heart Rate Variability measurements was developed using a robust multi-linear regression and was validated with the leave-one-subject-out cross-validation technique.
Results
The model predicted correctly the ΔBP in 80% of experiments, with an error below the measurement error of sphygmomanometer digital devices (±4.5 mmHg), a false negative rate of 7.5% and a false positive rate of 10%. The magnitude of the ΔBP was associated with a depressed and less chaotic Heart Rate Variability pattern.
Conclusions
The present study showes that blood pressure lowering due to standing can be predicted by monitoring the Heart Rate Variability in the 5 minutes before standing.
Keywords
Heart Rate Variabilitystanding hypotensionfall prediction in the elderly
Background
An orthostatic change, namely a change in body posture from sitting to standing, causes specific changes in heart rate and blood pressure as a compensatory reaction of the body. In fact, in the few minutes after standing, there is a redistribution of the blood volume and a pooling of blood in the lower extremities due to gravitational forces. As a consequence, the venous return to the heart falls and the cardiac filling pressure is reduced diminishing the stroke volume and cardiac output. Therefore, there is a drop in blood pressure (ΔBP) due to the change of position, a condition referred to as Standing Hypotension (SH).
To avoid dizziness or fainting due to the limited blood supply to the brain, the blood pressure in the large arteries decreases to compensate and regulate. The objective of this regulatory mechanism is to achieve normal blood pressure as quickly as possible while providing an adequate supply of blood to the vital organs.
Healthy subjects respond with an autonomic adjustment, which increases vascular tone, heart rate and cardiac contractility, and stabilizes arterial pressure [1]. In particular, the sympathetic outflow to the heart and blood vessels increases and the cardiac vagus nerve activity decreases. In healthy subjects, during standing, the contraction of the lower body skeletal muscles prevents excessive pooling and augments the venous return to the heart.
Therefore, the dynamic of the blood pressure and particularly the capability to restore homeostasis after standing is strongly dependent on the status of the Autonomous Nervous System (ANS). Starting from the hypothesis that the magnitude of the ΔBP a few minutes after standing is dependent on the status of the ANS before standing, which can be estimated using short term Heart Rate Variability (HRV), the research question of the study was: is it possible to predict ΔBP using the HRV measurements recorded in the 5 minutes before standing?
The prediction of this ΔBP is particularly relevant as at least 30% of the indoor falls of older subjects happen when they are rising from a bed or chair, such falls in the majority of the cases being due to the ΔBP caused by the activity of standing. Therefore, a model that could predict this ΔBP could help to predict a significant percentage of these falls.
The current paper proposes a mathematical model to predict the ΔBP due to standing in healthy subjects, based on the HRV features extracted from an ECG recorded, through the use of wearable sensors, in the 5 minutes before standing.
Results
A group of 10 volunteers, 7 women and 3 men, with a median age of 30.4 years (range 23-43 years), was enrolled in the School of Engineering of the University of Warwick. All the subjects signed informed consents and met the inclusion criteria. Each subject underwent 33 BP measurements (see Figure 1): one in phase 1; 16 in phase 2 (four times 4 measurements); and 16 in phase 3 (four times 4 measurements). For each subject 42 minutes of ECG were recorded (see Figure 1): two minutes in phase 1, 20 minutes in phase 2 (four times 5 minutes); and 20 minutes in phase 3 (four times 5 minutes). The final predictive dataset contained 40 instances as the protocol was repeated 4 times for each subject. Using these instances the best model identified was the one developed using the following 5 features: RMSSD, NN50, TINN, HF, and RPDET. The model is reported in equation 9.
(9)
The regression standard error calculated on the testing (leaving one out estimate), the training and the whole dataset was respectively 5.22 mmHg, 4.30 mmHg and 4.29 mmHg.
The histogram of the residuals is reported in Figure
2
.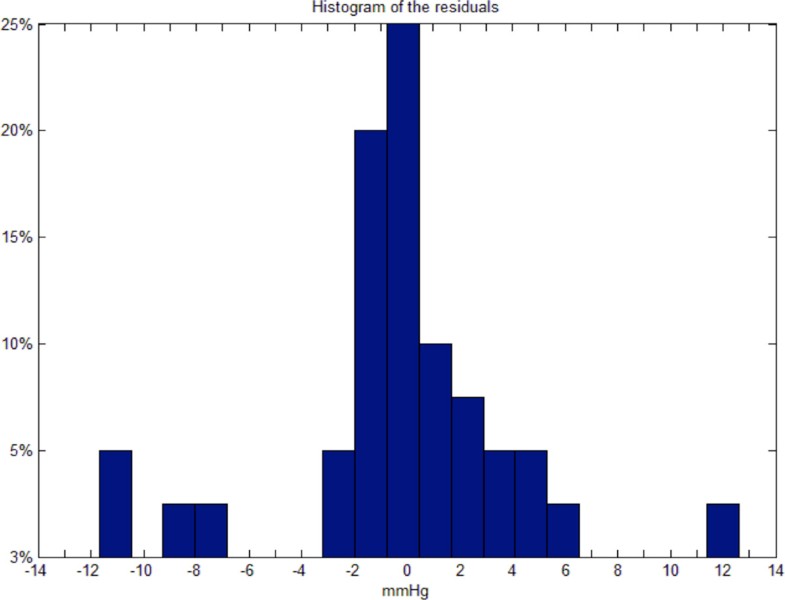 Figure
3
reports the values of ΔBP predicted by this model (red crosses) against the measured values (blue circles) and the measurement error (vertical blue error bars). The vertical dashed lines divide the four instances of each subject. The percentage of correctly predicted values (error below 4.5 mmHg) was 80%, indicating that in 32 of 40 experiments, the ΔBP was predicted with an error below the measurement error of the sphygmomanometer.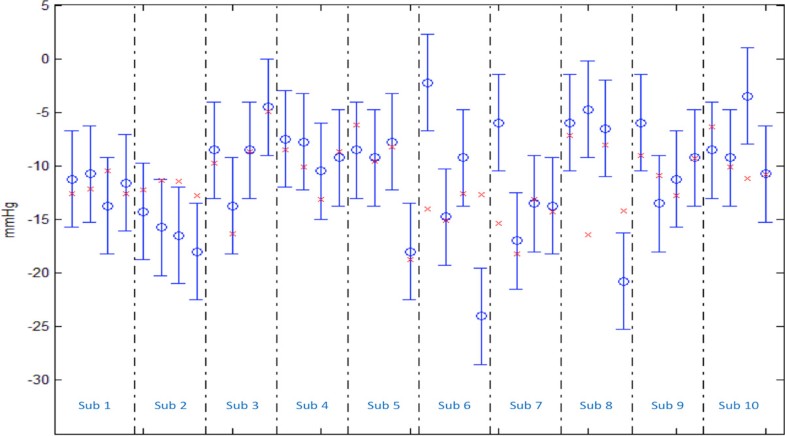 As shown in Figure 3, in 3 measurements out of 40, the measured ΔBP was underestimated with an error above 5 mmHg, resulting in a false negative rate of 7.5%: subject 2, fourth measurement, subject 6, fourth measurement, and subject 8, fourth measurement. Finally, in 4 measurements the ΔBP was overestimated, resulting in a false positive rate of 10%: subject 6, first measurement, subject 7, first measurement, subject 8, second measurement, and subject 10, third measurement.
Discussion
This paper presents a model to predict systolic BP drop due to standing relying on HRV measurements extracted from 5 minute ECGs recorded before standing. The proposed model is based on the hypothesis that the magnitude of BP drop in the few minutes after standing is correlated with HRV features extracted from ECG recordings taken in the 5 minutes before standing. According to the mathematical model here proposed, an increased ΔBP appears to be related to:
As HF is an indicator of parasympathetic function, while the overall variability is considered a marker of both sympathetic and parasympathetic tones [25], the combined association with a reduced overall variability and increased HF suggests that an increased ΔBP could be associated with a reduction in the sympathetic tone. Mechanistically, it is assumed that the upright position gravity causes venous pooling in the lower extremities, resulting in a reduction in systemic blood pressure. This should result in a baroreflex activation, which leads to an increased sympathetic tone. Sympathetically mediated peripheral vasoconstriction and tachycardia should then occur in order to maintain the Blood Pressure value [25]. In the case of a decreased sympathetic tone, this mechanism could fail to maintain the blood pressure value and result in higher values of ΔBP.
A few previous studies have compared HRV features between subjects with and without significant standing hypotension, which is defined as a sustained reduction of systolic blood pressure of at least 20 mmHg or of diastolic blood pressure of 10 mmHg within 3 minutes of standing. In particular, Barbic et al. [26] found a decreased LF (representing a reduced sympathetic activity) in patients with Parkinson's Disease with standing hypotension. The findings of the current study are in agreement with the results of [27], which found a significant association between a depressed HRV and the risk of falling in the elderly. Specifically, this study shows that the risk of falling in elderly people with a depressed HRV is five times higher than in those without a depressed HRV (Odds Ratio 5.12, CI 95% 1.42-18.41, p < 0.01). This is explained in terms of the fact that a depressed HRV would reflect a reduced capability to react to risky situations [27].
The current study has some limitations, in particular, the small sample size and the selection of healthy volunteers, which could limit the generalizability of the results to other population subgroups, such as middle-aged and elderly individuals with comorbidities. In addition, our results should be considered as preliminary, because we have tested a novel hypothesis, which has not been explored before. Hence, these results should be corroborated by further investigations, using larger samples across a wider age range. Nevertheless, our findings are intriguing because they suggest that a reduced overall short-term HRV might represent a predictive parameter for SH, which is one of the main causes of indoor falls. Previous studies aiming to prevent falls used wearable accelerometers [28–30], pressure sensors [31], ambient sensors [32–37] or a combination of these three technologies, which had no other direct benefit for later life problems. In contrast, the model proposed in this study is based on features extracted from HRV, which has been associated with a number of other health outcomes. Therefore, the clinical implications of these findings are potentially relevant, since these parameters are based on simple and non-invasive measurements. Moreover, recent systematic reviews, investigating the independent capability of different technologies to prevent falls [38–42], have highlighted their limitations, in particular, the rate of false alarms (16%), which is too high to maintain the full attention of the nursing staff[38]. The model of the current study is estimated to achieve a lower false positive rate (10%) and could be enhanced by the addition of other sensor information, for example, accelerometric signals and breath rates, which are already acquired by the adopted wearable device.
Conclusions and future works
This study suggests that the lowering of blood pressure in the few minutes after standing can be predicted by monitoring HRV features recorded in the 5 minutes before standing. Particularly, more significant blood pressure decreases were observed in subjects presenting a depressed and less chaotic HRV pattern. This could reflect a transient depressed autonomic response causing a slower recovery of homeostasis and adjustment of blood pressure.
As a future work we will perform a large-scale experimental phase in which we will recruit more subjects across a wider age range to investigate the generalizability of the results obtained in this preliminary study. Moreover, further studies will investigate the influence of other factors, e.g., time of day, previous medications, and cardiovascular disease.
In this way we can refine the developed mathematical model, if necessary, in order to predict falls by detecting the cardiovascular and autonomous nervous system states (CVS/ANS). Additionally, the model will be implemented and embedded in a real-time mobile monitoring system in order to inform the patient and, in the case of a hospitalised patient, the medical staff about the high possibility of having a significant drop in blood pressure two minutes before this might happen. In any case where the model predicts a fall, the system can recommend to the patient not to perform any fast standing action alone.
List of abbreviations
ΔBP:

blood pressure lowering due to standing
ECG:

ElectroCardioGram
HRV:

Heart Rate Variability
BP:

Blood Pressure
SH:

Standing Hypotension
SYS:

Systolic Blood Pressure
DIA:

Diastolic Blood Pressure
HDFP:

Hypertension Detection and Following-up Program
NHS:

National Health Service
ANS:

Autonomous Nervous System
OR:

Odds Ratio
CI:

Confidence Interval
BSREC:

Biomedical and Scientific Research Ethics Committee
%CP:

Percent correct prediction
mmHg:

millimeter of mercury
LF:

low frequency
HF:

High frequency.
Declarations
Acknowledgements
LP and SS acknowledge the support received by the Warwick Research Development Award scheme of the University of Warwick. GS acknowledges the Project "Smart Health 2.0" for the support to her mobility to the Univ. of Warwick.
Financial disclosures
Financial support for the publication costs was provided from the "Smart Health 2.0" project PON04A2_C.
This article has been published as part of BMC Medical Informatics and Decision Making Volume 15 Supplement 3, 2015: Multidimensional, multidiscipline and shared decision making in healthcare and eHealth. The full contents of the supplement are available online at http://www.biomedcentral.com/bmcmedinformdecismak/supplements/15/S3.
Authors' Affiliations
(1)
Institute of High-Performance Computing and Networking (ICAR) of the National Research Council of Italy (CNR), Naples, Italy
(2)
Multidisciplinary Department of Medical, Surgical and Dental Sciences, Second University of Naples, Naples, Italy
(3)
Division of Health Sciences, Warwick Medical School, University of Warwick, UK
(4)
School of Engineering, University of Warwick, UK
Copyright
© Sannino et al.; 2015
This article is published under license to BioMed Central Ltd. This is an Open Access article distributed under the terms of the Creative Commons Attribution License (http://creativecommons.org/licenses/by/4.0), which permits unrestricted use, distribution, and reproduction in any medium, provided the original work is properly cited. The Creative Commons Public Domain Dedication waiver (http://creativecommons.org/publicdomain/zero/1.0/) applies to the data made available in this article, unless otherwise stated.