Research article

Open Access

Open Peer Review
This article has Open Peer Review reports available.
Validating archetypes for the Multiple Sclerosis Functional Composite
BMC Medical Informatics and Decision Making
2014
14:64
Received: 11 April 2014
Accepted: 22 July 2014
Published: 3 August 2014
Abstract
Background
Numerous information models for electronic health records, such as openEHR archetypes are available. The quality of such clinical models is important to guarantee standardised semantics and to facilitate their interoperability. However, validation aspects are not regarded sufficiently yet. The objective of this report is to investigate the feasibility of archetype development and its community-based validation process, presuming that this review process is a practical way to ensure high-quality information models amending the formal reference model definitions.
Methods
A standard archetype development approach was applied on a case set of three clinical tests for multiple sclerosis assessment: After an analysis of the tests, the obtained data elements were organised and structured. The appropriate archetype class was selected and the data elements were implemented in an iterative refinement process. Clinical and information modelling experts validated the models in a structured review process.
Results
Four new archetypes were developed and publicly deployed in the openEHR Clinical Knowledge Manager, an online platform provided by the openEHR Foundation. Afterwards, these four archetypes were validated by domain experts in a team review. The review was a formalised process, organised in the Clinical Knowledge Manager. Both, development and review process turned out to be time-consuming tasks, mostly due to difficult selection processes between alternative modelling approaches. The archetype review was a straightforward team process with the goal to validate archetypes pragmatically.
Conclusions
The quality of medical information models is crucial to guarantee standardised semantic representation in order to improve interoperability. The validation process is a practical way to better harmonise models that diverge due to necessary flexibility left open by the underlying formal reference model definitions.
This case study provides evidence that both community- and tool-enabled review processes, structured in the Clinical Knowledge Manager, ensure archetype quality. It offers a pragmatic but feasible way to reduce variation in the representation of clinical information models towards a more unified and interoperable model.
Keywords
Electronic health records
Multiple sclerosis
Medical documentation
Information models
Archetypes
Results
In this work, we created four new archetypes representing the MSFC neurological test suite. All archetypes are available in English and German. They are of the Observation class, as they represent measurable test results. The archetypes were internationally reviewed by domain experts and published. All four models are publicly accessible on the internet in the CKM directly via the links below (without registration). They are available free of charge for organisational and individual use under Creative Commons Attribution-ShareAlike 3.0 Unported License (CC BY-SA [47], the same as e.g. Wikipedia):
Figure
2
shows the mind map representation of the Timed 25-Foot Walk archetype. It illustrates the structure of the
Observation
class: Data, Events, Protocol and State, as well as Description for meta-information. This points out that there are many possibilities for structuring the data elements. All data elements and their type (e.g. Text, Boolean, Time) are visible but not their description or additional constraints.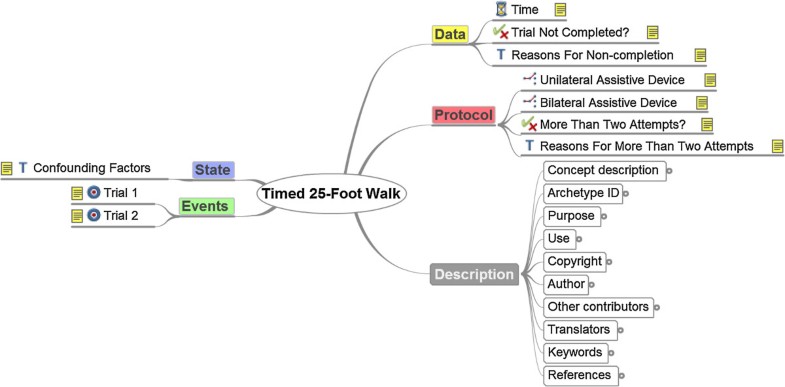 The parts mentioned cannot always be differentiated precisely, especially between Data, State, and Protocol. In the beginning, it is not always clear whether a certain item (i.e. the dominant hand in the peg test) belongs to the core data that is observed, to the patient's state, or serves as additional information in the protocol. Even different medical experts might have different opinions. Therefore, this structuring process requires coordination effort with experts in the field, which can be time-consuming. This applies for both, the modelling phase and the later review process as well. Every detail of the archetypes can be seen in CKM via the links above. Therefore, we abstain to describe the resulting final models in details. CKM offers multiple sights on the models, like the mind map overview (as above), a detailed view of every concept description, and an ADL as well as an XML representation. The archetype history and review status is transparent online in the CKM.
Table
1
shows the metrics of the archetype review process,
viz.
how much feedback was received, and how many people were involved in the model refinement. The first line shows the number of data elements of each archetype. It did not change during the reviews in all four archetypes. The second line shows the number of review rounds needed until publication, followed by the number of single reviewers that participated, and the number of total reviews for each archetype. The fifth line shows the total number of comments given in all review rounds. From the reviewers' comments, we identified a number of change requests for the archetypes. Some of them occurred more than once, so the number of individual change requests is shown in the next line. The final line shows the overall number of individuals who contributed to the development and publication of each archetype.
Table 1
Metrics from the reviews of the four MSFC archetypes
| Archetype | Timed 25-Foot Walk | Nine Hole Peg Test | Paced Auditory Serial Addition Test | MSFC Score |
| --- | --- | --- | --- | --- |
| Data elements | 20 | 28 | 25 | 17 |
| Review rounds | 3 | 2 | 1 | 1 |
| Reviewer | 8 | 5 | 4 | 2 |
| Reviews (total) | 14 | 8 | 4 | 2 |
| Comments (total) | 41 | 27 | 12 | 4 |
| Change requests | 42 | 29 | 13 | 4 |
| Individual requests | 31 | 26 | 11 | 4 |
| Changes implemented | 27 | 21 | 7 | 4 |
| Contributors | 11 | 10 | 11 | 8 |
We generally demonstrated that the openEHR approach is an adequate format for representing complex neurological tests, by modelling the three MSFC tests in detail as archetypes. However, the question arises to the expert quality and the validity of the models. Most, but not all of the reviewers' requests were met, mainly because of different understanding of the test instructions or alignment with modelling conventions. These issues were discussed and resolved online during the process. Most changes were of textual matter (clarifying descriptions, changing options, or giving examples) or adding/removing constraints. A more comprehensive survey, i.e. with the number of reviews in each round and the reviewers' recommendations can be seen online in CKM for each archetype, including its revision history. Single comments of the reviewers are visible only for editors and the other reviewers. Apart from that, the process is highly transparent.
Altogether, we proceeded sequentially and finished one archetype review before we initiated the next. Hence, the experiences from the previous reviews were incorporated in minor revisions of the following models. For example, some data elements (like confounding factors) appear in several archetypes. This may be a reason why later review rounds were shorter, because the quality of models was more elaborated at the beginning of the development process. The time from first review round initiation date to latest review round completion date took an average of 59.5 days (with a range 14–122 days). For the other eight archetypes that have received published status in CKM by then, the average period was even longer with 180 (40–323) days. These numbers intended as a rough guide making the interpretation difficult due to the small data pool. It is also difficult to generalise these numbers to different topics. The time needed depends in particular on the subject to be mapped, how structured and ambiguous it is, as well as on the team size and its experience. Further problems are the periods of idle time in the overall process. However, the CKM turned out to be a sophisticated collaborative platform, which helps to organise reviews as straightforward processes. On this basis, archetype refinement and content validation were conducted on a high-qualitative level.
Discussion
In this work, we have presented four new archetypes for the MSFC. We have focussed on the development and validation process itself, which has not been described in detail before. The interface of the publicly available Archetype Editor supports the development process visually. However, the archetype development process was slowed down due to difficult selection decisions between alternative modelling approaches, also reported in [3]. All four archetypes were uploaded to the CKM, where they are publicly accessible. After validation by domain experts in the community-based review process, they received published status. Structured by the CKM, archetype review is a straightforward and well-organised team process with the goal to validate archetypes pragmatically. In this case report we provide evidence for the quality improvement of information by this community effort. We emphasise that content validation is crucial for quality enhancement and standardisation of openEHR information models, where a corresponding formal model must have its shortcomings to preserve the necessary flexibility.
Due to the lack of formal or quantitative correctness measurements for archetypes, the only way of assessing and improving the model quality is peer review by domain experts. This process ensures not only the quality of the models themselves, but also their acceptance by other clinical experts. Despite the wide agreement on the importance of the reviews (e.g. [45, 48, 49]), less than 5% of the CKM archetypes have been reviewed and received published status today. Significant further work needs to be done in order to ensure interoperable high-quality archetypes [1]. We hope that the presented work can lower the barrier for developers to request a formal review with the openEHR community. Only then, a sufficient foundation of validated archetypes will be publicly available and analyses with more numerous cases can be performed.
This also leads to the question whether the archetypes in draft state available in the CKM are "safe" to use or reuse (modelling step 2) in contrast to reviewed archetypes in published state. Before new archetypes are uploaded, they undergo an editorial appraisal to ensure a certain standard (mentioned earlier). CKM users are not permitted to upload new archetypes, only CKM editors can do this. Still, the quality of these archetypes may vary widely. They can be a starting point for review or may be in a state close to publication.
Once uploaded and online in the CKM, every user can comment any archetype and address e.g. missing aspects, different or country-specific views without formal review. The editors can then incorporate or discuss the change requests. But neither this nor the editorial check before upload can substitute a formal review by domain experts of the community. The audience is wider, as more people are involved and much more viewpoints are considered in the discussion.
A lot of archetypes are online for some years and some of them have received suggestions for improvement continuously. So they may have matured over time, even though the formal standard review is lacking. However, there may be indicators for the maturity of a draft archetype, like its history and revision, the number of contributors etc., but not a formal assessment. Based on the experience with our own archetypes, we advise to take a close look at archetypes in draft state. The potential user should be aware that the review could lead to significant changes. Hence, we do not recommend using draft archetypes in a clinical setting.
Our investigation of the modelling and validation process was affected by the domain of discourse. However, we do not believe that our setting (the MSFC) had an impact on the general illustration of the design and validation process (the steps performed are independent of the use case). The degree of formalisation and standardisation of the domain as well as of the material that is available as reference will indeed influence the process (e.g. more complex models may require more coordination effort).
Madsen et al. investigated sustainable clinical knowledge management with respect to the archetype development life cycle. A well-designed archetype for a given clinical entity should cover all of the data, independent of the use-case [35]. They proposed a process for archetype development with seven phases, related to the traditional software development lifecycle. The first phase is the planning phase, where the content is gathered from various sources and clinicians are engaged to ensure alignment with clinical requirements. The analysis phase includes data analysis and consolidation as well as inspection of existing archetypes. Following the requirement specification phase and archetype design phase, the fifth phase consists of test, evaluation, and review, concluded by the delivery and the maintenance phases.
To the authors' knowledge, two more methodologies have been used for the design of archetypes: The AORTIS model [50] is a general scheme for summarising clinical information. It identifies five distinct stages: aggregation, organisation, reduction and/or transformation, interpretation, and synthesis of clinical data. Furthermore, [51] proposed the methodology "odma" (openEHR data modelling approach), also used in [3]. It consists of the five steps determining all items to be documented, merging these items into clinical concepts, matching the derived concepts against existing archetypes, developing archetypes, and designing templates. The work concludes that the two-layered modelling approach is a major advantage, but it is difficult and time-consuming to develop archetypes. Domain expertise is required. Further important development steps are (if not already integral part of the methodology): binding to external terminology systems, collaboration like reviewing and publishing the archetype, as well as adding the archetype to a template. Peer reviewed design and modification of archetypes is a prerequisite for high-quality models [49].
Although ADL is a sound and comprehensible formal basis for archetype development and integrated into tool support (e.g. CKM and Archetype Editor), we agree with other developers (e.g. [25]) that there is a shortage of modelling guidelines or best-practice recommendations. How to select from a multitude of potential equivalent models is not covered by the formal language definition. However, it remains unclear whether such modelling paradigms can even be described formally without the adverse effect of too limited modelling expressivity. This case study supports the development paradigm of combining a formal language definition with a regulated review process to achieve a pragmatic but feasible definition process of expressive, nevertheless standardised and interoperable information models.
Such a centralised and standardised review process can also help to come across ambiguous test instructions (as mentioned earlier), because the openEHR approach tries to involve clinicians from the beginning of the modelling process to ensure model consistency. Furthermore, model and style variations would probably occur even if best-practice recommendations and modelling guidelines were available, just because different designers may have different approaches. Again, archetype submission to CKM and centralised review will assure alignment with consistent modelling methodology [35].
Limitations of the study
The results of this case report are not generalizable to all medical information modelling methodologies. They represent our personal experience from the development and review of the four MSFC archetypes. In the general topic of how to measure the quality of information models, we assessed the archetype review process as one way to improve the quality of the models. We do not know how other approaches (e.g. HL7) ensure high-quality models. Tools can cover syntactic correctness and consistency checks. Beyond that, there are (as far as we know) only non-quantitative indicators, such as expert opinions, the use in clinical application (as well as the quality of documentation), as well as links to terminologies (see next section). The assessment of all of these aspects needs to be done by medical experts. Therefore, it is essential to involve medical experts from the very beginning of the modelling process, as promoted by the openEHR approach.
The general idea of rating and commenting information models has also been implemented by Breil et al. [52] in a portal for Medical Data Models. A large number of record forms has been collected from various sources, and can also be imported from and exported to multiple formats. They do not provide a structured review but a simple five-star rating and comment function. This example shows that the idea of independent quality assessment by external experts (peer review) can be generalised to other applications outside the openEHR context. However, this may request significant work and additional research.
As far as we know, the four MSFC archetypes have not been used in a clinical situation. So an evaluation in clinical practice is still lacking. Recently, the archetype of the Nine Hole Peg Test has been translated into Chinese. Nevertheless, we think that we provide evidence for a method and feasibility of a structured development process for complex information models which results in reusable artefacts. Despite these major limitations, this work can add to a corpus of evidence on how to achieve a substantial amount of validated archetypes.
Further research
A next step could be the binding to external terminologies like SNOMED CT, based on current work done by the CIMI and the SemanticHealthNet network [42]. Another important aspect is the discussion about quality criteria upon which the peer review should be based on. One criterion could be such a consequent terminology binding. This leads to the question of how to draw a line between content to be expressed by information models and content to be expressed by terminologies and ontologies, according to clear criteria [53, 54].
A more thorough investigation of the lifecycle of information models (including their clinical application) should be done with respect to the efficiency of the review process: Are these models invariable for a long time and is therefore an expensive validation process justifiable? Even published archetypes may receive frequent change requests (due to new standards, treatments, regulatory, or terminological changes). It is also possible that different experts could have produced a slightly different outcome. Here, one should investigate if there could be determined a typical number of expert opinions to lead to a stable consent. However, archetypes represent current clinical practice. As such, published archetypes are not perfect, but they are likely to be the best and most flexible models available at present.
Furthermore, we found that some medical assessment instructions, e.g. how a certain test should be performed, are differing in literature. This leads to the question if a consensus forming process, like the team review for archetypes, could help to standardise medical procedures (bidirectional information flow).
Conclusions
Assessing the quality of information models in a standardised way is an integral part of the development process. Several approaches to represent and exchange electronic health data are available. In a corpus of prior studies, a lot of effort has been spent for feasibility checks, to show that certain aspects can be represented. Now it is time to thoroughly investigate the quality of those models. Hereby, clinical experts and modelling expert have to work together in a process like the one we have illustrated.
Peer review is an important part of the development lifecycle for information models. It is crucial not only for the quality of the models, but also for the quality of the resulting applications and therefore patient safety. The development and validation process is time-consuming. However, the review can significantly improve the model quality, so we think it is worth the effort. During the whole development lifecycle, it is crucial to consult clinical experts, not only during the validation of the models. The CKM is a well-suited platform for international collaboration. Once a certain amount of stable models is available, fewer archetypes have to undergo design from scratch and the development times may shorten.
The openEHR approach offers great expressivity and flexibility. Although there is a shortage of modelling guidelines and best-practice recommendations, openEHR provides a community-driven validation process, which can partly fill the gap. In particular, the review process is a pragmatic way in achieving high-quality information models by integrating domain specialists.
Authors' contributions
The four authors are justifiably credited with authorship, according to the authorship criteria: StS, AUB, and MaB designed the study. MiB did the initial design of the archetypes and the final implementation. AUB and MaB contributed substantially to the archetype development process. MaB and MiB performed the data analysis and interpretation. MiB wrote the first and final draft of the manuscript. MaB is the PI of the project and provided substantial sections of the manuscript. All authors read, revised and approved the final manuscript.
Declarations
Acknowledgements
We would like to sincerely thank Ian McNicoll and Heather Leslie, Clinical Knowledge Administrators from Ocean Informatics, for their advices during the modelling and guidance through the review process. Furthermore, we would like to thank Sebastian Mansow-Model and Sebastian Bischoff from Meedical GmbH (former gfnmediber GmbH, Berlin, Germany) for their critical reception of our archetypes and the helpful discussions. Our greatest thank goes to our Reviewers in the CKM.
This work was funded by the Zentrales Innovationsprogramm Mittelstand of the Federal Ministry of Economics and Technology, Germany (Förderkennzeichen KF2017603KM9). The article processing charge was funded by the German Research Foundation (DFG) and the Albert Ludwigs University Freiburg in the funding programme Open Access Publishing.
Authors' Affiliations
(1)
Center for Medical Biometry and Medical Informatics, Medical Center – University of Freiburg, Freiburg, Germany
(2)
NeuroCure Clinical Research Center, Charité – Universitätsmedizin Berlin, Berlin, Germany
(3)
Motognosis UG, Berlin, Germany
(4)
Institute for Medical Informatics, Statistics and Documentation; Medical University of Graz, Graz, Austria
Copyright
© Braun et al.; licensee BioMed Central Ltd. 2014
This article is published under license to BioMed Central Ltd. This is an Open Access article distributed under the terms of the Creative Commons Attribution License (http://creativecommons.org/licenses/by/4.0), which permits unrestricted use, distribution, and reproduction in any medium, provided the original work is properly credited. The Creative Commons Public Domain Dedication waiver (http://creativecommons.org/publicdomain/zero/1.0/) applies to the data made available in this article, unless otherwise stated.