Research article

Open Access

Open Peer Review
This article has Open Peer Review reports available.
A Study on Pubmed Search Tag Usage Pattern: Association Rule Mining of a Full-day Pubmed Query Log
BMC Medical Informatics and Decision Making
2013
13:8
Received: 14 February 2012
Accepted: 24 September 2012
Published: 9 January 2013
Abstract
Background
The practice of evidence-based medicine requires efficient biomedical literature search such as PubMed/MEDLINE. Retrieval performance relies highly on the efficient use of search field tags. The purpose of this study was to analyze PubMed log data in order to understand the usage pattern of search tags by the end user in PubMed/MEDLINE search.
Methods
A PubMed query log file was obtained from the National Library of Medicine containing anonymous user identification, timestamp, and query text. Inconsistent records were removed from the dataset and the search tags were extracted from the query texts. A total of 2,917,159 queries were selected for this study issued by a total of 613,061 users. The analysis of frequent co-occurrences and usage patterns of the search tags was conducted using an association mining algorithm.
Results
The percentage of search tag usage was low (11.38% of the total queries) and only 2.95% of queries contained two or more tags. Three out of four users used no search tag and about two-third of them issued less than four queries. Among the queries containing at least one tagged search term, the average number of search tags was almost half of the number of total search terms. Navigational search tags are more frequently used than informational search tags. While no strong association was observed between informational and navigational tags, six (out of 19) informational tags and six (out of 29) navigational tags showed strong associations in PubMed searches.
Conclusions
The low percentage of search tag usage implies that PubMed/MEDLINE users do not utilize the features of PubMed/MEDLINE widely or they are not aware of such features or solely depend on the high recall focused query translation by the PubMed's Automatic Term Mapping. The users need further education and interactive search application for effective use of the search tags in order to fulfill their biomedical information needs from PubMed/MEDLINE.
Keywords
Association Rule
MeSH Term
Frequent Itemsets
Association Rule Mining
PubMed Search
Background
In medical practice, research and education, efficient biomedical bibliographic database (such as PubMed/MEDLINE) search is a core skill for the practice of evidence-based medicine [1–4]. The amount of biomedical information doubles every 5 years [5]. PubMed/MEDLINE, maintained by the National Library of Medicine (NLM), is one of the largest and freely available biomedical bibliographic databases in the world [4–7] and considered as one of the most important and reliable healthcare information source by healthcare professionals [8, 9]. PubMed/MEDLINE is also an important source for the literature-based discovery [10]. However, poor query formulation was found to be an obstacle in seeking answers to clinical questions as well as in the practice of evidence-based medicine [11, 12].
PubMed/MEDLINE contains citations and abstracts from approximately 5,516 current biomedicine and health related journals, including the fields of medicine, nursing, dentistry, veterinary medicine, health care system and preclinical sciences, from the U.S. and over 80 foreign countries in 39 languages (60 languages for older journals) since 1946 and earlier. There are more than 21 million citations in PubMed/MEDLINE as of November, 2011. About 83% of them are English citations [13, 14].
The proper use of search tags (described in the next section) along with search terms is a key for efficient and effective information retrieval in PubMed [15, 16]. The main objective of this study was to analyze a typical day's query log from PubMed in order to discover relationships among PubMed search tags by end users and understand the usage pattern of search tags. For this purpose, the Association Rule Mining (ARM) technique was used.
The analysis of PubMed search tag usage is imperative in terms of information retrieval performance. PubMed users should know and use search tags unlike Google searches. There are two main reasons. First, while PubMed data (i.e., the MEDLINE DB) are well structured (author, paper title, journal, publication date, etc.), web data Google uses are not structured. Thus, one should take advantage of the structure (i.e., using search tags) for PubMed searches for better retrieval performance. Otherwise, a search term is searched in unintended fields causing many irrelevant documents and/or fewer relevant documents (if a search tag is not used in PubMed, a search term is searched in all fields). Second, while Google sorts search results by relevance, PubMed sorts retrieved citations in reverse date added order. In other words, Google's search results (sorted by relevance) satisfy most users while PubMed's does not (reverse date added order is not useful to users in most cases).
The NLM recognizes that use of search tags is very important for PubMed searches and, at the same time, PubMed users do not use search tags much. As a result, PubMed has the Automatic Term Mapping (ATM) function that is a search query preprocessing step for novice PubMed users [14]. The ATM analyzes user queries to check if a word or term is structured data such as MeSH terms, author names, journal names, etc. If so, the ATM automatically adds a right search tag to the search term. Search-tag enforced queries by the ATM rather than original user queries are actually for PubMed searches. Because PubMed adopts a recall-focused search mechanism meaning that PubMed attempts to retrieve all relevant documents even though many irrelevant documents are unnecessarily retrieved by the mechanism, the ATM modifies a user query to get each word searched in all fields. Thus, PubMed users should know search tags to understand and/or modify ATM-enhanced queries to meet their information needs (the ATM is a very complex function so refer to [14] for details). Another example showing the NLM wants PubMed users to take advantage of PubMed search tags is its new search result interface. The NLM has recently changed the main PubMed search interface to accommodate (in the left panel of PubMed search result pages) several search tags (e.g., "Publication Type", "Language", "Subset", "Publication Date") so that PubMed users who are not familiar with or aware of PubMed search tags can instantly apply frequently used search tag(s) to a search result. The new enhanced PubMed interface highlights the need for using search field tags for better PubMed search performance. In summary, using search tags is a crucial factor to improve information retrieval performance in PubMed.
Methods
PubMed query log dataset
The dataset used in the study is a single day's PubMed query log (which was issued over 24 hours from midnight to midnight) that was obtained from the NLM FTP site (
ftp://ftp.ncbi.nlm.nih.gov/pub/wilbur/DAYSLOG
, last accessed on 4/21/2012). It is a "|" delimited plain text file and consists of three columns: (1) unique user identification (user ID), (2) timestamp, and (3) query text. The user ID is a set of letters and numbers that was provided in order to match multiple queries from the same user and kept anonymous by removing personally identifying information in order to protect the user privacy. The timestamp presents the time of query submission in number of seconds since midnight EST. The query text is the character string as entered by the user [
29
]. A total of 2,996,301 queries were recorded in the log file issued by a total of 626,554 distinct users. In Figure
1
, a total of 10 sample queries are presented in order to illustrate the content of the query log file. The log file was imported into the Microsoft Access Database for ease of analysis.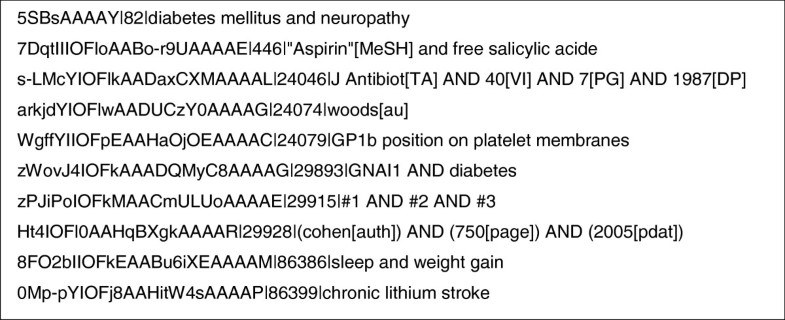 Data pre-processing
Figure
2
demonstrates the steps of data cleaning and pre-processing for the association mining analysis. Firstly, the following inconsistencies were identified: (1) 1,146 records (i.e., queries) (0.04%) have no user ID, (2) 73 records (0.0024%) have unusual user IDs that do not comply with the format of majority of user IDs, and (3) 77,923 records (2.6%) have no query text. Those records were removed from the dataset. The remaining records (N=2,917,159, i.e., 97.36%) submitted by a total of 613,061 users (97.85%) were used in this study.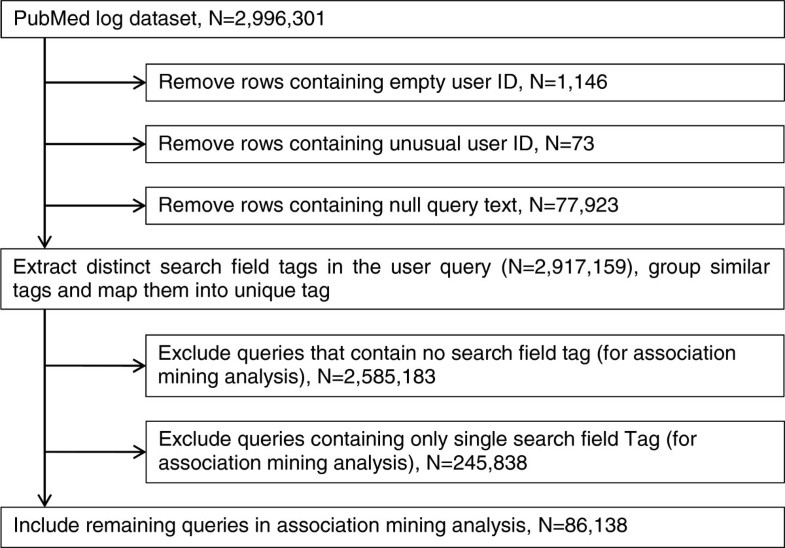 In this study, we primarily analyzed the search tags used in the query text. As such, the query texts were parsed in order to extract the search tags. In order to identify search tags from the queries, we adopted a semi-automatic approach consisting of constructing a search tag list containing search tag headers and their variations in a semi-automatic way, and automatically identifying search tags in queries using the list. The reason behind this (semi-automatic) approach is two-fold. First, for each search tag there are several search tag variations (e.g., for the [Author Name] tag there are [Author], [AU Name], [Auth], and [AU] variations) but these variations are not fully documented (even though they are correctly recognized by the PubMed retrieval system). As a result, we cannot automatically identify search tags from the queries. Thus, we created a PubMed search tag list. Here, search field tags were categorized as either informational (a total of 19 tags presented in Table 1) or navigational (a total of 29 tags presented in Table 2) based on their underlying intent. A list of variants for each search tag is also presented in Tables 1 and 2. This list can be reused for other PubMed log studies. Second, many PubMed queries contain incorrect search tags (including typos, e.g., [JORUNAL]) that are not recognized by the PubMed system but domain experts could correctly recognize and read their intentions. There were 963 unique substrings extracted from the user queries. Among them 129 unique search tags (13.4%) were identified as such tags. We manually corrected them for the search tag analysis.
Association mining analysis
As the main goal of this study was to analyze the usage pattern of PubMed search field tags in user queries, the dataset was analyzed using association rule mining (ARM) technique. The ARM requires a set of transactions in which each transaction contains a set of items. In this study, a single user query and PubMed search tags were considered as a transaction and items, respectively. The ARM generate association rules of the form X → Y [support, confidence], where X and Y are sets of search tags indicating if a user uses the X search tags in a PubMed query, he/she also uses the Y search tags.
The Waikato Environment for Knowledge Analysis (WEKA) software (version 3.6.5) [46] was used for our association mining analysis. WEKA provides several association rule algorithms, such as Apriori [47, 48] and FPGrowth [49, 50]. Its basic input file format is Attribute-Relation File Format (ARFF) [51]. In order to generate an ARRF file for the association mining analysis, 37 unique search tags found in the PubMed log file were used as the attributes. An attribute value for a record is "Y" if the search tag is present in a query, otherwise the attribute value is "N". There were 86,138 records in the ARRF file.
Discussion
Search results by experienced PubMed/MEDLINE users using advanced PubMed/MEDLINE features (such as search field tags, Boolean operators, and/or history functions) demonstrated higher recall and precision in earlier studies [54, 55]. We believe that the proper use of PubMed search field tags is an important factor in the improvement of PubMed searches. We estimate that only around 11% of PubMed users know how to search PubMed effectively and around 3% of PubMed users are the so-called advanced users because 11.38% of the total queries included a search tag and 25.9% of them (that is 2.95% of the total queries) contained two or more distinct search tags (see Table 5). Around 89% of the PubMed users do not use any PubMed search tag even though using tags in PubMed would significantly improve the quality of information retrieval. We believe there are two reasons. First, many PubMed users are not aware of PubMed search tags. We believe that PubMed should stress the importance of search tags in the website since it does not sort search results by relevance. Although PubMed allows users to use search tags easily through PubMed Advanced Search Builder, very few users know the function. Second, many PubMed users believe that PubMed can properly handle their natural language queries like Google so that they think they don't have to use search tags even if they know them.
PubMed provides a total of 48 search tags (19 informational tags in Table 1 and 29 navigational tags in Table 2). However, only 37 tags were appeared in the query log data including 18 informational and 19 navigational tags presented in Table 5. Not all of these 37 tags were used frequently (Figure 5, Table 5) and only a total of 12 tags (25% of the total search tags) co-occurred frequently with other tags (see Tables 6 and 7). The [AUTHOR] tag was the most frequently used tag in the PubMed queries. Interestingly, it was used mostly alone in PubMed searches. The most frequently used six navigational tags are "[PUBLICATION DATE], [JOURNAL], [PAGINATION], [ISSUE], [VOLUME]", and [AUTHOR] indicating that many PubMed users search for specific articles using the combinations of these tags. For informational tags we discovered two frequent itemsets as shown in Table 6. Each frequent itemset consists of 5 search tags that are frequently used in PubMed queries. The itemsets share 4 search tags: [LANGUAGE], [MESH TERMS], [PUBLICATION TYPE], and [SUBSET]. Their associations are very strong because the association rules including them have more than 90% confidence. These frequent itemsets can be used for creating an intelligent PubMed search interface. For example, if a user uses one of the four search tags, the PubMed automatically shows or adds the other tags to the query because they are frequently used together so that the user can efficiently compose a PubMed query. Such an intelligent PubMed interface can help users to use PubMed in a more ideal manner.
In the association mining experiment we exploited, the most widely-used association mining algorithm, Apriori in WEKA with the minimum support = 0.02 and the minimum confidence = 0.5. This experiment was conducted on a computer with two Intel Xeon CPUs (at 3.00 GHz) and 24.0 GB RAM. The Apriori algorithm was run for more than five full days consuming more than 20GB system memory, but we were unable to get a result using the algorithm. To tackle this problem, we converted the ARFF input file into a sparse ARFF [51] in which only positive (here, "Y") values are stored. The sparse format significantly reduced the file size from 6.32 MB to 1.55 MB. Then, we used the FPGrowth algorithm because it was proven to be more efficient than Apriori (while Apriori generates a lot of candidate itemsets, FPGrowth does not) and because, more importantly, it can properly handle a sparse ARFF format meaning that it generates and stores only positive rules containing "Y" values. We got a result (a set of association rules) within 5 seconds (we used the same support and confidence values). We would like to stress that selecting a right data format and algorithm could be critical to successful data mining.
There are two limitations of the study. First, we used only a one-day query log. It is possible that the log could be biased in terms of search tag usage. We had tried to obtain a one-month query log containing user query texts from the NLM that was used in a study by NLM researchers [34] but we could not due to PubMed users' private issues. Second, we analyzed queries with only search tags. However, most users do not use search tags in their queries, even if they have an intention to search by specific field. Interestingly, many users used untagged search terms along with tagged search term(s), which may result in the user intent of mixed queries containing both of the navigational and informational tags. However, the untagged search terms containing important user intent were not used in the study.
Conclusions
In this study, a query log of a typical full day from PubMed was studied in order to understand the usage pattern of search tags in PubMed queries. The percentage of search tag usage was low, which suggests that the users do not utilize advanced PubMed search features, they are not aware of such features, and/or they prefer natural language queries to structured queries without considering the structured MEDLINE DB. Further study should be conducted to confirm the reason behind the low usage of search tags. In addition, it has been observed that the frequency of using navigational tags was higher than that of the informational tags. The navigational tags are mainly used in the bibliographic queries.
The results of the association mining demonstrated that the navigational tags and informational tags do not appear frequently together in the same query. The mining result indicates that users are less likely to search both the informational fields and the bibliographic related fields in the same query. Since using search tags is imperative for improving the performance of PubMed searches and most PubMed users do not utilize search tags, there is a great demand for new PubMed search interface that helps users to select appropriate search tag(s) based on our mining results (i.e., sets of frequently associated search tags) for better PubMed searches. The new interface should allow separate customization for each of the informational and navigational categories.
Declarations
Acknowledgements
The authors are thankful to the United States National Library of Medicine for their efforts in producing and making the PubMed query log publicly available.
Authors' Affiliations
(1)
University of Missouri Informatics Institute (MUII), Columbia, USA
(2)
Health Management and Informatics (HMI) Department, University of Missouri School of Medicine, Columbia, USA
Copyright
© Mosa and Yoo; licensee BioMed Central Ltd. 2013
This article is published under license to BioMed Central Ltd. This is an Open Access article distributed under the terms of the Creative Commons Attribution License (http://creativecommons.org/licenses/by/2.0), which permits unrestricted use, distribution, and reproduction in any medium, provided the original work is properly cited.