Research article

Open Access

Open Peer Review
This article has Open Peer Review reports available.
De-identifying a public use microdata file from the Canadian national discharge abstract database
BMC Medical Informatics and Decision Making
2011
11:53
Received: 26 December 2010
Accepted: 23 August 2011
Published: 23 August 2011
Abstract
Background
The Canadian Institute for Health Information (CIHI) collects hospital discharge abstract data (DAD) from Canadian provinces and territories. There are many demands for the disclosure of this data for research and analysis to inform policy making. To expedite the disclosure of data for some of these purposes, the construction of a DAD public use microdata file (PUMF) was considered. Such purposes include: confirming some published results, providing broader feedback to CIHI to improve data quality, training students and fellows, providing an easily accessible data set for researchers to prepare for analyses on the full DAD data set, and serve as a large health data set for computer scientists and statisticians to evaluate analysis and data mining techniques. The objective of this study was to measure the probability of re-identification for records in a PUMF, and to de-identify a national DAD PUMF consisting of 10% of records.
Methods
Plausible attacks on a PUMF were evaluated. Based on these attacks, the 2008-2009 national DAD was de-identified. A new algorithm was developed to minimize the amount of suppression while maximizing the precision of the data. The acceptable threshold for the probability of correct re-identification of a record was set at between 0.04 and 0.05. Information loss was measured in terms of the extent of suppression and entropy.
Results
Two different PUMF files were produced, one with geographic information, and one with no geographic information but more clinical information. At a threshold of 0.05, the maximum proportion of records with the diagnosis code suppressed was 20%, but these suppressions represented only 8-9% of all values in the DAD. Our suppression algorithm has less information loss than a more traditional approach to suppression. Smaller regions, patients with longer stays, and age groups that are infrequently admitted to hospitals tend to be the ones with the highest rates of suppression.
Conclusions
The strategies we used to maximize data utility and minimize information loss can result in a PUMF that would be useful for the specific purposes noted earlier. However, to create a more detailed file with less information loss suitable for more complex health services research, the risk would need to be mitigated by requiring the data recipient to commit to a data sharing agreement.
Keywords
Equivalence ClassInformation LossDiagnosis CodeData CustodianSuppression Algorithm
Background
There are increasing pressures to make raw individual-level data more readily available for research and policy making purposes [1–5]. This should be pursued as there are many benefits to doing so [1–15]. National statistical agencies have responded to such demands by creating public use microdata files (PUMFs) [16]. For instance, PUMFs from census data and population surveys are often created [17–22], and recently the Centers for Medicare and Medicaid Services has started work on creating 5% PUMFs from claims databases (e.g., inpatient and outpatient claims) [23, 24].
Making data available as a PUMF entails disclosing individual level data with minimal restrictions or conditions on access. The ideal PUMF provides as much detail as possible short of disclosing raw files where the patients are readily identifiable [15].
The focus of this paper is on the creation of a PUMF for the Canadian national discharge abstract database (DAD).
In the US, 48 states collect data on inpatients [25], and 26 states make their DADs available through the Agency for Healthcare Research and Quality (AHRQ) [26]. This data can be purchased for the purposes of research or other approved use. All purchasers must also sign a data use agreement prohibiting the re-identification of individuals in the data set. The equivalent agency in Canada is the Canadian Institute for Health Information (CIHI), which collects DAD data from hospitals across the country [27] and makes it available through an application process, as well as performing its own analyses on the data. Data disclosed by CIHI are somewhat de-identified (it contains no direct identifiers), and are only provided when there is a data sharing agreement [28].
Discharge abstract data has been used for a diverse set of research and analysis purposes, including public safety and injury surveillance and prevention, public health, disease surveillance, public reporting for informed purchasing and comparative reports, quality assessment and performance improvement, and health services research [29].
CIHI was considering the creation of a public use microdata file (PUMF) for the national DAD. The availability of a DAD PUMF would make it easier for the research community to confirm some published results, provide broader feedback to CIHI to improve data quality, can be a tool for training students and fellows, provide an easily accessible data set for researchers to prepare for analyses on the full DAD data set, and serve as a large data set for computer scientists and statisticians to evaluate analysis and data mining techniques. A PUMF would be readily available with no application nor waiting time, at no cost to the requestor, and it would not impose an on-going burden on the organization in terms of processing requests for data. It would complement the existing method of providing data through the regular data application process.
Two primary concerns with the creation of a PUMF were to ensure that the probability of re-identification of the patients is acceptably low and that the disclosed PUMF had sufficient utility to end-users.
The purpose of our study was to create a prototype PUMF. The outcome of this analysis was intended to inform the decision on whether to proceed with an actual PUMF. A critical criterion for making that decision was whether the resulting PUMF still had utility for end-users.
The contributions of this study are: (a) an analysis of plausible re-identification attacks on a Canadian DAD PUMF, (b) a set of new re-identification metrics were developed for evaluating these attacks, (c) a new set of strategies for maximizing data utility when de-identifying data were formulated, (d) a new efficient algorithm for the suppression of large data sets was developed, and (e) we present the results evaluating the probability of re-identification and the de-identification of a Canadian national DAD PUMF.
Definitions
Here we provide some basic definitions that we use throughout the paper, review related work for the de-identification of individual-level data (also known as microdata), and present metrics for evaluating information loss due to de-identification.
Categories of Variables
It is useful to differentiate among the different types of variables in a data set. The way the variables are handled during the de-identification process will depend on how they are categorized. We make a distinction among four types of variables [
30
,
31
], and these are illustrated in Table
1
:
IDENTIFYING VARIABLE

QUASI-IDENTIFIERS

SENSITIVE VARIABLES

Other Variables

ID

Name

Telephone Number

Sex

Year of Birth

Lab Test

Lab Result

PayDelay

1

John Smith

(412) 688-5468

Male

1959

Albumin, Serum

4.8

37

2

Alan Smith

(413) 822-5074

Male

1969

Creatine kinase

86

36

3

Alice Brown

(416) 886-5314

Female

1955

Alkaline Phosphatase

66

52

4

Hercules Green

(613) 763-5254

Male

1959

Bilirubin

Negative

36

5

Alicia Freds

(613) 586-6222

Female

1942

BUN/Creatinine Ratio

17

82

6

Gill Stringer

(954) 699-5423

Female

1975

Calcium, Serum

9.2

34

7

Marie Kirkpatrick

(416) 786-6212

Female

1966

Free Thyroxine Index

2.7

23

8

Leslie Hall

(905) 668-6581

Female

1987

Globulin, Total

3.5

9

9

Douglas Henry

(416) 423-5965

Male

1959

B-type natriuretic peptide

134.1

38

10

Fred Thompson

(416) 421-7719

Male

1967

Creatine kinase

80

21

11

Joe Doe

(705) 727-7808

Male

1968

Alanine aminotransferase

24

33

12

Lillian Barley

(416) 695-4669

Female

1955

Cancer antigen 125

86

28

13

Deitmar Plank

(416) 603-5526

Male

1967

Creatine kinase

327

37

14

Anderson Hoyt

(905) 388-2851

Male

1967

Creatine kinase

82

16

15

Alexandra Knight

(416) 539-4200

Female

1966

Creatinine

0.78

44

16

Helene Arnold

(519) 631-0587

Female

1955

Triglycerides

147

59

17

Almond Zipf

(519) 515-8500

Male

1967

Creatine kinase

73

20

18

Britney Goldman

(613) 737-7870

Female

1956

Monocytes

12

34

19

Lisa Marie

(902) 473-2383

Female

1956

HDL Cholesterol

68

141

20

William Cooper

(905) 763-6852

Male

1978

Neutrophils

83

21

21

Kathy Last

(705) 424-1266

Female

1966

Prothrombin Time

16.9

23

22

Deitmar Plank

(519) 831-2330

Male

1967

Creatine kinase

68

16

23

Anderson Hoyt

(705) 652-6215

Male

1971

White Blood Cell Count

13.0

151

24

Alexandra Knight

(416) 813-5873

Female

1954

Hemoglobin

14.8

34

25

Helene Arnold

(705) 663-1801

Female

1977

Lipase, Serum

37

27

26

Anderson Heft

(416) 813-6498

Male

1944

Cholesterol, Total

147

18

27

Almond Zipf

(617) 667-9540

Male

1965

Hematocrit

45.3

53
Equivalence Classes
All the records that share the same values on a set of quasi-identifiers are called an equivalence class. For example, consider the quasi-identifiers in Table 1, sex and age. All the records in Table 1 about males born in 1967 are an equivalence class (these have an ID of 10, 13, 14, 17, and 22). Equivalence class sizes for a data concept (such as age) potentially change during de-identification. For example, there may be 5 records for males born in 1967. When the precision of age is reduced to a five year interval, then there are 8 records for males born between 1965 and 1969 (these have an ID of 2, 10, 11, 13, 14, 17, 22, and 27). In general there is a trade off between the level of detail provided for a data concept and the size of the corresponding equivalence classes, with more detail associated with smaller equivalence classes.
Types of Disclosure
There are two kinds of disclosure that are of concern: identity disclosure and attribute disclosure [32, 33]. The first is when an adversary can assign an identity to a record in the PUMF. For example, if the adversary would be able to determine that record number 3 belongs to patient Alice Brown in Table 1 using only the quasi-identifiers, then this is identity disclosure. The second type of disclosure is when an adversary learns a sensitive attribute about a patient in the database with a sufficiently high probability without knowing which specific record belongs to that patient [32, 34]. For example, in Table 1 all males born in 1967 had a creatine kinease lab test. Assume that an adversary does not need to know which record belongs to Almond Zipf (record ID 17). Since Almond is male and was born in 1967 then the adversary will discover something new about him (that he had a test often given to individuals showing symptoms of a heart attack). This is attribute disclosure.
Known re-identifications of personal information that have actually occurred are identity disclosures, for example: (a) reporters re-identified an individual's records from web search queries publicly posted by AOL [35–37], (b) students re-identified individuals in the Chicago homicide database by linking it with the social security death index [38], (c) at least one individual was believed to be re-identified by linking their movie ratings in a publicly disclosed Netflix file to another public movie ratings database [39], (d) the insurance claims records of the governor of Massachusetts were re-identified by linking a claims database sold by the state employees' insurer with the voter registration list [31], (e) an expert witness re-identified most of the records in a neuroblastoma registry [40, 41], (f) a national broadcaster matched the adverse drug event database with public obituaries to re-identify a 26 year old girl who died while taking a drug and did a documentary on the drug afterwards [42], (g) an individual in a prescriptions record database was re-identified by a neighbour [43], and (h) the Department of Health and Human Services in the US linked a large medical database with a commercial database and re-identified a number of individuals [44].
Therefore in the current analysis we only focused on identity disclosure. This does not mean that attribute disclosure is not important to consider (i.e., absence of evidence does not mean evidence of absence). However, in terms of focus, we address only identity disclosure in the current study.
Disclosure Control for Microdata
Statistical and computational disclosure control methods can be applied by a data custodian to protect against identity disclosure [45, 46]. Disclosure control methods are concerned with both microdata [30, 47–53] and tabular data [49, 54–58]. The term "microdata" means individual-level data. Tabular data may contain frequencies or aggregate statistics (e.g., means and standard deviations) in the table's cells. Given that the DAD PUMF is a microdata disclosure, we are only concerned with methods for the de-identification of microdata.
De-identification methods for microdata can be broadly categorized as perturbative and non-perturbative [59]. The perturbative methods distort the truthfulness of the records in a data set. However, perturbation can be performed by preserving the aggregated properties of the data. Many perturbation methods have been explored, and some of these are summarized below.
Random noise can be added to continuous data without changing the correlation structure of the original data [60–63]. Gaussian noise is frequently used for this purpose. However, there are circumstances where noise can be filtered out of the data to recover the original information [64]. Another approach for both continuous and categorical data is to apply perturbations by considering the underlying probability distribution[65]: first, the underlying distribution is discovered, then distorted series are produced and the original series are replaced with the distorted series. Microaggregation[66–71] can be another alternative for perturbation, which creates small clusters of data and uses an aggregated value (e.g., average or median) instead of actual values. Some guidance exists on the appropriate size of these clusters [69]. Re-sampling[72] is a random perturbation method which resamples individual values in the data set [59]. Another approach is lossy compression which treats the continuous data as an image and applies a compression such as JPEG (Joint Photographic Experts Group 2001) [73, 74]. Multiple imputation utilizes techniques developed to deal with missing data [75]. For example, for each continuous variable, a randomized regression can be used to estimate a replacement value [76]. Vector camouflage is another perturbative method which provides unlimited and correct interval answers to database queries without revealing original values [77]. The Post-Randomization Method (PRAM) is a probabilistic method used for categorical data [78]. A Markov matrix is used to change the scores assigned to categorical variables based on previously determined probabilities. PRAM can be thought of as a general approach comprising other techniques such as adding noise, suppressing data, and recoding data. Rank swapping is perturbation method which swaps the values of a variable within a specified range of ranks. It can be applied to ordinal or numerical variables. Rounding methods perturb by rounding values to a value in a determined rounding set [49].
The non-perturbative techniques preserve the truthfulness of data. Subsampling techniques only publish a subset of the records in a data set [79]. This can be more useful for categorical data compared to numerical data because if an adversary performs a matching attack using an external data set, continuous values are more likely to be unique. Global recoding is a non-perturbative technique that applies to all records in a data set. Continuous variables can be grouped into discretized values representing bins; for categorical variables, the variable values can be grouped into larger categories. In certain cases, top or bottom values of a variable can be grouped and published as one value known as top/bottom recoding, respectively. The statistical disclosure tool mu-argus can apply global recoding [80]. Suppression can be also used to either eliminate some values that cannot be published (e.g., stigmatized diseases) or outlier values that increase the re-identification probability.
The k-Anonymity Criterion
A popular de-identification criterion is k-anonymity[81–86]. With k-anonymity an original data set containing personal health information can be transformed to protect against identity disclosure. A k-anonymized data set has the property that each record is similar to at least another k-1 other records on the quasi-identifiers. For example, if k = 5 and the quasi-identifiers are age and sex, then a k-anonymized data set has at least 5 records for each value combination of age and gender.
Various methods can be used to satisfy the k-anonymity criterion. For example, some authors have used micro-aggregation [52]. However, when dealing with health data, non-perturbative methods are favoured because they preserve the truthfulness of data [87]. Furthermore, some of the most common implementations of k-anonymity use non-perturbative techniques such as global recoding and suppression [81–86]. The data analysts we consulted with were more comfortable with global recoding and suppression because their impact on data analysis was clearer to them. This is an important factor because we wanted to ensure the acceptability of the PUMF among data analysts. For this reason, our study uses global recoding, a form of generalization, and suppression.
After the quasi-identifiers are generalized the equivalence class sizes would be computed. For any equivalence class that is smaller than k, suppression is applied. Therefore, generalization by itself will not achieve k-anonymity, and suppression is only applied to the small equivalence classes.
Measuring Information Loss
During de-identification, the other side of the coin is data utility. A trade-off exists between privacy and utility. If an optimal trade-off can be found, patient privacy can be preserved while data users are satisfied with the data utility. The data utility can be measured by information loss metrics. Typically, lower levels of information loss are associated with higher data utility, and vice versa.
The extent of suppression performed to the data is an important indicator of information loss. Although the extent of suppression has known disadvantages as an information loss metric [87], it provides an intuitive way for an expert data analyst to gauge data quality. The more suppressed records and/or individual values in a data set the greater the potential biases introduced in an analysis of the data.
A reasonable quantitative assessment of information loss could be based on comparing the analysis results obtained from the original and disclosed (de-identified) data [88]. However, this is difficult to achieve because the potential uses of data can vary and it is difficult to predict all of them in advance. In the case of the DAD PUMF it is not possible to know with precision a priori all the ways that data recipients can analyze that data, which can include statistical as well as machine learning methods. In fact, one purpose of creating a PUMF is to encourage the development of novel data modeling and data mining techniques.
Despite the lack of universally acceptable information loss criteria or metrics, it has been argued that there is little information loss if a data set is valid and interesting[89]. A de-identified data set is considered valid if it preserves (i) means and co-variances in a small subset of records, (ii) marginal values in a few tabulations of the data, and (iii) at least one distributional characteristic. A data set is called interesting, if six variables on important subsets of records can be validly analyzed. While a useful starting point, this definition can only be meaningfully operationalized if there is some knowledge of the analysis that will be performed on the de-identified data. Another suggested approach is to examine the function that maps original records to the protected records [88]. As this function gets closer to the identity function, the information loss will decrease, and vice versa.
Information loss metrics for continuous data include comparing the original and de-identified data sets on the mean square error, mean absolute error, and mean variation [59, 90]. Such metrics cannot be easily computed for categorical variables; therefore, three methods are suggested [59, 88]: (i) direct comparisons based on a distance definition using category ranges, (ii) comparison of contingency tables, and (iii) entropy-based measures.
An entropy [91, 92] metric was used in a number of studies to measure information loss [49, 93, 94] where suppression, global recoding, and PRAM were used. Recently, the entropy metrics described in [49, 93] were extended to deal with the non-uniform distributions, and the resulting measure has been called non-uniform entropy [95] and has been used specifically in k-anonymity algorithms [96].
Samarati used height as an information loss metric [81]. Height indicates the generalization level in a quasi-identifier generalization hierarchy. Greater height means more information loss. Height is considered a weaker metric compared to non-uniform entropy because it does not take into account the information loss contributed by individual variables [87].
Another information loss metric based on the generalization hierarchy is Precision or Prec[83, 97]. For every variable, the ratio of the number of generalization steps applied to the total number of possible generalization steps (total height of the generalization hierarchy) gives the amount of information loss for that particular variable. Overall, Prec information loss is the average of the Prec values across all quasi-identifiers in the data set.
A frequently used information loss metric is the Discernability Metric [98–105]. The discernability metric (DM) assigns a penalty to every record that is proportional to the number of records that are indistinguishable from it. DM has been used often in the computational disclosure control literature.
The minimal distortion (MD) metric measures the dissimilarities between the original and de-identified records [30, 31, 106]. This charges a unit of penalty to each generalized or suppressed instance of a value. While both DM and MD can assess the level of distortion, DM has an advantage over MD in the sense that DM can differentiate how much indistinguishability increased by going from the original to de-identified data set [107].
Information loss caused by generalizations can also measured by using the ILoss metric [108]. This metric captures the fraction of domain values generalized to a certain value [45]. ILoss for a record is calculated by finding the sum of the ILoss values over all variable values. Different weights can be applied to different variables while obtaining this sum. Similarly, the overall ILoss for a data set can be obtained by adding up the ILoss values found for the records.
Iyengar [109] used a classification metric, CM, which assigns a penalty to a record if suppressions or generalizations assigns the record to a different majority class. This metric is applied to the training set and requires a classification method to be used. The associated problem is that the exact classification approach needed may not be known at the time of data publishing. Fung et al. [110, 111] used a metric called IGPL to measure a trade-off between information gain (IG) and privacy loss (PL). IGPL is obtained by dividing IG by PL incremented by 1. The formulas for IG and PL can be seen in [45].
Methods
In this section we explain how the Canadian DAD PUMF was de-identified and describe the evaluations that were performed on it.
Results
Information Loss
In our analysis we assumed that the adversary would only know the diagnosis code at the CMG_CODE level and not at the MRDx level. Similarly, we assumed that the adversary would only know the short version of the intervention code rather than the detailed intervention code.
The number of records with suppression on each of the quasi-identifiers for the geographic and clinical PUMF files (extent of missingness) are shown. We present the results at the alternate 0.04 and 0.05 probability threshold levels as shown in Table
9
and Table
10
. We also include the 0.2 probability threshold as a baseline value for comparison (the 0.2 threshold is often used when there are factors that mitigate the risk, such as data use agreements with trusted agents).
Table 9
Main results for geographic file
PROV_ALL

PROV_REGION

0.2

0.05

0.04

0.2

0.05

0.04

Comb.

Complete

Comb.

Complete

Comb.

Complete

Comb.

Complete

Comb.

Complete

Comb.

Complete

GENDER_CODE

0.002

0.002

0.005

0.005

0.005

0.005

0.002

0.003

0.003

0.009

0.002

0.012

AGE_GROUP

1.6

5.2

5.4

14.2

6.5

16.4

0.81

3.8

2.8

10.6

3.4

12.2

PROV_XXX

0.07

3.11

0.2

7.4

0.25

8.3

0.06

0.3

0.16

0.5

0.19

0.6

MRDx

12.6

14.4

26.8

27

29.4

29.4

8.6

10.7

19.4

21.4

21.6

23.5

CMG_CODE

12.6

14.4

26.8

27

29.4

29.4

8.6

10.7

19.4

21.4

21.6

23.5

DIAG_BLOCK

8.5

4.8

19.8

9.5

22.2

10.5

5.5

3.6

13.5

7.5

15.2

8.3

DIAG_CHAPTER

1.5

0.11

3.8

0.3

4.3

0.4

0.87

0.07

2.5

0.3

2.8

0.31

CCI_CODE

5.9

8.13

10.7

13.2

11.5

14.14

4.4

6.8

8.8

11.9

9.7

12.7

SHORT_CCI

5.9

8.13

10.7

13.2

11.5

14.14

4.4

6.8

8.8

11.9

9.7

12.7

Total % Cells Suppressed

5.4

6.5

11.6

12.4

12.8

13.6

3.7

4.75

8.4

9.5

9.4

10.4

Entropy (%)

100

137

246

302

274

334

70

104

181

236

204

262
Table 10
Main results for clinical file
TOTAL_LOS_DAYS

TOTAL_LOS_WEEKS

0.2

0.05

0.04

0.2

0.05

0.04

Comb.

Complete

Comb.

Complete

Comb.

Complete

Comb.

Complete

Comb.

Complete

Comb.

Complete

GENDER_CODE

0.002

0.003

0.005

0.005

0.006

0.006

0.002

0.004

0.004

0.01

0.004

0.012

AGE_GROUP

2.5

6.2

7.6

16.7

8.86

19.2

1.32

3.7

4.2

9.8

4.8

11.25

TOTAL_LOS_XXX

1.2

6.8

1.8

12.3

1.9

13.3

1.2

4.7

1.8

7.08

1.9

7.4

MRDx

15.8

16.4

30.4

29

33

31.1

10.2

10.8

19.8

20

21.6

21.7

CMG_CODE

15.8

16.4

30.4

29

33

31.1

10.2

10.8

19.8

20

21.6

21.7

DIAG_BLOCK

11.4

5.4

24.2

10.2

27

11.1

6.96

3.5

15.1

6.8

16.5

7.5

DIAG_CHAPTER

2.22

0.14

5

0.28

5.6

0.34

1.4

0.066

3.3

0.16

3.7

0.19

CCI_CODE

7.4

9.16

12.3

14

13.2

14.8

4.9

6.7

8.9

11.22

9.6

12

SHORT_CCI

7.4

9.16

12.3

14

13.2

14.8

4.9

6.7

8.9

11.22

9.6

12

Total % Cells Suppressed

7.08

7.74

13.77

13.94

15.1

15.1

4.6

5.2

9.1

9.6

9.92

10.4

Entropy (%)

100

123

201

237

219

259

50

68

114

143

126

158
Two versions of the geographic PUMF file were created, one at each of the two levels of geography (PROV_ALL and PROV_REGION). PROV_REGION treats the country as consisting of three regions and the territories. Also, two versions of the clinical PUMF file were created, one that shows the individual days of LOS for the first week and one that treats 1 to 7 total days of stay as a single category (LOS_DAYS and LOS_WEEKS). This distinction is important because the vast majority of stays are less than one week. The multiple versions of the PUMF file allow us to consider the impact of these alternative generalizations on information loss.
The results for both suppression algorithms, combinations and complete, are also shown in Table 9 and Table 10. For each data set and threshold we show the percentage of values within each quasi-identifier that are suppressed, and the percentage of all cells across all quasi-identifiers that are suppressed. The entropy as a percentage change from a baseline (indicated by 100%) is given for each column.
The missingness and entropy results indicate that: (a) there is less missingness and less information loss with the 0.05 threshold than for the 0.04 threshold, (b) the combinations suppression algorithm produces less information loss overall than the complete suppression algorithm, and (c) the PROV_REGION and TOTAL_LOS_WEEKS data sets have less information loss overall. For the latter finding, this reflects that the generalizations for the PROV_REGION and TOTAL_LOS_WEEKS data sets were offset by the significant reduction in suppression, giving them a higher utility.
Based on these results, and to maintain data utility the authors and CIHI decided to use the 0.05 threshold for creating a PUMF, and use the PROV_ REGION and TOTAL_LOS_WEEKS data sets with the combinations suppression algorithm.
Distribution of Missingness
The second set of results show how the missingness is distributed in the data. We consider how missingness on the diagnosis code variable distributed by province (Table
11
), age group (Table
12
), and length of stay (Table
13
) for the PUMF files for the diagnosis variable. These results are only presented here for the PROV_REGION and TOTAL_LOS_WEEKS PUMF files at the 0.05 probability threshold.
Table 11
The percentage of missingness on CMG_CODE by region
Province

CMG_CODE

(% Missing)

East (10.8%)

30.3

Central (45.5%)

19.1

West (43.2%)

16.6

Territories (0.3%)

53.0
Table 12
The percentage of missingness on CMG_CODE by age group for each PUMF
CMG_CODE

(% Missing)

AGE_GROUP

PUMF 1

PUMF 2

0-4

5.2

5.3

5-9

23

13.8

10-14

28.6

19

15-19

20.4

15.6

20-24

14.8

11

25-29

11.2

8.7

30-34

12

9.3

35-39

17.9

13.6

40-44

26

20.3

45-49

25.7

22.1

50-54

25.9

23

55-59

25.8

23.7

60-64

23.9

23.6

65-69

23.4

24.4

70-74

22.8

24.4

75-79

20.4

24.6

80-84

19.4

24.9

85-89

19.2

23.3

90+

18

21.1
Table 13
The percentage of missingness on CMG_CODE by total LOS in weeks for the second PUMF
TOTAL_LOS_WEEKS (days)

CMG_CODE

(% Missing)

1-7

11

8-14

44

15-21

60

22-28

68

29-35

75

36-42

81

43-49

83

50-56

79

57-63

78

64-70

100

71-77

100

78-84

100

176+

80
Performance of Suppression Algorithms
The first set of results are shown in Figure
8
, which show overall performance in seconds. This varies from 2 minutes to six minutes on the full DAD population data set. There are a number of trends that can be observed: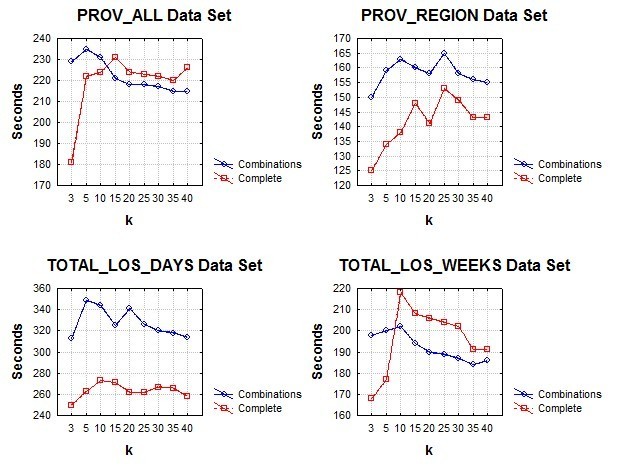 Because the PROV_ALL and TOTAL_LOS_DAYS data sets have variables with more response categories, they will take longer to suppress. This is expected because that means they also have a larger number of equivalence classes that the algorithm has to iterate through and hence apply more suppression.

The differences between the two algorithms tend to be more marked at lower values of k, with the combinations algorithm taking longer. This is due to the complete algorithm reaching a solution quite fast at low values.

One would expect that the combinations algorithm would take much more than the complete algorithm. Such a difference would be in phase 2 as both algorithms have the same phase 1. While there are differences, they are not dramatic. This is explained by the observation that earlier combinations result in suppressions that reduce the number of necessary iterations for subsequent combinations.
The trend is for less time at low
k
, then rising, and eventually starting to fall again at the higher values of
k
. The explanation for the gradual reduction in computation time as
k
increases is that the suppression during phase 1 of both algorithms has more impact for the higher values of
k
, which results in fewer iterations for phase 2. This pattern is evident in the graphs of Figure
9
and Figure
10
, where the phase 1 time increases with
k
reflecting more iterations, but phase 2 gradually decreasing.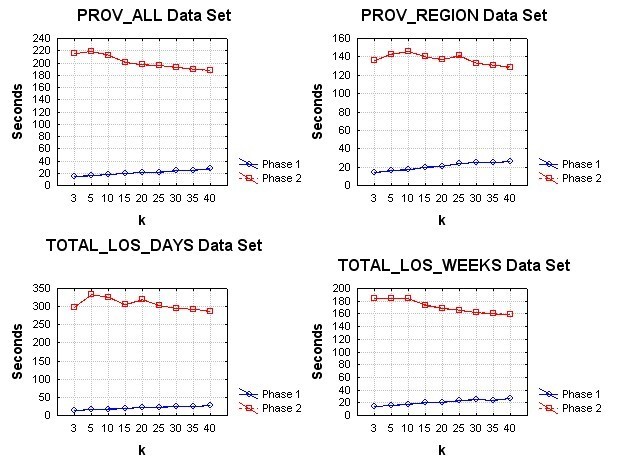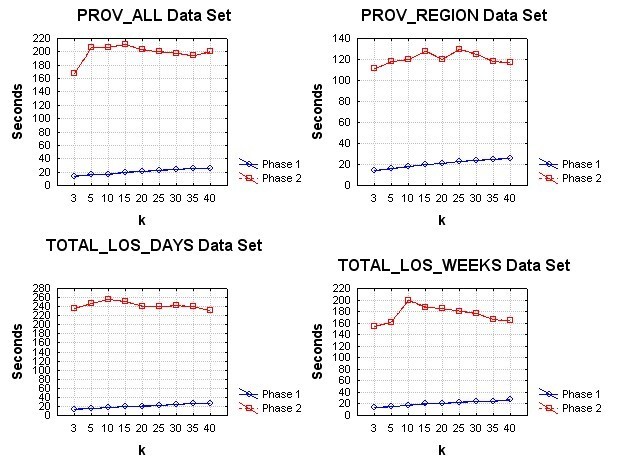 The graphs in Figure 9 and Figure 10 show that phase 2 of the algorithm takes considerably more time. This is driven by the need to re-compute equivalence classes and their sizes at each iteration. Whereas phase 1 only considers individual quasi-identifiers.
For such large data sets the overall performance of the combinations algorithm was deemed acceptable, especially that the increment in time costs compared to the complete suppression algorithm was not significant.
Figure
11
shows how the performance changes as the sampling fraction changes. In all cases the algorithms' time performance scales linearly with larger data sets. In general the gap in time between the combinations and complete algorithms is minimal at small sampling fractions, and widens as the sampling fraction increases.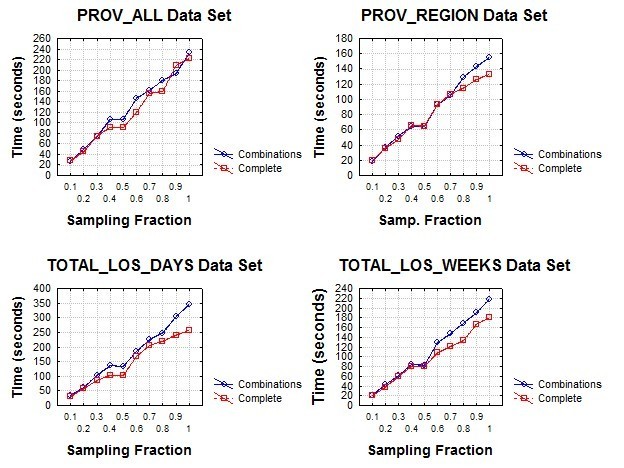 Discussion
Summary
A substantial difference was found between the PROV_ALL and PROV_REGION data sets, and the TOTAL_LOS_DAYS and TOTAL_LOS_WEEKS data sets. The more generalized data sets tended to have considerably less information loss. Also, the clinical PUMF tended to have more suppression than the geographic PUMF because the LOS variable has more possible values on it (see Table 2). Therefore, we recommended using the PROV_REGION and TOTAL_LOS_WEEKS data sets as the basis for a PUMF.
There is an advantage to using the combinations suppression algorithm compared to the complete suppression algorithm. This is evident when we look at the percentage of total cells suppressed for the two algorithms and the difference in entropy.
Therefore, by using the 0.05 threshold, the more generalized versions of the two PUMF files, and the combinations algorithm we are able to produce a data set with significantly less information loss than would otherwise be the case. For example, for the geographic PUMF using PROV_ALL at the 0.04 threshold with the complete suppression algorithm results in 13.6% of the cells being suppressed, whereas our recommended PUMF has only 8.4% of its cells suppressed. For the second PUMF the differences are 15.1% versus 9.1%. In both cases there was a marked improvement in data utility as measured by the percentage of suppressed cells. Similarly, the complete suppression PROV_ALL data set at the 0.04 threshold had a 334% entropy value, compared to the combinations suppression PROV_REGION file with a 0.05 threshold which had less than two thirds of the entropy at 181%.
The variable with the most suppression was diagnosis code, with just under 20% of the records having suppression there. The least generalized data set with the 0.04 threshold and the complete suppression algorithm results in suppression closer to 30% on the diagnosis code variable.
The smallest provinces tend to have the most suppression: the Eastern region and the territories. Similarly, age groups that tend to have the most suppression are those with the fewest hospital visits (e.g., 5-14 years), and the age groups with the least suppression have the most hospital visits (e.g., newborns and toddlers in the 0-4 years age range). By far, the vast majority of stays are less than 7 days, and therefore this category has the least suppression. Longer stays are considerably less common, resulting in them having high levels of suppression.
Our combinations suppression algorithm results in less information loss than an algorithm that does not take combinations into account. It has acceptable performance on this large data set for k values up to 40, and scales linearly with the data set size.
Practical Implications
One important reason for sampling was to ensure that the two PUMF files would not have the same individuals in them, precluding the possibility of linking the two files by an adversary. For example, using the same reasoning as in Additional file 3, any two independent samples with replacement from the population will have an expected number of records that can be matched correctly equal to Kα where K is the number of equivalence classes in the population and α is the sampling fraction. If we have 100,000 equivalence classes in the population and a 10% sampling fraction, then 10,000 records could be correctly matched on average. A higher sampling fraction would mean more records could be matched. In practice, an adversary would not know which 10,000 records were matched correctly, however, which may limit the meaningfulness of the matching exercise. Nevertheless, to err on the conservative side we wanted to ensure that the samples cannot overlap.
To contextualize our results with other disclosures of health information in Canada, the Statistics Canada census disclosure control process uses record level suppression, therefore the census PUMF does not have suppressed cells. It should also be noted that the census PUMF does not include any variables that have as many response categories as the DAD (e.g., the census only includes generalized occupation or industry codes with at most 25 possible categories, unlike diagnosis and intervention codes which are much more detailed). Therefore, in one sense it is not surprising that the amount of suppression for the DAD PUMF under the current specifications would be higher than we see in the census file. Furthermore, the Canadian census PUMF is still not generally available to the public, but has some restrictions on its disclosure. Another study which performed a re-identification risk assessment for a non-public disclosure of a pharmacy file noted that suppression on some variables of as much as 15% still provided utility to the end users [140]. This number is comparable to ours when one considers that the pharmacy file disclosure required a data sharing agreement and regular audits of the data recipients.
Rather than drawing the PUMF data from the suppressed population file, it may be better to remove the records with suppression on many quasi-identifiers or where key variables are suppressed, and then draw the PUMF files from this new population. That way there will be little or no cell suppression in the PUMF files. However, such a PUMF will be missing more records from patients living in small areas, with longer stays, and with rare diagnoses and interventions. It may be possible to compensate for such missingness by providing weights for the non-suppressed values.
Another approach to reduce missingness is to further generalize diagnosis and intervention codes. It is quite likely that further reductions in the number of categories on these variables would reduce missingness. However, it remains an empirical question whether additions of other levels to the current domain generalization hierarchies for these two variables will be meaningful.
The PUMF that we have described here may be of utility for many specific purposes, such as making it easier for the research community to confirm some published results, providing broader feedback to CIHI to improve data quality, training students and fellows, providing an easily accessible data set for researchers to prepare for analyses on the full DAD data set, and serving as a large data set for computer scientists and statisticians to evaluate analysis and data mining techniques. However, for complex research analysis, more detailed information would typically be needed than can be provided in a PUMF. The most appropriate action may be to produce an Analytical File that would be readily available to researchers and other users who satisfy some significant conditions regarding access and use of the data, including signing and being legally bound by data sharing agreements. Such a file would still need to have records with a low probability of re-identification, although the threshold used would likely be set higher, say 0.2, leading to reduced suppression and therefore greater utility of the released data. As noted earlier, higher thresholds are suitable when the data is being disclosed to trusted parties. Data sharing agreements establish the trust and so mitigate the risks from the higher threshold. The use of data sharing agreements is the approach used by the AHRQ in the US when disclosing state discharge abstract data for secondary purposes.
Limitations
The analysis presented here does not address protection against attribute disclosure. In a final PUMF that would be released to the public, protections against attribute disclosure would normally need to be implemented as an added precaution.
Conclusions
The public availability of detailed hospital discharge abstract data could benefit many communities, including health and data analysis researchers, educators, students, as well as the data custodians themselves. However, the public disclosure of health information can only be done if it is credibly de-identified. In this paper we have described how Canadian discharge abstract data can be de-identified, and clarified the costs in terms of data quality of doing so. Our de-identification utilized new metrics, methods and algorithms to maximize the utility of the data and to provide strong privacy guarantees. Furthermore, the process we followed highlighted the tradeoffs that need to be considered by a data custodian when making data available. But challenges remain for the disclosure of detailed health information, for example, the generalization of diagnosis codes to reduce the number of unique codes but retaining sufficient detail is an area for future work.
Abbreviations
DAD:

Discharge abstact database
PUMF:

Public use microdata file
AHRQ:

Agency for Healthcare Research and Quality
PRAM:

Post randomization method
Prec:

Precision
DM:

Discernability metric
MD:

Minimal distortion
CM:

Classification metric
IG:

Information gain
PL:

Privacy loss.
Declarations
Acknowledgements
The work reported here was funded by the Canadian Institute for Health Information, the Ontario Institute for Cancer Research, and the Canadian Institutes of Health Research. We wish to thank Jean-Marie Berthelot (Canadian Institute for Health Information) and David Morgan (Newfoundland and Labrador Centre for Health Information) for their comments and suggestions on an earlier version of this article. We also would like to thank Sadrul Chowdhury (Google Inc.) for his contributions to the suppression algorithm (these contributions were made while Sadrul was at the CHEO Research Institute).
Authors' Affiliations
(1)
CHEO Research Institute, Ottawa, Canada
(2)
Department of Paediatrics, University of Ottawa, Ottawa, Canada
(3)
Canadian Institute for Health Information, Ottawa, Canada
(4)
Information Systems, University of Maryland at Baltimore County, Baltimore, USA
Copyright
© Emam et al; licensee BioMed Central Ltd. 2011
This article is published under license to BioMed Central Ltd. This is an Open Access article distributed under the terms of the Creative Commons Attribution License (http://creativecommons.org/licenses/by/2.0), which permits unrestricted use, distribution, and reproduction in any medium, provided the original work is properly cited.